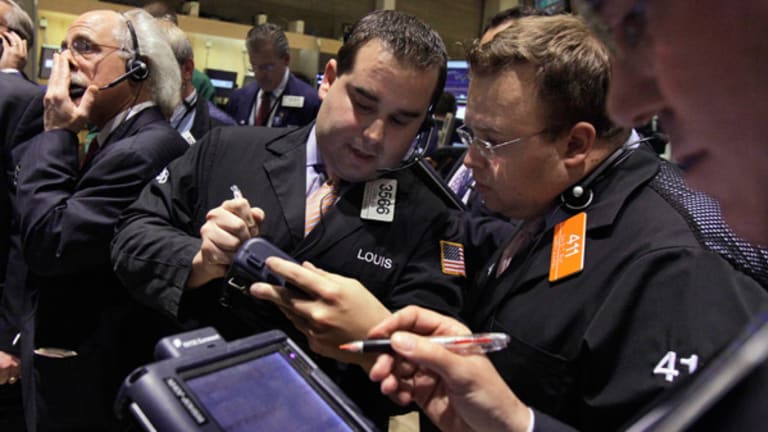 Funds That Win in Falling Markets
When the outlook turns gloomy, flexible funds stocks and shift to bonds.
NEW YORK (TheStreet) -- Unnerved by erratic markets, investors have been dumping stock mutual funds and shifting to bonds. That approach could provide protection in a downturn. But big fixed-income holdings could drag down results if stocks rally.
An alternative strategy for wary investors is to try one of the handful of flexible funds that can shift allocations. The flexible managers emphasize stocks in good times and take shelter in fixed income when conditions look risky.
Funds that shift allocations include
Osterweis Strategic Investment
(OSTVX) - Get Report
,
Stadion Managed Portfolio
(ETFFX)
and
Virtus Premium AlphaSector
(VAPAX) - Get Report
.
The flexible portfolio managers don't always make the right calls. But because they tend to excel in downturns, the funds can help to diversify portfolios.
Osterweis Strategic Investment holds from 25% to 75% of its assets in stocks. When portfolio manager John Osterweis has no strong views on the market, he keeps 50% to 60% in equities. These days the fund has less than 50% in stocks.
"We are cautious because the economic recovery is likely to be less robust than people thought," he says.
While Osterweis Strategic Investment only started in 2010, there is good reason to believe that it can succeed over the long term. The portfolio is a combination of two older funds --
Osterweis
(OSTFX) - Get Report
, a stock fund, and
Osterweis Strategic Income
(OSTIX) - Get Report
, a multisector bond fund. Both the veteran funds have strong long-term track records.
During the past 15 years, the Osterweis stock fund returned 9.5% annually, outdoing 97% of competitors in the mid blend category, according to Morningstar.
The record is particularly notable since the fund has maintained low risk scores and excelled in downturns. During the turmoil of 2008, the stock fund outdid competitors by a wide margin.
The Osterweis bond fund is a go-anywhere portfolio that can hold bonds of all kinds. In recent years, the portfolio manager has emphasized short-term high-yield bonds. Those yield more than Treasuries -- without taking big risks. During the past five years, the fund has returned 6.8% annually, outdoing 66% of peers.
Stadion Managed Portfolio follows market momentum. When a rally begins, the portfolio managers start buying stocks. In a strong uptrend, the fund can hold up to 100% of assets in stocks. When markets begin dipping, the portfolio managers start shifting to fixed income.
During much of 2008, Stadion had all its assets in cash. For the year, the fund lost 5.8%, outdoing the
Standard & Poor's 500
by about 31 percentage points. During the past five years, the fund has outdone the S&P 500 by a half a percentage point annually while taking much less risk than the benchmark.
Because the Stadion managers move into stocks gradually, they can trail most competitors in strong rallies.
"We don't expect to outperform all the time," says portfolio manager Brad Thompson. "Our goal is to provide downside protection and deliver a return stream that is not correlated with most equity funds."
By considering momentum and other factors, Virtus Premium AlphaSector determines its allocation. The portfolio managers estimate the outlook for each of the S&P 500's nine industry sectors, including financials and technology.
If the forecast is positive for an industry, then the fund takes a position in the sector. When the outlook is poor, the fund avoids the sector. If only three sectors are positive, the fund would have 25% of assets in each sector and 25% in cash. When no sectors seem attractive, the fund can have 100% in cash.
While the approach of Virtus is very unusual, it is beginning to attract a wide following. Introduced in 2010, the fund now has $3.2 billion in assets and ranked as one of the top-selling funds in 2011.
"Investors are looking for funds that have the capacity to outperform the S&P 500 when the market is down," says portfolio manager Howard Present.
Stan Luxenberg is a freelance writer specializing in mutual funds and investing. He was executive editor of Individual Investor magazine.