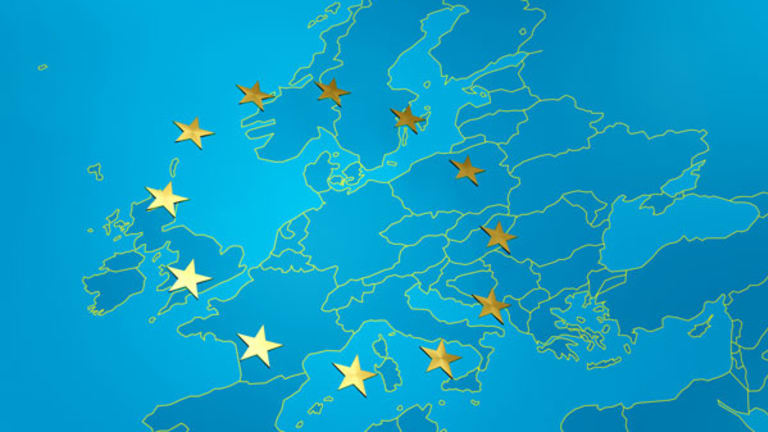 Fund Managers See Europe's Rally Continuing
Mutual fund managers are expecting shares will rise as the economy recovers.
NEW YORK ( TheStreet ) -- After plummeting during the worst days of the euro crisis, European markets have rallied.
During the past year, European stock funds returned 33.1%, compared to 28.7% for the
S&P 500
, according to Morningstar.
Can the rebound continue? Some mutual fund portfolio managers think so. They argue European stocks are still cheap. The forward price-earnings ratio of Europe is about 13, compared to a multiple of 15 for the U.S.
"The valuations of global businesses are being penalized just because they have headquarters in Europe," says Dan Ison, portfolio manager of
Columbia European Equity
(AXEAX) - Get Columbia Contrarian Europe A Report
.
While much of Europe remains mired in recession, portfolio managers argue the picture is brightening. The International Monetary Fund forecasts European GDP will grow 1.5% in 2014. Country economies expected to expand this year include Ireland, Germany, and Sweden. "Europe is on the brink of recovery," says Marc Halperin, portfolio manager of
Federated International Leaders
(FGFAX) - Get Federated Hermes Intl Leaders A Report
. "Business confidence is improving. We are even seeing deposits returning to the Greek banks."
>>Also see: PC-mageddon >>
The rebound in European stock markets began last July. At the time, investors fretted that the euro could collapse as countries such as Greece abandoned the currency. To stem the panic, Mario Draghi, president of the European Central Bank, pledged to do "whatever it takes" to save the currency union. The bold statement calmed the markets, and investors raced to buy stocks.
To bet on a European revival, consider Federated International Leaders. While portfolio manager Marc Halperin can invest anywhere in the world, he currently has 83% of assets in Europe, a big overweight for the fund. A diehard value investor, Halperin looks for strong businesses that sell for big discounts.
Most often the contrarian approach has succeeded. During the past five years, the fund returned 4.4% annually, outdoing the average foreign large blend fund by six percentage points.
Halperin is keen on European employment agencies. Holdings include
Adecco
(AHEXY)
, a Swiss operation, and
Michael Page
(MPGPF)
, based in the UK.
The earnings and stock prices of the agencies sank as job markets collapsed. But Halperin argues that the outlook will soon improve. "Once the economy revives, firms will start hiring again, and the employment agencies should do well," he says.
Halperin also likes the strongest European banks. Many are trading for less than their book values. The banks have been cutting costs and lowering their debt. A holding is French bank
BNP Paribas
(BNPQY)
. The bank has a solid balance sheet and a strong retail business. The shares only trade for 63% of book value.
Another solid-performing mutual fund is Columbia European Equity. During the past five years, the fund returned 2.9% annually, topping the average European fund by about 4 percentage points.
>>Also see: Long-Term Care Insurance 101 >>
Portfolio manager Dan Ison favors companies with strong balance sheets and consistent cash flows. He holds some giant multinationals that have able to grow despite the sluggish economy.
A holding is
Nestle
, the Swiss food giant. Demand for the company's products was so solid last year that the company managed to expand even in troubled Greece. Nestle is poised to continue growing as its sales ramp up in emerging markets.
Another holding is
Swatch
(SWGAY)
, a Swiss watch maker that has been reporting double-digit sales and earnings growth. While the company is best known for its low-cost products, much of revenues come from high-end watches sold under such brands as Brequet and Omega.
Sales of the luxury goods have been booming in China and other emerging markets where a new generation of consumers are shopping for famous brands. "Luxury watches are seen as status symbols in emerging economies," says Dan Ison. "Once they have BMWs, consumers want to buy themselves recognizable Swiss watches."
This article was written by an independent contributor, separate from TheStreet's regular news coverage.
Stan Luxenberg is a freelance writer specializing in mutual funds and investing. He was executive editor of Individual Investor magazine.