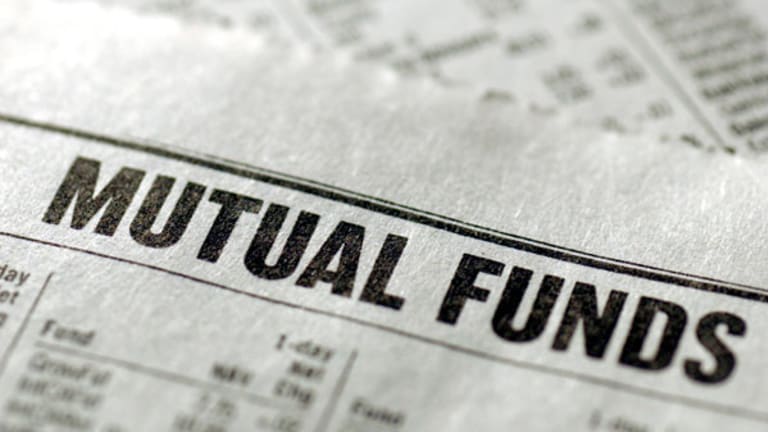 Fund Companies Beating the Benchmarks
Some of the winners have excelled for decades by limiting risk.
NEW YORK
) -- Investors have been dumping actively managed mutual funds and shifting to passive choices that track benchmarks such as the
S&P 500
. Plenty of academic researchers support the move, arguing that most active funds lag the indexes. Now an active fund company is fighting back.
American Funds, which oversees $1 trillion in assets, has published a report that makes the case for active management. Conceding that average funds trail, the company argues that some special managers win consistently. The report notes that it is a mistake to conclude "that because the average person cannot dunk a basketball, no one can dunk a basketball."
To support the case, American Funds cites the returns generated by its equity funds from 1934 through 2012. The study examines rolling returns. To calculate the rolling 10-year returns, you start by tallying results from 1934 to 1943, then you consider data from 1935 through 1944, and so on.
In 73% of the 10-year periods, the funds topped the benchmarks. In 98% of 30-year periods, the company outperformed. Funds that beat the benchmarks in 100% of 30-year periods include
American Funds Fundamental Investors
(ANCFX) - Get American Funds Fundamentl Invs A Report
,
American Funds Growth Fund of America
(AGTHX) - Get American Funds Gr Fnd of Amer A Report
and
American Funds Washington Mutual
(AWSHX) - Get American Funds Wash Mutual A Report
.
American Funds has achieved its impressive long-term results by following a careful investment strategy. The company focuses on buying rock-solid stocks when they are somewhat out of favor. The approach has excelled in downturns and about matched the benchmarks during bull markets.
American Funds has maintained its performance over decades by carefully training portfolio managers and giving them incentives to stay. Few managers ever quit, and many of the current staff have been with the company for more than 20 years.
Confronted with the success of American Funds and other companies, some passive investors scoff and claim that the returns can be attributed to luck. But in the case of American Funds, the record is so long and consistent that it is difficult to dismiss the results.
No other company can match the seven-decade record of American Funds. Still, there are some competitors that have consistently excelled over long periods. Among the best performers are Baron, Oakmark, Mutual Series, and T. Rowe Price. These companies all have many funds that have topped their category averages during the past 10 years.
The active managers have excelled by developing disciplined approaches for maintaining strong results over long periods. Odds are good that these funds can keep delivering winning results.
Baron ranks among the top growth managers. Of the company's five funds with 10-year track records, all have topped their category averages.
Founder Ron Baron aims to find companies that can grow consistently for years. Once he buys, Baron often holds for five years or more. His
Baron Growth
(BGRFX) - Get Baron Growth Fund Retail Report
returned 10.7% annually during the past 10 years, outpacing the S&P 500 by 3 percentage points annually, and topping 72% of mid-growth competitors, according to Morningstar.
Baron Opportunity
(BIOPX) - Get Baron Opportunity Fund Retail Report
, which has big stakes in fast-growing technology and consumer stocks, returned 10.9% annually in the past decade.
All six of Oakmark's equity funds have topped their categories during the past 10 years. The portfolio managers look for solid companies that sell for sizable discounts. Oakmark often takes contrarian positions, seeking to capitalize on companies with hidden assets.
When Japanese markets stagnated after the financial crisis,
Oakmark International
(OAKIX) - Get Oakmark International Investor Report
snapped up bargains. Those unloved holdings recorded sharp gains in the past year. The Oakmark fund returned 11.7% annually in the past decade, outdoing 99% of foreign large blend funds.
Mutual Series has long followed a deep-value approach. The portfolio managers like unloved stocks with sound balance sheets. There has been some manager turnover in recent years, but the strategy remains unchanged. The firm has been partial to tobacco producers, out-favor-stocks with rich dividends and solid balance sheets. During the past decade,
Mutual Quest
(TEQIX) - Get Franklin Mutual Quest A Report
returned 9.1% and outdid 65% of world stock funds.
Like American Funds, T. Rowe Price has developed a large group of long-term managers that oversee a broad family of funds. Of the company's 38 equity funds with 10-year records, 33 have topped their categories. Winners include both growth and value funds. Headed by a 20-year veteran,
T. Rowe Price Blue Chip Growth
(TRBCX) - Get T. Rowe Price Blue Chip Growth Fd Report
returned 8.7% annually, topping 77% of large growth funds.
At the time of publication, the author had no position in any of the stocks mentioned.
This article was written by an independent contributor, separate from TheStreet's regular news coverage.
Stan Luxenberg is a freelance writer specializing in mutual funds and investing. He was executive editor of Individual Investor magazine.