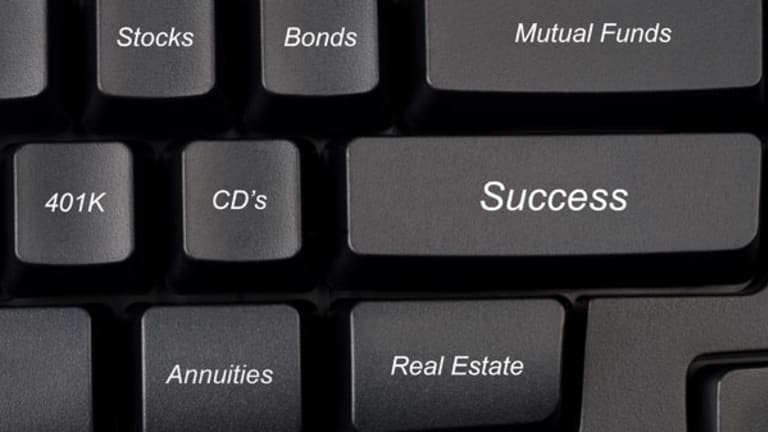 Four Large-cap Funds That Topped the S&P 500
Veteran managers use disciplined strategies to excel.
NEW YORK (TheStreet) -- Investors have been dumping actively managed stock funds and shifting to index funds. The movement has been particularly pronounced in the large blend category where passive choices account for more than 40% of assets. Many investors figure that it is hard for active managers to beat such popular passive large blend funds as Vanguard 500 Index (VFINX) - Get Free Report, which tracks the S&P 500.
But some active large blend funds have consistently topped the benchmark. Among the leading choices are
Fidelity Large Cap Stock
(FLCSX) - Get Free Report
,
JPMorgan US Equity
(JUEAX) - Get Free Report
, and
Smead Value
(SMVLX) - Get Free Report
. Can the star funds continue outperforming? Probably. The veteran managers all employ disciplined strategies that have worked for years in a variety of market conditions.
A steady performer is Smead Value. During the past five years, the fund returned 13.7% annually, compared to 8.6% for the S&P 500, according to Morningstar. Portfolio manager Bill Smead only takes rock-solid companies. He favors businesses with extremely loyal customers. A long-time holding is
McDonald's
(MCD) - Get Free Report
, which has millions of customers who return again and again to their favorite chain. Smead has often bought pharmaceutical companies such as
Merck
(MRK) - Get Free Report
, which has built a sound balance sheet by serving patients who cannot live without their medications.
The fund buys when the companies are unloved. The aim is to hold for years as the stocks revive and reach new heights. While the average large blend fund turns over 66% of its portfolio annually, Smead has a turnover rate of 11%.
To explain his value style of investing, Bill Smead compares
Walgreen
(WAG)
, a fund holding, with
Procter & Gamble
(PG) - Get Free Report
, a stock that he does not own. Both companies have strong records, but Walgreen sells for a forward price-earnings ratio of 13, compared to a figure of 18 for Procter & Gamble. Investors have cooled on the drugstore chain because it faced difficult negotiations with a major customer,
Express Scripts
(ESRX)
, a pharmacy benefits manager. But Smead says that the chain has continued to deliver reliable cash flow. "Walgreen has been as consistent a performer as Procter & Gamble for the last 30 years," Smead says.
During the financial crisis, Smead bought
Cabela's
(CAB)
, a chain that operates giant sporting goods stores. With consumer sales plummeting, the company seemed to face a lean period. But Smead figured that Cabela's would continue to attract customers who are passionate about hunting and fishing. Since then the stock has rebounded, but Smead plans to continue holding for years. "Customers love the stores," he says. "It is like Disneyland for adults."
While Fidelity Large Cap is considered a blend fund, portfolio manager Matthew Fruhan has flexibility to roam, often buying some growth and value stocks. His aim is to spot any companies that can outdo Wall Street's expectations. Most often the approach has succeeded. During the past five years, the fund returned 11.7% annually.
Fruhan is willing to make contrarian calls. Beginning two years ago, he loaded up on financial stocks. At the time, price-earnings ratios in the sector were near all-time lows, but Fruhan became convinced that the stocks were due to rebound. "Returns on equity were starting to trough, and management teams were starting to talk about taking out costs," he recalls.
The move into the big banks proved well-timed, and the fund scored substantial gains. Fruhan recently held a collection of strengthening banks, including
JPMorgan Chase
(JPM) - Get Free Report
,
Wells Fargo
(WFC) - Get Free Report
, and
Bank of America
(BAC) - Get Free Report
.
In the past year, the Fidelity fund has been holding big technology stocks, including
Cisco Systems
(CSCO) - Get Free Report
and
Microsoft
(MSFT) - Get Free Report
. While investors worried that sluggish sales of personal computers could hurt the technology sector, Fruhan figured that some of the big companies had sound balance sheets and appeared undervalued. Efforts by managements to increase dividends and buy back shares could boost share prices.
JPMorgan US Equity controls risk by staying broadly diversified and avoiding big bets on any one stock. The portfolio managers aim to outperform through careful stock picking and sometimes overweighting certain sectors. The cautious approach enabled the fund to outdo most competitors in the turmoil of 2008. During the past five years, the JPMorgan fund returned 9.5% annually.
Portfolio manager Susan Bao is currently underweighting defensive sectors, such as utilities and consumer staples. Those have corrected in recent months, but they still sell at premiums to the overall market. She is overweight unloved cyclical sectors, including technology. Bao is especially keen on makers of equipment for semiconductor producers. Holdings include
Applied Materials
(AMAT) - Get Free Report
and
Lam Research
(LRCX) - Get Free Report
. "Over the past few years, they faced a tough environment because capital spending was depressed," she says. "We think that the headwinds are pretty well played out, and we will see a big rush in spending."
At the time of publication the author had no position in any of the stocks mentioned.
This article is commentary by an independent contributor, separate from TheStreet's regular news coverage.
Stan Luxenberg is a freelance writer specializing in mutual funds and investing. He was executive editor of Individual Investor magazine.