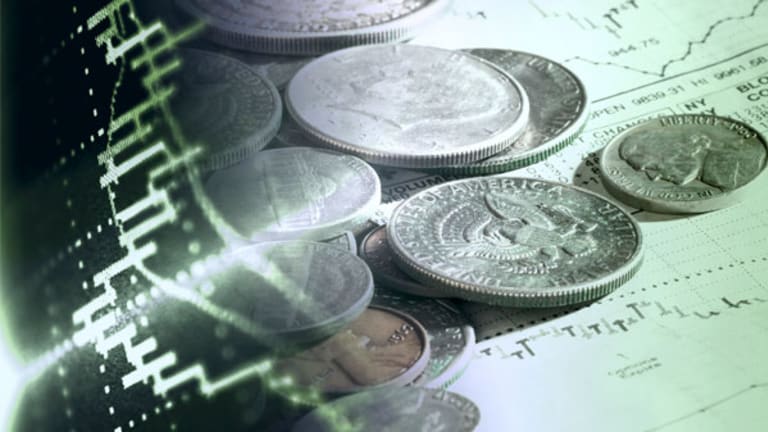 First Eagle: Mutual Funds That Only Contrarians Can Love
First Eagle funds tend to lag in bull markets and excel in downturns.
First Eagle funds tend to lag in bull markets and excel in downturns.
NEW YORK ( TheStreet ) -- The First Eagle mutual funds appear to be out of step with the markets. In a year when stocks have been soaring, most First Eagle managers have held gold and big stakes in cash. That has hurt returns.
For the past year, First Eagle Overseas (SGOVX) - Get Report and First Eagle US Value (FEVAX) - Get Report have lagged more than 90% of their peers, according to Morningstar. But longtime shareholders should not be surprised by the weak results. For decades, the funds have followed a conservative approach. Although it has often lagged in rallies, First Eagle's cautious strategy has produced sterling results in downturns.
By limiting losses in hard times, the company has generated winning long-term records. During the past 10 years, First Eagle Overseas returned 9.9% annually, outdoing 95% of foreign large blend funds. First Eagle U.S. Value returned 8.4% annually, topping 85% of large blend funds. First Eagle Fund of America (FEFAX) - Get Report and First Eagle Global (SGENX) - Get Report both topped more than 90% of their peers over the past decade.  
To protect shareholders, the funds focus on solid companies that sell at discounted prices. When the managers can't find bargains, they hold cash. In recent years, the funds have often owned a bit of gold as an insurance policy against unexpected shocks. "The most important goal is to avoid a permanent impairment of capital," said Robert Hordon, a portfolio manager of First Eagle Global Income Builder (FEBAX) - Get Report.
The First Eagle managers are patient. They often buy unloved stocks and wait years for rebounds. Because they take contrarian positions, the funds are only suitable for shareholders who understand the strategy and can stomach waiting through periods of subpar performance. Since many of the First Eagle funds have now trailed for awhile, this could be an ideal time to invest. The cautious approach should have special appeal to wary investors who worry that the current bull market is beginning to reach its peak.
Over the years, the First Eagle managers have made a series of prescient calls. In the late 1980s, the funds stayed away from Japanese stocks as they were peaking and about to crash. First Eagle avoided highflying technology stocks in the late 1990s and shaky banks before the financial crisis. This year, First Eagle lowered its weighting in emerging markets, a move that paid off when stocks in Latin America and Asia sank. In each case, the managers avoided hot stocks because they seemed expensive. But many of the moves were early and took months or years to produce dividends.
In June 2012, the company launched its newest fund, First Eagle Global Income Builder, a balanced portfolio that holds a mix of stocks and bonds. While typical balanced funds focus on blue-chip stocks and investment-grade bonds, First Eagle takes a wide-ranging approach. The portfolio managers are free to buy most kinds of stocks and bonds from around the world.
The fund currently has almost no investment-grade bonds. The portfolio managers worry that high-quality bonds would sink sharply if interest rates rose. Instead, the fund focuses on high-yield bonds, which are rated below investment grade. "Going forward, high-yield bonds can act as a cushion against rising rates," said Edward Meigs, a portfolio manager of First Eagle Global Income Builder.
The strategy helped results this year, as high-yield bonds outdid high-quality issues. The quality bonds performed poorly because rates rose. During periods when the economy is growing and interest rates are climbing, low-quality bonds often outperform. This happens because investors tend to bid up prices of shaky bonds as the risk of default declines.
Many income-oriented funds focus on utilities and other high-dividend stocks. But this year, First Eagle Income Builder has stayed away from utilities, real estate investment trusts and other traditional income stocks. The managers worried that those sectors had been bid up to excessive levels by yield-starved investors. To obtain solid income and capital appreciation, First Eagle emphasized unloved stocks. One holding is Microsoft (MSFT) - Get Report.
The fund has steered away from emerging markets, but it has held some European multinationals that have growing sales in Latin America and Asia. Many such stocks have been recording increasing sales, but the shares have been penalized because the businesses are based in slow-growing Europe. One holding is Nestle.
At the time of publication, Luxenberg had no positions in stocks and funds mentioned.
This article is commentary by an independent contributor, separate from TheStreet's regular news coverage.
Stan Luxenberg is a freelance writer specializing in mutual funds and investing. He was executive editor of Individual Investor magazine.