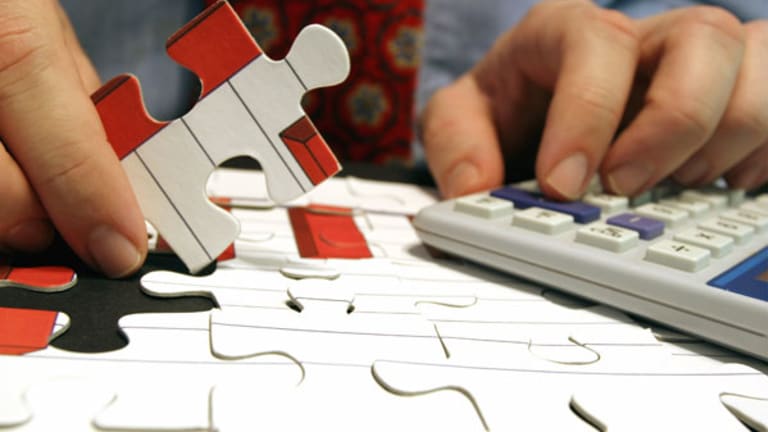 NEW YORK ( TheStreet) -- Seeking protection from rough markets, investors have been pouring into long-short mutual funds. According to Morningstar, inflows have totaled $5 billion in the past year. That's a big figure for a category with $25 billion in assets.
The long-short funds aim to be less volatile than normal equity funds. To accomplish the goal, managers hold stocks and typically put 20% to 50% of assets in short positions. The shorts represent bets that stocks will sink.
Most of the long-short managers have produced uninspiring results. Despite the short positions, the category lost 15.4% in the turmoil of 2008. During the past five years, the funds finished a bit in the red, while the
S&P 500
returned 1.2% annually.
What's holding back the long-short funds? For starters, they are expensive, says Jeremy Radcliffe, managing director of Salient Partners, a wealth adviser in Houston. The average long-short fund charges an annual expense ratio of 2.0%. That's cheaper than a hedge fund, but double what many mutual funds charge.
In addition, it is difficult to pick profitable short positions. The portfolio managers typically try to increase the short positions when markets look hazardous. They aim to reduce shorts when stocks are rallying.
But all too often, managers get it wrong, says Radcliffe. They take big short positions near market troughs when it is too late to avoid losses. Then the shorts drag down results as stocks rebound.
"Most of the managers are not really adding any value," says Radcliffe. "You could get better returns by putting 50% of your assets in the S&P 500 and 50% in cash."
But a few long-short managers have delivered solid results, limiting losses in 2008 and recording solid long-term returns. Among the top choices is
MainStay Marketfield
(MFADX) - Get Marketfield A Report
, which returned 8.5% annually during the past five years, outdoing 95% of peers. Portfolio manager Michael Aronstein studies economic trends and makes bold sector bets. Most often he has been on target.
Worried about mounting housing problems in 2007, he shorted
Goldman Sachs
(GS) - Get Goldman Sachs Group, Inc. (GS) Report
and other financial stocks. That protected shareholders during the downturn. Then in 2009, Aronstein bought airlines and other cyclical stocks that came roaring back in the rally.
In 2011, Aronstein noticed that institutions were buying distressed single-family homes and achieving strong cash flows. Concluding that the housing downturn had ended, he bought home builders, such as
Toll Brothers
(TOL) - Get Toll Brothers, Inc. Report
and
DR Horton
(DHI) - Get D.R. Horton, Inc. Report
. The move produced big returns.
Today Aronstein continues to own the home builders because he remains convinced that the housing revival has a long way to run.
"The construction cycle is just now getting under way," he says. "Residential construction is still well below what it was during the 2002 recession."
In 2011, Aronstein shorted emerging markets ETFs, a move that helped the fund outpace most competitors for the year. He is still wary of China and has a short position in
iShares FTSE China 25 Index
(FXI) - Get iShares China Large-Cap ETF Report
. In order to continue growing, China must boost its domestic consumption, a difficult task.
"In the absence of political freedom, China cannot make the transition to a consumer-led economy," he says.
Another solid-performing fund is
Pyxis Long/Short Equity
(HEOAX) - Get Highland Long/Short Equity A Report
, which returned 2.3% annually during the past five years, outdoing the S&P 500 by about a percentage point while recording much lower volatility. The fund currently has 26% of assets in short positions and the rest in longs.
Shorting financials helped Pyxis outdo competitors during 2008.
For his long positions, portfolio manager Jonathan Lamensdorf holds a mix of growth and value stocks. By staying diversified, he aims to deliver stable results. For his growth stocks, Lamensdorf favors companies with solid market positions.
"We like companies with strong tailwinds and recurring revenue," he says.
Holdings include
Apple
(AAPL) - Get Apple Inc. (AAPL) Report
and
IMAX
(IMAX) - Get IMAX Corporation Report
, the maker of theater projection equipment.
This article is commentary by an independent contributor, separate from TheStreet's regular news coverage.
Stan Luxenberg is a freelance writer specializing in mutual funds and investing. He was executive editor of Individual Investor magazine.