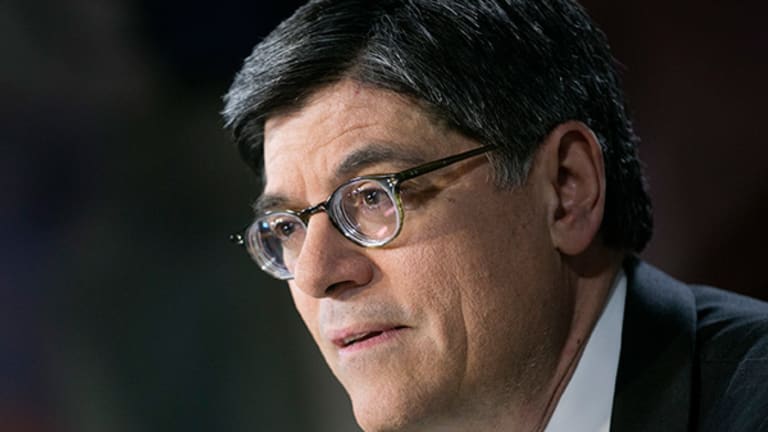 Feds eye mutual fund liquidity and hedge fund debt
A council of regulators found that there was a concentration of leverage in a "small number of large hedge funds."
After a two-year review, federal regulators in Washington on Monday raised a variety of concerns about the $60 trillion asset management industry. Their worries, described in a report on their findings, focused on a lack of data about the industry, liquidity concerns at large mutual fund complexes and over-leverage at big hedge fund firms.
And while specific asset managers were not named nor targeted with demands for tougher capital and liquidity rules, the regulators generally suggested that large asset managers are likely to be hit with additional reporting, planning and disclosure requirements in the next few months.
The largest mutual fund complexes, which are the likely focus of parts of the 27-page report, include  BlackRock Inc. ( (BLK) - Get BlackRock, Inc. Report ), T Rowe Price Group Inc. ( (TROW) - Get T. Rowe Price Group Report ), Fidelity Investments, Invesco Ltd. ( (IVZ) - Get Invesco Ltd. Report ), Charles Schwab Corp. ( (SCHW) - Get Charles Schwab Corporation Report ) and the biggest hedge funds including Och-Ziff Capital Management Group LLC ( (OZM) ), AQR Capital Management LLC, Icahn Associates Holding LLC and Bridgewater Associates LP.
The new report and recommendations conclude a two-year review of asset managers conducted by the Financial Stability Oversight Council, a group of federal regulators set up as part of the Dodd-Frank Act after the 2008 financial crisis. The group, which meets periodically and is headed by Treasury Secretary Jacob Lew (pictured), seeks to coordinate their activities and discuss potential risks to the economy.
And the report, a top FSOC member noted, was intended partly as part of an effort to give fund managers notice that new regulations and requirements are likely on the way.
Specifically, the Treasury Department raised concerns with large mutual funds complexes, suggesting that regulators should take steps to drive managers to improve their liquidity risk management practices and how they classify illiquid assets. In addition, the report urged regulators, such as the Securities and Exchange Commission, one of the members of the council, to improve fund reporting and disclosure requirements.
One major finding of the report was that there was a significant "concentration of leverage in a small number of large hedge funds." As a result the council said the area needed more analysis and set up an interagency working group with a mandate to report back to the council by year-end with a focus on leverage at the largest hedge funds. The agency found concerns about counterparty exposures and trading strategies among big hedge funds.
"It finds that average leverage across hedge fund space is not something to get too excited about," said one FSOC member. "But when you peel back the data and look at where the leverage is and what type of funds have comparatively high levels of leverage it seems to be concentrated in some of the larger hedge funds."
Regulators suggested that more and better data needs to be collected by regulators beyond a so-called Form PF that large hedge fund and mutual fund complexes must fill out. The FSOC adviser said there are "inherent data limitations" with the form and the working group is being set up because "no single regulator has a clear line of site into the exposures of any single fund."
The council also raised concerns that there may be an over-concentration of companies providing third-party outside services, such as information technology services, to large mutual fund and hedge fund complexes. The FSOC staffer suggested that a disruption in services provided by one or more company could cause risk to the financial system. He added that these kinds of systems could become victims of cyberattacks and that regulators will put more pressure on large fund managers to identify redundancies and plan better.
In addition, the council said it didn't have enough data when it came to securities lending, which is when mutual funds or hedge funds temporarily lend out stocks to other investors who use them for a wide variety of purposes such as short selling or to vote the shares in proxy contests that pit activist shareholders against executives over the future of corporations. "Greater transparency is needed," said one FSOC staffer. "Once the data comes in the council will be in a better position to assess the risks." The council recommended that regulators collect more data in this area and also share more of it.
Finally, the council put a spotlight on a soon-to-be launched effort by the SEC to require fund managers to set up transition plans in the event that there is a major disruption to their business.
The move by FSOC comes after the SEC in December revealed a package of measures seeking to cut risk in the asset management industry, including stress tests for big mutual fund complexes to see if they can survive a financial crisis similar to the 2008 meltdown.
The council in 2013 considered a formal recommendation that the SEC impose tougher rules on the money-market-fund industry, an effort that put pressure on the agency to take action. In 2014, the SEC adopted rules intended to block a repeat of a major exodus from money-market funds that occurred during the financial crisis.
It also comes after Third Avenue Management LLC, a mutual fund company founded by investor Marty Whitman, shocked the credit world in December when it said it would freeze redemptions on its well-known Focused Credit Fund as it liquidated holdings. 
Despite the apparent inclination to act on concerns about the asset management industry, FSOC may be reluctant to act very aggressively. The council of regulators received a major rebuke last month when a federal court judge ordered U.S. regulators to remove designation they imposed on MetLife Inc. (MET) that would have forced it to increase capital and liquidity. There was some expectation a few years ago that the council could start designating certain large asset managers as SIFIs. However, regulators in 2014 indicated that they would be focusing on asset manager activities rather than individual firms. On Monday, a senior FSOC official reiterated that steps to improve the stability of asset managers would be focused on their activities and processes, suggesting that there is no plan to designate a large mutual fund complex or big hedge fund as a SIFI.
The Treasury Department in 2014 held a roundtable on asset managers, followed by a move to focus on asset manager activities. The regulators had since submitted requests for information from asset managers, which was reviewed throughout 2015.