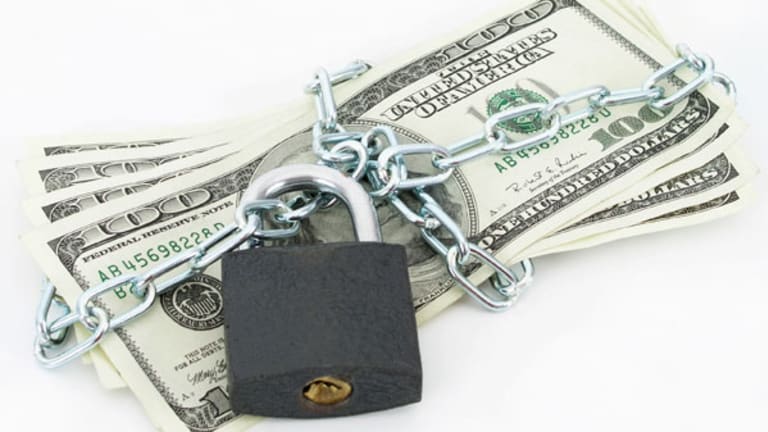 European Stocks Are Glowing
The closed-end European Equity Fund returns an impressive 16.5% so far this year.
The closed-end European Equity Fund returns an impressive 16.5% so far this year.
NEW YORK (
TheStreet
) -- Despite the gloomy economic headlines coming from across the Atlantic, European stocks have been positively glowing, said Rainer Vermehren, portfolio manager for the
European Equity Fund
(EEA) - Get Report
. The closed-end fund, which was launched in July 1986, has returned an impressive 16.5% so far this year.
Welcome to
TheStreet's
Fund Manager Five Spot, where top fund managers give their best stock picks and views on the market in a five-question format.
Many people think German and European stocks have been poor performers this year because of Europe's economic problems. What have they been missing?
Vermehren: Investors that have avoided German and some European stocks have certainly missed out. The
Dow
,
S&P 500
and
Nasdaq
indices are up around 7%, 12% and 14% respectively this year in U.S. dollar terms. In comparison, the German
DAX
, made up of 30 German stocks, is up approximately 23% so far this year in dollar terms. Even the
Euro-Stoxx Index
, which is made up of 50 blue-chip eurozone stocks, is up close to 9% year to date in dollar terms. That's not so bad considering the European sovereign debt crisis that has kept the markets here at bay for most of the year. Finally, the Swedish and Swiss markets are up around 10% and 12% this year, keeping pace with U.S. equity development.
What are your top European stock picks?
Vermehren: Two export plays we like are
Volkswagen
(VLKAY)
and
LVMH
(LVMUY)
because they have attractive export shares outside the European Union. Both are also plays on the higher growth in emerging markets.
We also like insurers
Allianz
>
(AZSEY)
and
ING
(ING) - Get Report
. We see them as value plays that are rebounding after having been in an out-of-favor sector. The stocks are seeing relief triggered by the announced backdrop of the European Central Bank which has proposed "unlimited" buying of stressed European sovereign debt.
Finally, we are bullish on
Lufthansa
(DLAKY)
and
Alstom
(AOMFF)
. Both stocks are smart plays on a cyclical rebound. Lufthansa has been successful in cutting costs, and as a result, it reported 3Q earnings that were better than expected. Alstom's fundamentals are back on track with the order momentum for gas turbines having been accelerating, while the bad news in rail has been discounted.
Do you have a "sleeper" or "under the radar" stock in your portfolio?
Vermehren: I suppose our sleeper stock would be
Aurubis AG
(AIAGY)
, which is a company that operates copper smelting and refining facilities. Copper refining has been out of favor for 5 years with issues of over-capacity. However, mining volumes are now picking up much faster than refining capacities, so the company is entering the sweet spot. Copper refining rates are also turning upward again due to mining increases that far exceed growth of refining capacity.
Is there a stock or sector in Europe that you are avoiding or underweighting?
Vermehren: Two areas that we are underweighting are utilities and staples. Utilities are undergoing a transformation from nuclear energy to renewable energy. Unfortunately, this is requiring significant investments for companies involved during a time when national politicians are very focused on maintaining price stability for end consumers.
Staples are increasingly coming out of favor as individual companies are feeling the pinch from consumer spending, particularly from the contracting economies around the southern periphery in Europe. It has been a very robust sector over the past year and has been favored by investors as a safe haven. With investors having a renewed appetite for riskier assets since late summer, we have been reducing investments in this sector.
What is your outlook for German and European stocks in 2013?
Vermehren: As the likelihood of a Euro breakup scenario has been powerfully reduced by the strong commitment of the
European Central Bank
, we see a good chance for further gains in European equities. However, markets are likely to swing back and forth with their focus on loose monetary policy and hard economic data. With European leading indicators near trough levels and likely small earnings downgrades ahead, the fundamental picture remains mixed. However, we see further potential for equities as risk premiums should fall on the back of a lowered probability of a tail event.
Moreover, a renewed focus on fundamentals provides excellent stock-picking opportunities. We expect that earnings growth is likely to pick up after negative growth rates in 2012. If valuation multiples pick up as well, given the renewed hunt for yield and increased risk appetite, then another good year for equities could follow.
Disclosure: TheStreet's editorial policy prohibits staff editors and reporters from holding positions in any individual stocks.