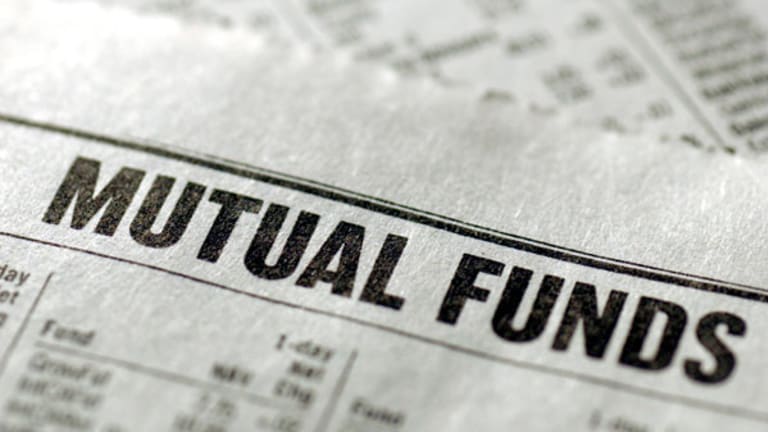 Dividend Funds Put Money in Your Pocket
As mutual funds slide, those that pay dividends are giving investors money on the side.
Like nearly all equity funds,
Thornburg Investment Income Builder
(TIBAX) - Get Thornburg Investment Income Builder Report
has suffered lately. But many Thornburg shareholders have little cause to be upset because they withdraw dividends from the fund, receiving monthly checks. And in the past year, the checks have increased 11%.
Thornburg's reliability is particularly noteworthy because dozens of companies have cut dividends in recent months. Portfolio manager Brian McMahon has dodged most of the trouble, sticking with solid shares that have continued to increase their dividends.
By picking steady stocks, McMahon has maintained his record for constantly raising dividends. In 2003, the fund paid annual dividends of $0.56 and had a share price of $11.94. Since then, the dividend has increased every year. Now the share price is $13.90, and Thornburg expects to distribute more than $1.00 in dividends for 2008. "Even in the worst market conditions, many companies continue raising dividends," says McMahon.
At a time when most investing approaches have soured, dividend strategies remain intriguing. By buying and holding a portfolio of dividend stocks, retirees and other income investors can obtain a stream of payments that rises over time.
Since stocks collapsed in recent months, dividends have come to seem particularly appealing. When stock prices fall, dividend yields rise. The yield on the S&P 500 is now around 2.9%, up from 1.8% a year ago. Plenty of blue-chip stocks yield more than 4%, and Thornburg yields 5.9%. With yields so high, many retirees can now afford to live strictly on dividends. That is a big change from the conditions of recent years. Beginning in the 1990s, yields fell well below 3%, and only the wealthiest retirees could live on dividends while leaving principal untouched.
Income seekers can turn to a growing number of
funds that aim to deliver rising dividends
. The funds follow a variety of strategies. Thornburg looks for companies with plenty of cash and track records for raising dividends. The portfolio includes a mix of cautious yield vehicles, such as blue-chip pharmaceuticals, as well as growing companies that are increasing their dividends at high rates. Holdings include
Eli Lilly & Co.
(LLY) - Get Eli Lilly and Company Report
, which yields 5.6%, and
Entergy
(ETR) - Get Entergy Corporation Report
, a utility that yields 3.8%.
Portfolio manager McMahon keeps about a third of his portfolio in foreign stocks. A big holding is Spanish telecommunications company
Telefonica
(TEF) - Get Telefonica SA Report
, which yields 5.2%.
Foreign stocks typically pay higher yields than U.S. companies do. McMahon says foreigners have a long tradition of demanding richer dividend payouts. While the S&P 500 companies pay out about 30% of their earnings as dividends, many European markets have payouts of more than 50%.
Another income fund is
Eaton Vance Dividend Builder
(EVTMX) - Get Eaton Vance Dividend Builder Fd Cl A Report
, which yields 3.5%. The fund has about a third of assets in utilities and much of the rest in consumer and industrial stocks that steadily raise dividends. A big holding is
McDonald's
(MCD) - Get McDonald's Corporation Report
, which yields 3.5%. The hamburger giant had long paid a skimpy dividend, spending cash on opening new outlets. But in recent years, the company decided to slow down the expansion and reward shareholders with bigger dividends. During the past five years, the dividend has increased at an annual rate of 44%.
A year ago, Eaton Vance portfolio manager Judith Saryan had 45% of assets abroad, but lately she has lowered the figure to 25%. "In the past, we saw some of the best dividend opportunities overseas," says Saryan. "But now that valuations have come down, there is a slew of U.S. companies that are attractive, and we don't need to look overseas so much."
Blue chip investors may prefer
Vanguard Dividend Appreciation
(VDAIX) - Get Vanguard Dividend Apprec Index Inv Report
. The fund tracks Mergent's Dividend Achievers Select Index, a benchmark of companies that have increased their dividends for the past 10 consecutive years. Businesses that clear the hurdle tend to have high profits and strong balance sheets. The portfolio features such powerhouses as
Johnson & Johnson
(JNJ) - Get Johnson & Johnson Report
and
Procter & Gamble
(PG) - Get Procter & Gamble Company (The) Report
. Troubled financial companies don't make the cut. By focusing on companies that raise dividends in good years and bad, the Vanguard fund aims to deliver capital gains and a reliable stream of income.
Stan Luxenberg is a freelance writer who specializes in mutual funds and investing. He was formerly executive editor of Individual Investor magazine.