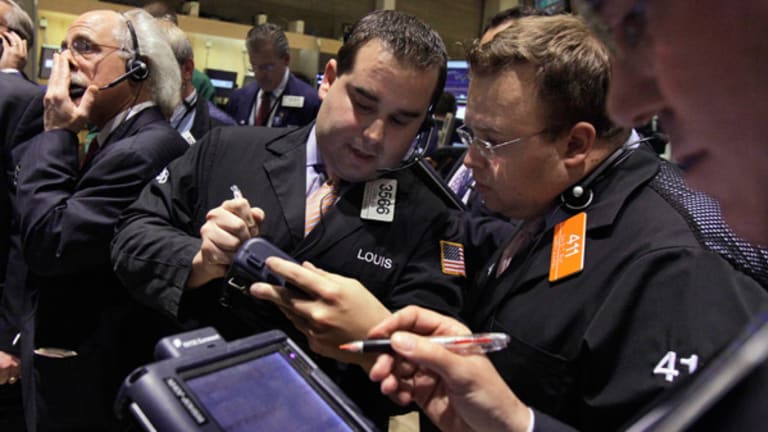 Dividend Funds Enjoy Best of Times
Generous tax breaks have brought new life to the style of investing but they may not last for long.
Generous tax breaks have brought new life to the style of investing but they may not last for long.
Rewarding shareholders the old-fashioned way -- with dividends -- has made a comeback, thanks largely to investor tax breaks enacted in 2003.
But will presidential politics and federal budget constraints quickly lead to higher dividend tax rates again, just as dividend-paying stocks are getting some respect?
If ever there was a time for
to shine, it's now, when rising interest rates are dampening the markets, and a company's genuine ability to generate cash flow every year produces real value for investors.
According to Morningstar, in the past five years, all dividend-based mutual funds handily outperformed the
S&P 500
, which has lost 16.24% on a total return basis. The top fund,
(TGIGX) - Get Report
TCW Galileo Dividend Focused N, even managed a double-digit gain, with a return of 11.19% (see chart).
Although we don't know who will win the presidential election, President George Bush and Democratic challenger Sen. John Kerry have different views on taxation.
President Bush entered office hoping to eliminate the tax on corporate dividends, viewing it as an unfair form of double taxation: Corporations are taxed on their profits, then shareholders are taxed again when they pay income tax on dividends, which are part of the corporation's profits.
He was able to reduce the dividend tax substantially, but only through 2008 because of congressional budget constraints applied to the tax act. Bush would like to make the lower taxes permanent in a second term, says Mark Luscombe, tax analyst with Chicago tax information company CCH Inc., a division of Amsterdam-based publisher Wolters Kluwer.
"Bush seems very loath to raise taxes," says Luscombe. "He's willing to let the deficit go up." A big part of Bush's touted "ownership society" is not penalizing savings, he added.
Kerry, on the other hand, has indicated he would probably leave the dividend-tax breaks alone for now for Americans with income under $200,000 annually, says Luscombe, while raising income tax rates for the top brackets from 33% and 35% to 36% and 39.6%, respectively.
Luscombe says that Kerry is less clear on whether he would extend the dividend-tax reduction past 2008. But clearly he wants to transfer money from the wealthiest Americans to pay for social programs, such as health insurance and unemployment.
Whether it's Bush or Kerry in the White House in 2005, either could have difficulty getting Congress to go along with his fiscal agenda.
Another terrorist attack, a second war or a major economic downturn combined with the already ballooning deficit could sour Congress on tax breaks for dividends and capital gains, no matter who is president.
But dividend stocks are not likely to disappear, even if their tax break does. For some, they seem the perfect antidote to the excesses of the tech boom of the late '90s and a viable alternative for older investors seeking both income and growth in their portfolio.
Dividends are cash payments from a company's profits to its shareholders. The amount and frequency are determined by the company's board of directors and, of course, its financial performance.
Many stable, blue-chip companies have been paying quarterly dividends for decades, but dividend-paying companies fell out of favor with most investors in the 1980s and '90s. They could make more money in those periods from stocks appreciating at 20%-plus annually, than from slower-growth corporations paying 6% or less in dividends.
Prior to the 2003 tax change, long-term profits from appreciated stock were taxed at capital gains rates of either 20% or 10% depending on an individual's tax bracket, while stock dividends were taxed at ordinary income rates, which ran as high as 38.6%.
The law provides lots of incentive for investors to buy dividend stocks. For those in the top four income brackets -- 25%, 28%, 33%, 35% -- dividend income is now taxed at 15% until 2008. Taxpayers in the bottom two brackets -- 10% and 15% -- pay 5% until 2008, when it drops to zero for that year.
After 2008, taxes on dividends will revert to their higher pre-2003 regular income-tax levels, unless Congress acts.
A June study by two economics professors at the University of California, Berkeley found that after declining continuously for more than two decades, dividends distributions enjoyed a sharp and widespread increase following the tax cuts.
According to Raj Chetty and Emmanuel Saez, nearly 150 companies initiated dividends that added more than $1.5 billion to aggregate quarterly dividends, and most were regular, recurrent dividends. "The surge in regular dividend payments after the 2003 reform is unprecedented in recent years," the authors said.
In addition, many companies already paying dividends chose to raise them after the tax-law change and a smaller number paid special one-time dividends.
On July 20,
Microsoft
(MSFT) - Get Report
announced it would issue a one-time, $32 billion special dividend to shareholders, worth $3 a share, the largest in history. The technology giant, which had for years not paid dividends, also announced it would double its annual dividend to 32 cents a share and buy $30 billion of its own shares to boost shareholder wealth.
Mutual fund companies were also quick to respond. Fifteen out of 38 funds currently listed by the investment rating service Morningstar as dividend-based were created after the May 2003 tax law.
Of the
, three new ones (see chart on top funds) have the highest year-to-date returns for 2004:
(ADVDX) - Get Report
Alpine Dynamic Dividend with 10.41%,
( SWDIX)Schwab Dividend Equity Investor with 8.28% and
(CDGIX) - Get Report
Crawford Dividend Growth with 7.60%, compared to a return of about 1.56% for the S&P 500 Index.
Investors have been slow to respond, however, in part because 2003 was a banner year for the stock market, with non-dividend-paying stocks outperforming dividend payers by about 2 to 1, according to research company Standard & Poor's, a division of
The McGraw-Hill Companies
( MHP).
The research firm said at the end of last year that it expected investors would warm to dividend stocks. After all, it noted, dividends have accounted for almost 42% of the total return of the S&P 500 Index since 1926.
Tax change or no, Kelley Wright, publisher of Investment Quality Trends, or IQ Trends Newsletter, in La Jolla, Calif., believes that investors are finally coming to their senses. The 39-year-old newsletter, which has had only four negative years, relies on dividends to guide its value-based stock pickings and has been ranked No. 1 in the risk-adjusted category for the past 15 years by the Hulbert Financial Digest ranking service.
Wright calls the late 1990s a "time of sheer silliness. Every generation or so the market goes through a period where people suspend rational thinking.
"Now people are starting to regroup and ask what is fundamental. Nothing is more fundamental than getting a quarterly dividend check."
His newsletter follows only the cream of the crop of individual blue-chip stocks. Wright's current top picks include
Mercury General
(MCY) - Get Report
, an up-and-coming auto insurer with a 3% dividend yield (the annual dividend divided by the stock price),
Popular
(BPOP) - Get Report
, a Puerto Rican-based bank with a 2.6% yield that is catering to the U.S. Latino market through Wal-Mart and other venues, and tobacco producer
Altria Group
(MO) - Get Report
, with a 6% yield, which he calls the most undervalued company in America, whose litigation problems will be resolved without harming shareholders.(Standard & Poor's keeps a list of what it calls its S&P 500 Dividend Aristocrats, companies that have increased their actual dividend payments in each of the last 25 years. The list and the current indicated dividend rate can be found
here.)