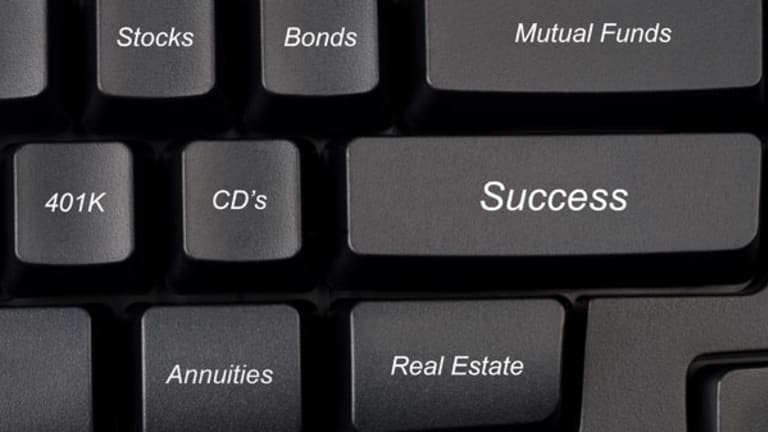 Charge Into Wells Fargo, Charles Schwab
Mark Oelschlager, portfolio manager for Pin Oak Equity Fund, has outperformed the S&P 500 in 2012, thanks to a prescient bet on financials.
NEW YORK (
TheStreet
) -- Financial stocks may have regained their stride since the depths of the financial crisis, but they still have a way to go as the housing market recovers, says Mark Oelschlager, portfolio manager for
Pin Oak Equity Fund
(POGSX) - Get Free Report
.
The large-cap blend fund, which garners three stars from
Morningstar
, has returned 14% year-to-date, beating the
by over a full percentage point.
Welcome to
TheStreet's
Fund Manager Five Spot, where top fund managers give their best stock picks and views on the market in a five-question format.
Why has your fund outperformed so far this year?
Oelschlager
: A good portion of the outperformance of the fund is the result of our bet on the financial sector, which has led the market in 2012. Because of what happened in the financial crisis, this was the most unloved area of the market for a couple years, and that led to some great values. While we were, and still are, very cognizant of the headwinds the sector faces, the stock prices more than accounted for those, and as we looked out a couple years, we saw the potential for better loan growth and net interest margins. What's interesting is that the stocks have actually rallied this year without much improvement in those areas, but the market is seeing the improving housing data and in our opinion correctly concluding that this will translate into a better environment for financials.
What is your top stock pick?
Oelschlager
: Our top pick is most certainly
Wells Fargo
(WFC) - Get Free Report
. It's a leading mortgage company that doesn't take a lot of risks. Despite the recent run in the stock, it trades at just 10x 2012 EPS and a modest premium to book value. Recently it increased its dividend by over 80%. While the housing stocks have been roaring and are highly valued, lenders like Wells are still moderately priced even though they are driven by many of the same factors.
What is your top "sleeper" or "under the radar" stock pick?
Oelschlager
: While it's a well-known company, I call
Charles Schwab
(SCHW) - Get Free Report
a sleeping giant. Its earnings power has been dramatically reduced due to 0% short-term rates, as it forces the company to waive hundreds of millions of dollars in fees on its money market funds every year in order to prevent an investor's return from becoming negative. This has kept a lid on the stock.
In the meantime, however, the Schwab asset-gathering machine just hums along, bringing in billions every month. So you have a company that is growing, but you're not seeing the revenues drop to the bottom line because of the interest rate environment. It's our belief that 0% rates won't last forever, and when there are signs that they may increase, the stock should do very well, as investors look ahead to the spike in earnings.
What stocks or sector would your sell or avoid right now?
Oelschlager
: We would avoid the defensive sectors, such as staples and utilities. Investors are frustrated with low bond yields, so they're seeking income by venturing into high-yielding areas of the stock market, which has pushed relative valuations to high levels. The general concern about the macro picture and the memory of the 2008 financial crisis are also contributing to the skewed valuations in these sectors.
What is your outlook for 2013?
Oelschlager
: Everyone is focused on the fiscal cliff, but generally when everyone is focused on something for this long, its impact is less than what was feared. That could be the case again this time. We expect housing and employment to continue to improve, but it will be important to watch inflation given the global easing cycle.
--
Written by Gregg Greenberg in New York
.
Disclosure: TheStreet's editorial policy prohibits staff editors and reporters from holding positions in any individual stocks.