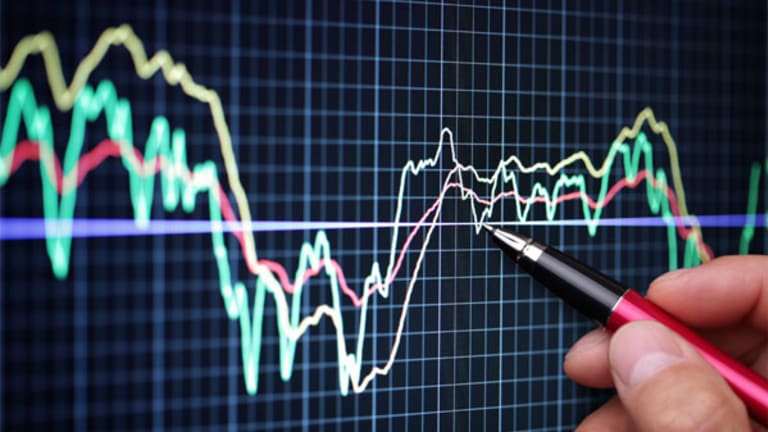 Cautious Funds That Pay Rich Yields (Correct)
By holding mixes of stocks and bonds, these funds deliver steady results.
(Corrects story originally published Aug. 23 to remove reference to Kroger, which the Touchstone fund does not own.)
NEW YORK (
) -- Faced with red ink, investors have been dumping intermediate-term bond funds. The funds have lost 3% this year, according to Morningstar. Rising interest rates caused the losses. When rates climb, bond prices fall as investors sell old issues with small yields.
For better results at a time when rates may continue to climb, consider funds that fall into Morningstar's conservative allocation category. Those funds keep about 30% of assets in dividend-paying stocks and the rest in a mix of different kinds of bonds.
The stock allocations help the conservative portfolios weather periods of rising rates. Stocks often shine when rates climb because the economy is strengthening. This year, the average conservative allocation fund returned 1.9%.
Top choices in the category include
Federated Capital Income
(CAPAX) - Get Federated Hermes Capital Income A Report
,
MFS Diversified Income
(DIFAX) - Get MFS Diversified Income A Report
, and
Touchstone Flexible Income
(FFSAX) - Get Touchstone Flexible Income A Report
.
Among the steadiest performers is MFS Diversified Income. This year, the fund gained 2.6%. During the past five years, MFS returned 8.2% annually, outperforming 92% of peers. Portfolio manager James Swanson aims to stay broadly diversified by holding five different asset classes. In its neutral position, the fund has 20% of assets in real estate investment trusts, 20% in value stocks, 25% in high-yield bonds, 15% in emerging-market debt, and 20% in U.S. government issues. The asset classes were chosen because they tend not to move in lockstep. This year, high-yield bonds rose when government bonds were sinking.
Swanson overweights categories that seem to be cheap. Earlier in the year, he was 3 percentage points overweight value stocks. But as the market climbed, he shifted to a neutral allocation. When emerging-market bonds sank in recent months, he began to overweight the sector. "The economies in the emerging-markets may be slowing, but the credit quality of the bonds is not going downhill," he says.
Income-oriented investors should consider Touchstone Flexible Income, which yields 4.3%. In comparison, the average intermediate bond fund yields 2.2%. To boost yields, Touchstone has 40% of assets in preferred shares, which pay fixed yields like bonds. Many bonds are considered senior to preferreds. So in the event of a default, bondholders are paid before preferred investors receive anything. As a result, preferreds are riskier and must pay higher yields than senior bonds.
The Touchstone fund recently bought preferreds from
JPMorgan Chase
(JPM) - Get JP Morgan Chase & Co. Report
that yield 5.8%. In contrast, short-term bonds from the bank yield 1.8%. Portfolio manager Mitchell Stapley says that preferreds issued by banks tend to pay particularly rich yields. Investors demand higher yields because they still worry that banks haven't recovered from the financial crisis. Stapley argues that the markets have overreacted. He says that risks have declined as regulators have reined in some of the excesses that caused the crisis. "The banks have a lot less leverage on their balance sheets," he says.
Besides preferred shares, Touchstone holds a mix of bonds and mortgage-backed securities. Stapley sometimes buys a company's common stock when it yields more than the bond.
Federated Capital Income yields 4.3%. During the past five years, the fund returned 7.7% annually. The neutral allocation for the portfolio is 40% in stocks and 60% in bonds. Recently, the portfolio managers have been overweighting stocks. The big equity positions helped the fund return 5.9% this year. The managers favor companies with improving fundamentals and increasing dividends. Holdings include such dividend-paying energy stocks as
Chevron
(CVX) - Get Chevron Corporation Report
and
ConocoPhillips
(COP) - Get ConocoPhillips Report
.
While the fund has sizable positions in traditional dividend payers such as utilities and telecom, the portfolio is diversified with holdings in many sectors. A holding is appliance maker
Whirlpool
(WHR) - Get Whirlpool Corporation Report
. Portfolio manager Linda Bakhshian says that Whirlpool's sales should grow as the housing market recovers. "They are increasing prices and improving margins," she says.
Another holding is
LyondellBasell
(LYB) - Get LyondellBasell Industries NV Class A (Netherlands) Report
, a Dutch chemical maker. The company has been boosting its dividend rapidly. Sales should grow as the European economies revive, Bakhshian says.
At the time of publication, the author had no position in any of the stocks mentioned.
This article was written by an independent contributor, separate from TheStreet's regular news coverage.
Stan Luxenberg is a freelance writer specializing in mutual funds and investing. He was executive editor of Individual Investor magazine.