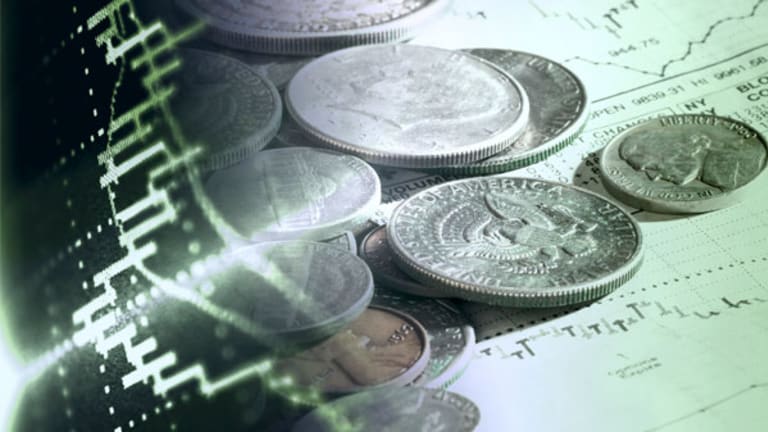 Buy Muni Funds After Dividend Cut
Closed-end funds are selling at bargain prices.
NEW YORK (TheStreet) -- Most bond funds have suffered lately, but the damage has been particularly severe for closed-end municipal funds. Many of those have declined more than 12% this year, compared to a fall of 3.0% for the Barclays Capital U.S. Aggregate Bond index.
Now some bottom fishers argue that the closed-end funds sell at bargain prices. The bulls note that the tax-free funds yield 6%. That's the equivalent of a taxable bond that yields more than 9% for high-bracket investors. "Investors will come back to the closed-end funds because the yields are attractive," says Patrick Galley, portfolio manager of
RiverNorth Core Opportunity
(RNCOX) - Get RiverNorth Core Opportunity R Report
, a mutual fund that invests in closed-end funds.
Climbing interest rates have caused the rout. When rates climb, most fixed-income funds tend to fall as investors sell existing bonds with low yields. But closed-end funds can suffer the most severe damage. Closed-ends hold portfolios of stocks or bonds. The funds issue a fixed number of shares that trade on stock exchanges. During bull markets, the fund shares can sell for premiums to the value of the assets in the portfolios. In hard times, the shares can slip to discounts.
While all kinds of closed-ends can sink, municipal funds can be especially volatile because they are owned mainly by income-oriented retail investors. At the first sign of trouble, the shareholders tend to dump their funds. A year ago, many investors were racing to buy bonds, and the municipal closed-ends sold at premiums. Then in recent months, many funds slipped to 5% discounts.
Some funds suffered particularly steep losses because they cut their dividends in recent months, says John Cole Scott, portfolio manager of Closed-End Fund Advisors. The funds held bonds that had been purchased several years ago when yields were higher. After the bonds matured, managers were forced to buy lower-yielding new issues. As a result, portfolios generated less income, and managers cut payments to shareholders.
After dividend cuts, many shareholders become angry and dump their funds. That can create bargains, says John Cole Scott. "The time to buy municipal funds is just after dividend cuts," he says. "People dislike those funds, even though they may still have good prospects for producing solid total returns."
Scott recommends
Nuveen Dividend Advantage 2 Common
(NXZ)
. After the fund cut its dividend, the shares slipped. Now Nuveen sells at a 9% discount and yields 6.0%. The fund invests in investment-grade municipals.
Scott says that many funds trade less than $5 million worth of shares daily, a tiny amount compared to other investments. A few trades can push closed-end shares down and create bargains. He aims to spot situations where funds suddenly sell for less than their peers. A fund he likes is
BlackRock MuniAssets
(MUA) - Get BlackRock MuniAssets Fund Inc. Report
, which pays a 6.2% distribution and sells for a discount of 8.2%. While it has most of its assets in investment-grade bonds, the fund boosts the yield by holding some issues that are rated below-investment grade.
Many closed-end funds are particularly volatile because they use leverage. In a typical strategy, a fund will buy a portfolio of about $100 million worth of bonds. Then the manager borrows $30 million from a bank and uses the cash to buy more bonds. The 30% leverage boosts yield and magnifies gains in bull markets. But leverage can increase losses in downturns.
A solid leveraged fund is
BlackRock MuniYield Quality II
(MQT) - Get BlackRock MuniYield Quality Fund II Inc. Report
, which has 40% leverage. The fund sells for a 6.9% discount and yields 6.8%. The portfolio emphasizes investment-grade bonds with intermediate-term maturities.
Because they can be volatile, leveraged funds may not be appropriate choices for conservative buy-and-hold investors. Still, the funds can be intriguing choices for shareholders who can tolerate some bumps -- and believe that the current bond downturn is overdone.
At the time of publication the author had no position in any of the stocks mentioned.
This article was written by an independent contributor, separate from TheStreet's regular news coverage.
Stan Luxenberg is a freelance writer specializing in mutual funds and investing. He was executive editor of Individual Investor magazine.