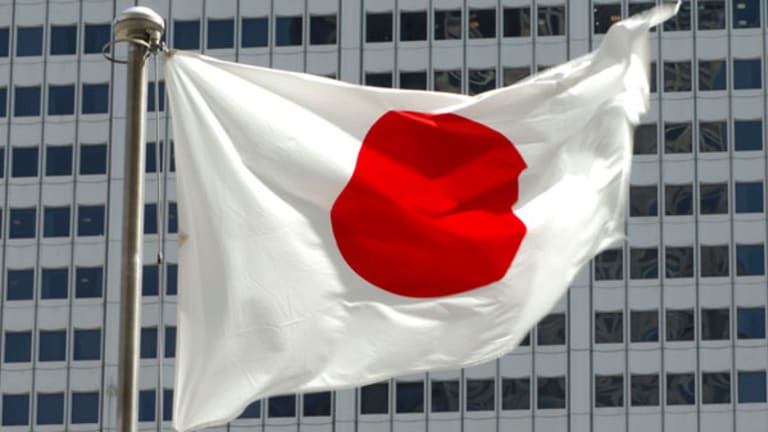 Bullish on Japan
Here are some funds that may profit from Japan's resurgence.
NEW YORK ( TheStreet ) -- After years of stagnating, Japanese stocks have soared lately.
During the past year, Japan mutual funds have returned 37.4%, according to Morningstar. The gains were triggered by the mammoth stimulus programs championed by Prime Minister Shinzo Abe, who took office last December.
Can the rally continue? Yes, say some mutual fund managers. "The government's strategy is working," says Taizo Ishida, portfolio manager of
Matthews Japan Fund
(MJFOX) - Get Report
.
Abe has undertaken a broad-based effort to revive the economy. At his urging, the Bank of Japan began a massive program of bond buying. That has helped to keep a lid on interest rates and depress the value of the yen. The cheaper currency makes Japanese goods cheaper for foreign buyers, boosting exporters of autos and machinery.
In addition, the government is spending heavily on domestic infrastructure, a program that has helped construction companies. With the stimulus efforts boosting sales, the economy grew at an annual rate of 1.9% in the quarter ended in September. Corporate earnings for the period are expected to grow more than 50% from the year before.
So far, growth has been held back by stagnant wages, says Taizo Ishida of Matthews Japan. But there are signs that pay is poised to climb. With profits growing, corporate managements began to raise bonuses last summer. Now there is more talk about fattening base salaries, Ishida says. "Some companies are saying that they will raise wages next year."
To hold a stake in Japan, consider
Columbia Pacific/Asia
(CASAX) - Get Report
. During the past five years, the fund returned 15.8% annually, outpeforming 83% of peers in the Pacific/Asia category. The Columbia fund now has 40% of its assets in Japan, up from 33% a year ago. "We increased our weighting in Japan when it became clear that there was a dramatic change in government leadership," says portfolio manager Daisuke Nomoto.
He says that Japanese stocks remain attractively valued. The Tokyo market sells for 1.3 times its book value, compared with 2.7 for the
S&P 500
. Nomoto says that Japanese companies can continue to increase earnings because managements cut costs to the bone during the long period of stagnation. With break-even levels reduced, small revenue improvements will translate into big profit gains.
The Columbia fund likes exporters that are benefitting from the decline in the yen. A big holding is
Toyota
(TM) - Get Report
. Offering compelling gas mileage and innovative hybrids, the car maker is gaining market share in Asia. The fund also owns some big banks, including
Mitsubishi UFJ Financial Group
(MTU)
. "With the economy growing, we are starting to see some loan growth," Nomoto says.
Wells Fargo Advantage Asia Pacific
(WFAAX) - Get Report
has 31% of its assets in Japan. During the past five years, the fund returned 15.7% annually, outperforming 66% of Pacific/Asia funds. Portfolio manager Alison Shimada says that the yen may not fall much more. But the exporters can continue to shine as the global economy grows.
One holding is
Komatsu
(KMTUY)
, a maker of bulldozers, excavators and other equipment used in mining and construction. The stock has lagged because of slowing demand from miners in emerging markets. But Shimada says that sales will pick up as global housing markets rebound. She argues that the stock is undervalued. "Komatsu is one of the few prominent stocks in Japan that has not participated in the rally," she says.
Another holding is
Mitsubishi Electric
(MIELY)
, a maker of elevators and escalators used in shopping malls and warehouses. The company has growing sales in Asia and the Mideast.
For a broader international fund, consider
Ivy International Core Equity
(IVIAX) - Get Report
, which has 16% of its assets in Japan. During the past five years, the fund returned 16.2% annually, outperforming 89% of foreign large blend peers. Portfolio manager John Maxwell is emphasizing Japanese exporters that stand to gain from the weak yen.
One holding is
Honda
(HMC) - Get Report
. The company has been spending heavily on research and development. The big expenses have hurt earnings and caused the stock price to lag. But earnings are poised to climb, Maxwell says. "The investments are about to pay off because the company is rolling out some very high-quality products."
Maxwell also likes
Sumitomo Mitsui Financial Group
(SMFG) - Get Report
, a big bank. One of the largest asset managers in Japan, the bank owns equities that should gain as the market rally continues.
At the time of publication, the author had no position in any of the stocks mentioned.
This article was written by an independent contributor, separate from TheStreet's regular news coverage.
Stan Luxenberg is a freelance writer specializing in mutual funds and investing. He was executive editor of Individual Investor magazine.