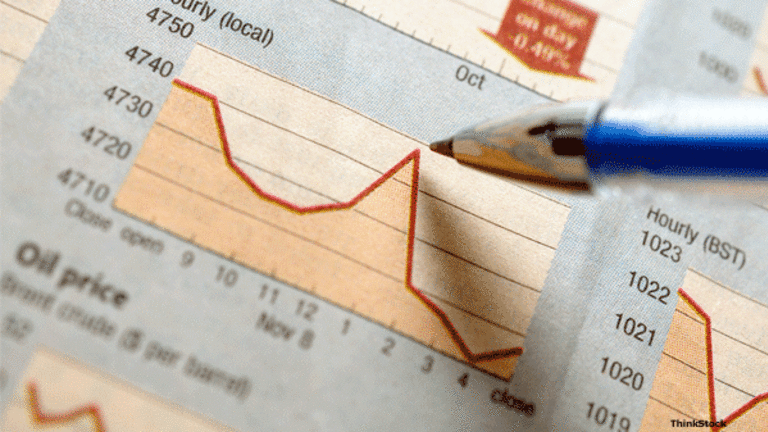 Be Prepared: Mutual Funds That Are Ready for Any Market
All-cap mutual funds can deliver solid results under different market conditions.
NEW YORK (TheStreet) -- Most mutual funds focus on a narrow niche, such as small-cap growth or large-cap value. But there's a better way.
A few managers take an all-cap approach, holding stocks of all sizes. So why would that benefit investors?
In recent years, small stocks have soared. That has helped top all-cap managers outdo the large stocks of the S&P 500undefined. When small-caps move to the back of the field, the all-cap funds will lag too. But because of their diversification, the all-cap funds can deliver decent results under many market conditions.
[Read: Jim Cramer: Wait for the All-Clear]
Solid choices include Barrow All-Cap Core (BALAX), Davidson Multi-Cap Equity (DFMAX) - Get Davidson Multi-Cap Equity A Report and Keeley All-Cap Value (KACVX) . Over the past 12 months, BALAX is up 24.7%, DFMAX is up 24.5% and KACVX is up 22.8%. By comparison, Vanguard's Total Stock Market Index Fund (VTSMX) - Get Vanguard Total Stock Mkt Index Inv Report, which captures all stocks in the U.S. market in proportion to their market value, is up 20.5%, while the S&P 500 is up 19.3% over the same time frame.
Some all-cap funds shift their allocations as conditions change. During the turmoil of 2008, Keeley All-Cap Value had half its assets in depressed small stocks, with the rest in mid and large caps. Then as small stocks rallied, the fund began shifting to cheaper large caps. Keeley now has only 17% in small caps. "We have the ability to move around the markets to find values," says portfolio manager Ed Ciskowski.
The Keeley fund seeks unloved stocks that seem poised to rebound because they are going through dramatic changes. Some holdings are restructuring, selling weak divisions or paying down debt. The Keeley managers like to shop for stocks that have just emerged from bankruptcy. Although such companies can be on a healthy footing, the stocks may remain cheap because Wall Street ignores businesses with checkered pasts. Most often Keeley's contrarian approach has succeeded. During the past five years, the fund returned 27.7% annually, outdoing 84% of mid-cap blend peers.
A holding that emerged from bankruptcy is CIT (CIT) - Get CIT Group Inc. Report, which provides commercial financing for small and mid-sized businesses. The company has been able to refinance its debt and report growing earnings. The portfolio managers became interested in Hewlett-Packard (HPQ) - Get HP Inc. Report after Meg Whitman became CEO in 2011 and announced plans to cut costs. "The company generates a lot of cash and has a great printer business," says Ciskowski.
[Read: Cisco's Billion-Dollar Boondoggle]
Davidson Multi-Cap has reduced its small-cap allocation, lowering the position from 16% of assets in 2010 to 7% now. The portfolio managers favor companies with healthy balance sheets and solid growth potential. During the past five years, the fund returned 22.2% annually, outdoing 79% of large blend funds. The managers aim to find undervalued companies that can appreciate 50% in the next three to five years. To find bargains, they are willing to consider stocks of all kinds. Some holdings fall in the growth category, while others fit into the value box.
A holding is Dick's Sporting Goods (DKS) - Get Dick's Sporting Goods Inc Report, a dominant retailer with 558 stores in 46 states. Sales were sluggish last year because rainy weather hurt demand for golf lines, says Davidson portfolio manager Brian Clancy. He says that the company can rebound and continue taking market share from weaker rivals. "The company should be able to grow in the high single digits or low double digits," Clancy says.
Another holding is Ford Motor (F) - Get Ford Motor Company Report. The stock suffered after the auto maker said that it expected earnings to sink in 2014. Clancy says that new product launches should boost the company.
David Bechtel, portfolio manager of Barrow All-Cap Core, agrees that many small stocks have become overvalued recently. But he worries that expensive shares could keep climbing. To avoid disappointments, he stays broadly diversified, holding a mix that includes sizable stakes in stocks of all sizes. Bechtel prefers quality companies that sell at substantial discounts to their fair values. He favors companies with strong cash flows that can earn healthy returns by reinvesting in their businesses. Bechtel steers away from companies that have heavy debt on their balance sheets. During the past three years, Barrow returned 16.9% annually, outdoing the S&P 500 by more than 1 percentage point.
[Read: You Owe the IRS Money -- Now What?]
Bechtel likes defense contractors, including Northrop Grumman (NOC) - Get Northrop Grumman Corporation Report and Raytheon (RTN) - Get Raytheon Company Report. The companies have strong cash flows and dominant franchises. "The world is a volatile place, and there is going to be a lot of demand for the products that these companies make," says Bechtel.
At the time of publication, the author held no positions in any of the stocks mentioned.
This article represents the opinion of a contributor and not necessarily that of TheStreet or its editorial staff.