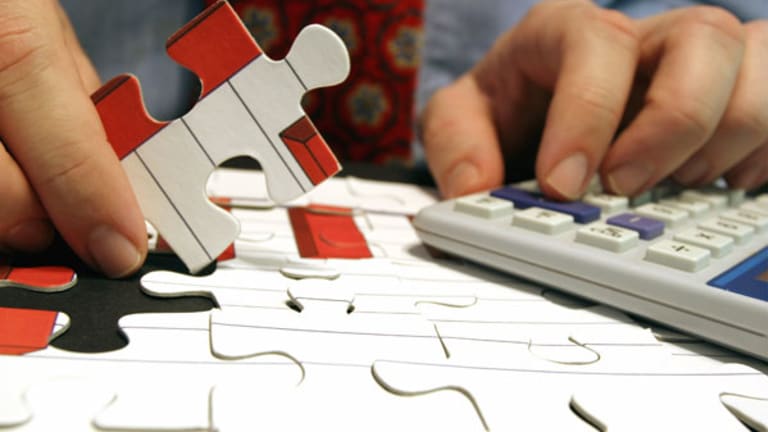 As Markets Rise, Cautious Mutual Funds Sell Stocks
Unable to find bargains, some mutual fund managers are choosing to hold cash.
NEW YORK (TheStreet) -- With the market soaring, signs have appeared that stocks could be getting rich. Some top mutual funds are trimming stocks and building cash reserves. Other funds are no longer accepting deposits from new investors, an indication that managers cant find bargains to buy.
Notable funds that recently closed themselves to new deposits include Vanguard Capital Opportunity (VHCOX) - Get Free Report and Sequoia (SEQUX) - Get Free Report. Of the 222 small growth funds tracked by Morningstar, 30 are now closed.
The number of closings is likely to increase soon. After years of withdrawing assets from equity funds, investors have gained confidence in recent months and begun pouring cash into stocks. Most of the inflows have gone to star managers, but the cash is beginning to flow to second-tier funds as well.
Among the most noteworthy portfolios with a big cash stake is Yacktman (YACKX) - Get Free Report. During the past 10 years, the fund returned 10% annually, outdoing 99% of large blend peers. Portfolio manager Donald Yacktman is a die-hard value investor who holds cash when he cant find bargains. When stocks have been beaten down, he spends cash and favors lower-quality names that stand to surge the most when conditions improve. At the later stages of rallies, he builds cash and shifts to high-quality choices that can withstand downturns.
In the rally of 2006, Yacktman had 26% of assets in cash. That enabled the fund to outdo 98% of peers in the downturn of 2008. Then late in 2008, he put all the cash to work, buying lower-quality names that rocketed in 2009 and helped the fund outdo 99% of peers for the year. Since the financial crisis, the cash stake has climbed back up to 21%. Convinced that low-quality names present too much risk, he is focusing on the very highest-quality stocks, such as Procter & Gamble (PG) - Get Free Report and Coca-Cola (KO) - Get Free Report. Yacktman recently announced that he is closing the fund to new investors on Dec. 31.
Other strong funds with unusual cash stakes include Weitz Partners Value (WPVLX) - Get Free Report and James Balanced: Golden Rainbow (GLRBX) - Get Free Report. Both funds have experienced inflows, but they remain open.
Weitz Partners seeks undervalued stocks with solid cash flows. During the past five years, the fund returned 21% annually, outdoing 95% of large blend peers. In the depths of 2008, the portfolio had less than 5% in cash. But since then the figure has climbed to 28%. "We are not bearish particularly, but we are decidedly uninterested in most stocks at todays prices," says portfolio manager Wally Weitz.
Weitz figures the fair value of each holding and aims to buy at big discounts. Near the trough of the market, his holdings sold for less than half their fair values. Now Weitz figures that his portfolio trades at a 10% discount.
Weitz has long favored subscription businesses that generate reliable income. Favorite holdings include cable TV company Liberty Mediaundefined and satellite TV provider DirecTV (DTV) . "As you build out a cable or satellite system, there are huge up-front capital outlays," he says. "But once you cover the costs, you get very high margins on new subscribers."
When one of his holdings sinks, Weitz often buys more. He trims as the stock rises. One of his top-performing holdings of recent years is Liberty Global (LBTYA) - Get Free Report, which provides cable service in Europe and Africa. In 2008, the shares slid to 10 as investors worried that the company could not pay its debts. Weitz increased his holdings. Since then the shares have rallied above 70. At the depths of the market, Weitz maintained confidence in the stock because its chairman is cable pioneer John Malone. "Malone has a long record of doing smart things with his cash," Weitz says.
Another big gainer has been Berkshire Hathaway (BRK.A) - Get Free Report. During the financial crisis, the shares slipped to less than $80,000. Confident that Berkshire CEO Warren Buffett had not lost his touch, Weitz bought shares until the company accounted for 10% of the assets in his fund. Since then Berkshire has climbed to more than $171,000. With Weitz trimming, the stock now accounts for 4% of the fund. Weitz figures that the fair value is around $190,000. "This stock is not cheap, but the company is growing 10% or 15% a year," says Weitz.
James Balanced holds a mix of stocks, bonds and cash. The portfolio can have up to about 80% in stocks. In 2012, the portfolio held 4% in cash, 50% in stocks and the rest in bonds. This year, the cash has risen to 7.5%, while the stock allocation dropped to 45%. The funds cautious approach has delivered strong returns. During the past 10 years, James returned 7.8% annually, outdoing 99% of peers in the conservative allocation category.
The James portfolio managers are concerned that stocks have become overvalued and are likely to produce subpar results in 2014. One troubling indicator is that the total value of the stock market is $19 trillion, which is equal to 119% of the U.S. GDP. According to the World Bank, the value of the U.S. stock market was 82% of GDP in 2008. Portfolio manager David James says that the market is usually expensive when its value exceeds GDP. "When the market gets to this level, it makes sense to be a little cautious," says James.
The James managers look for unloved stocks that are rising. "When a stock has good relative strength, there is usually a catalyst that is causing the outlook to improve," David James says.
One holding is American Railcar Industries (ARII) - Get Free Report, a maker of tank cars that transport oil. Because of a shortage of pipeline capacity, more fuel is moving by rail.
At the time of publication, Luxenberg had no positions in stocks or funds mentioned.
This article is commentary by an independent contributor, separate from TheStreet's regular news coverage.
Stan Luxenberg is a freelance writer specializing in mutual funds and investing. He was executive editor of Individual Investor magazine.