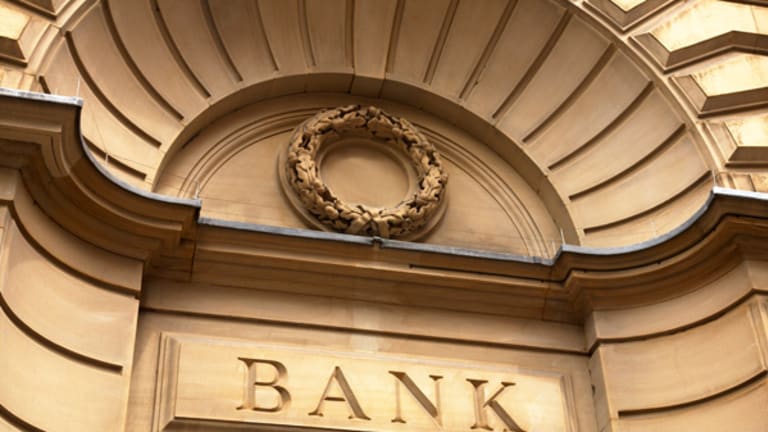 A Case for Bank Stocks
Bank stocks have performed well over the past year. Their run isn't over.
Bank stocks have performed well over the past year. Their run isn't over.
NEW YORK (TheStreet) -- Financial stocks have rallied lately. During the past year, financial funds returned 33.3%, compared with 24.8% for the S&P 500, according to Morningstar. Can the gains continue? Some fund managers think so. They argue that banks have remained undervalued since the financial crisis unnerved investors.
Banks typically sell for 80% to 180% of their book value -- the assets minus liabilities. At the depths of the financial crisis, prices dipped to near 50% of book values. Since then, the shares have recovered to 110%. That price appears to be cheap at a time when the S&P 500 commands 220% of book.
Make no mistake, many banks remain troubled. With the economy still sluggish, earnings growth is weak. But fund managers argue that the outlook is improving.
"As the economy strengthens, bank earnings will rise, and you will get up to the higher stock valuations," says Peter Kovalski, portfolio manager of
Alpine Financial Services
(ADAFX)
.
David Ellison, portfolio manager of
Hennessy Large Cap Financial
(HLFNX) - Get Report
, says that the current market reminds him of the banking cycle that occurred from 1987 through 1991. At the time, banks weakened their standards, making loans to shaky borrowers. What followed was a wave of defaults that caused dozens of institutions to collapse. Then pressured by regulators, banks began making sound loans. "After the down cycle, the banks all got religion," Ellison recalled.
Also see: Apple Can Grow to 500 in the Second Half of 2013>>
The tougher standards enabled institutions to resume reporting profits. As a result, bank stocks rallied from 1991 through 1997. Ellison says that the same process is now unfolding. Instead of giving mortgages to unqualified borrowers, banks are being stingy. "They are making good loans," Ellison says. "They will be living off this good crop of loans for a long time."
To bet on the revival of banks, consider Alpine Financial Services. During the past five years, the fund returned 5.7% annually, compared with 3% for its average peer.
Portfolio manager Peter Kovalski favors small community banks. He looks for undervalued stocks that seem poised to rise because of catalysts, such as new management teams or acquisitions. Many of his favorite targets are not followed by any Wall Street analysts. "We like to get in before Wall Street starts paying attention," he says.
Lately Kovalski has been focusing on banks that seem to be prime candidates for takeovers. Acquirers often pay premium prices to purchase solid banks. During the financial crisis, merger activity slowed. But since then, the volume of activity has increased. Kovalski says that about 50 banks are taken over each quarter.
Many institutions are selling themselves because it has become difficult for small institutions to cover the costs of complying with new regulations. "A small community bank may have to hire an additional person to handle compliance issues, and that can be a difficult burden" says Kovalski.
A favorite holding is
Southern National Bancorp of Virginia
(SONA) - Get Report
, which has 19 branches in Virginia and Maryland. The bank has been expanding by acquiring branches of troubled competitors. Kovalski figures that the bank could be an acquisition target. The company is headed by a husband-and-wife team who earlier built up another bank and sold it.
Another way to benefit from a rise in bank shares is by holding
Oakmark I
(OAKMX) - Get Report
, a large blend fund that has 28% of its assets in financial shares. During the past five years, the fund returned 11.% annually, outperforming the S&P 500 by more than 4 percentage points. The fund's top holdings include
JPMorgan Chase
(JPM) - Get Report
and
Wells Fargo
(WFC) - Get Report
.
Portfolio manager Bill Nygren looks for growing companies that sell for discounts of at least 40% to their fair values. Nygren is particularly keen on
Bank of America
(BAC) - Get Report
.
"The company has gotten off the critical care list and is now a sustainable business," he said last week in a talk at the Morningstar Investment Conference in Chicago.
Also see: The Secret To Affording College>>
Nygren said that Bank of America has a solid balance sheet, but that the shares sell for only 70% of book value. He said that investors are wary because they fear that the volume of loans cannot increase in the sluggish economy. But Nygren said that the company can produce solid profits, even if the revenue does not increase. "At today's prices, they will have enough capital to buy back 10% of their shares each year," he said.
With the buybacks, the company could reduce the number of its shares outstanding. That would increase earnings per share and help to boost the stock price.
This article was written by an independent contributor, separate from TheStreet's regular news coverage.
Stan Luxenberg is a freelance writer specializing in mutual funds and investing. He was executive editor of Individual Investor magazine.