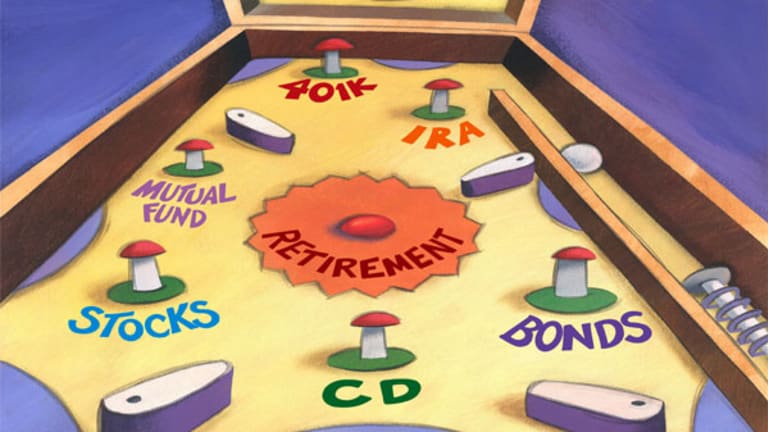 Publish date:
7 Funds to Rebuild Your Nest Egg for 2012
Boomers, don't despair. You'll be working another 10 years or more, and this is how to get back on track.
Boomers, don't despair. You'll be working another 10 years or more, and this is how to get back on track.
BOSTON (TheStreet) -- Baby boomers, many looking straight down the barrel of retirement, are trying to get their financial house in order after what has essentially been a lost decade in stocks.
One of the best ways to turn that around, at least for the average investor who feels whipsawed by stock-market volatility, is to buy mutual funds with great long-term track records and leave the driving to the professionals. The goal now is to get a decent return and also protect downside risks to preserve hard-won capital.
Investing in your 60s won't result in much of a return if you're just about to retire, but given the current economy, many Boomers are looking at least another half-decade or more of work, and with the right choices, they could be able to pad their retirement funds to live more comfortably in the so-called "golden years."
But many dispirited investors have moved to the sidelines, when most should still be in the game, playing catch-up after watching their 401(k) shrivel.
So we did some fund reviews relying on the research of fund tracker Morningstar and analysis and ratings firm S&P Capital IQ data to find out which have less-volatile returns with the likelihood of generating gains over the next five years.
Some of these funds have steadily churned out returns of as much as 10% per year over the past decade, while the others have doubled the S&P 500's performance.
They also have excellent Sharpe ratios and standard deviations, important measures in determining their relative stability in volatile markets, versus their peers.
Here are
seven funds that could help investors get healthy returns
with a minimal amount of risk to their capital along with a few of their top individual holdings:
Nicholas Fund
(NICSX) - Get Report
, managed by Albert Nicholas for more than 40 years, gets high marks from both Morningstar and S&P Capital IQ.
It's built a solid reputation by buying mid- and small-cap stocks of companies that may be relative unknowns, have low valuations and strong earnings growth. S&P says: "Nicholas says he doesn't worry about macroeconomic trends, sectors, or trying to time the market; he says he just uses bottom-up research to identify individual stocks that are unique in some way, target niche markets, and aren't widely followed by Wall Street."
Since it was launched in July 1969, the fund has delivered an average annual return of 10.4%, more than three times the peer average over that time, notes S&P. The fund also recently yielded about 2.57% from dividends.
The top picks of the $1.6 billion fund now include mutual fund advisory holding firm
Affiliated Managers Group
(AMG) - Get Report
, credit card processor
MasterCard
(MA) - Get Report
and
O'Reilly Automotive
(ORLY) - Get Report
, the nation's second-largest auto parts retailer.
The $4.5 billion
Sequoia Fund
(SEQUX) - Get Report
is up 12% this year and has an average annual return of 6% over 10 years, proving its worth as a reliable, all-weather fund. S&P Capital IQ gave it its top award in the domestic equity, multi-cap category this year, based on its strong, risk-adjusted track record under current management, for owning securities that it views as incurring relatively limited risk, and because it has relatively modest expenses versus its peers.
Morningstar also give the fund its highest ratings at five stars and says "co-managers Bob Goldfarb and David Poppe prize companies with sustainable competitive advantages and talented management teams that are effective capital allocators. The portfolio has traditionally been quite concentrated, but they take a prudent approach."
Among the fund's top holdings in its 34-stock portfolio are: specialty pharmaceutical firm
Valeant Pharmaceuticals
(VRX)
, diverse holding company
Berkshire Hathaway
(BRK.B) - Get Report
, discount clothing retailer
TJX Cos.
(TJX) - Get Report
, construction and maintenance products distributor
Fastenal
(FAST) - Get Report
, and medical diagnostic products maker
Idexx Laboratories
(IDXX) - Get Report
.
Vanguard Tax-Managed Small Cap
(VTMSX) - Get Report
is a good choice for taxable accounts, according to Morningstar. It's down 0.9% this year, but has a 10-year average annual return rate of 7.6%.
Morningstar analyst David Falkof writes that "small-cap funds tend to have poor tax efficiency, as most managers eventually sell for a gain when successful stocks grow into larger companies. This fund, however, avoids paying out gains to shareholders as taxable events. Using a strategy called tax-harvesting, the fund gradually accumulates losses from underperforming holdings to offset future capital gains from better-performing names."
Its strategy also includes trying to deter short-term investors whose redemptions could trigger taxable gains by maintaining a $10,000 minimum initial investment, said Morningstar, and "thus far, the fund has never paid a taxable gain."
The fund's five- and 10-year tax-adjusted returns are better than 75% of its small-blend peers through October.
The fund's top pick is
Vanguard REIT Index ETF
(VNQ) - Get Report
, at 3% of the fund, followed by
Regeneron Pharmaceuticals
(REGN) - Get Report
, which discovers, develops, and commercializes products that fight inflammation, cancer, and eye disease (it has gained 83% this year), and
Healthspring
( HS), a Medicare-focused managed-care organization, which is up 103% this year.
Franklin Convertible Securities
( FCSVX), a "balanced convertible" fund, has ranked among that category's best performers over the past two years.
These funds exhibit a blend of bond-like traits, including paying a fixed amount of interest every year to investors and equity-like traits since the bonds can be exchanged, or converted, for stock of the issuing company at a preset price and stand to get share-price gains.
They are complex investments, which is why buying such mutual funds can be a good way to gain defensive exposure to stocks. In theory, they're structured to provide much, but not all, of equities' upside with less of their downside risk. But there are no risk-less investments.
Last year marked the second straight year that convertibles outperformed stocks in general. They bounced off historic lows in 2009, returning 46% on average, beating the S&P 500 by 14 percentage points. Last year, the convertibles category averaged a 16.7% return, outdoing the S&P 500's 15%.
Franklin Convertible has a great long-term record with an average annual gain of 9.2% since 2002. It also has a dividend yield of 4.1%.
Its top holdings include convertible securities, which aren't traded on an exchange. The top firms it owns include securities of videogame maker
International Game Technology
(IGT) - Get Report
, electric utility
Great Plains Energy
(GXP)
and microcontroller maker
Microchip Technology
(MCHP) - Get Report
.
Invesco Disciplined Equity
(AWEIX) - Get Report
lives up to its name, as its long-term performance and relatively low expenses helped it earned an S&P Capital IQ's Mutual Fund Excellence Award this year.
S&P says that in the 12 months to Nov. 29, the $228 million fund's total return was 5.4%, outpacing the peer average's gain of 0.2%, while its three-year annualized return of 13.9% and its five-year annual return of 1.2% were each more than 200 basis points ahead of its large-cap core peers.
The fund also has a lower downside than other funds, with steadily strong, risk-adjusted returns.
The fund's top picks include iPad and iPhone maker
Apple
(AAPL) - Get Report
, business hardware and software maker
Oracle
(ORCL) - Get Report
, snack and soda giant
Pepsi
(PEP) - Get Report
, and discount store chain
Target
(TGT) - Get Report
.
The $4 billion
Vanguard Selected Value Fund
(VASVX) - Get Report
gets top ratings from both Morningstar and S&P Capital IQ. The latter cited it as its top pick in the domestic equity mid-cap category of funds this year.
The fund has a 10-year average annual return of 7.7% putting it in the top 19% of all the funds in its category. For the three-year period through Nov. 25, the fund had an average annualized total return of 19.4% versus 17.8% for its mid-cap value funds peers.
Morningstar analyst Dan Culloton writes that the fund's two managers, Jim Barrow and Mark Giambrone, are "traditional value investors who look for dividend-paying companies with strong balance sheets and business models, but whose shares offer above-average yields and below-average valuations. They stay fully invested in a compact portfolio of fewer than 50 stocks and trade infrequently."
Its top holdings are cruise-ship line
Royal Caribbean Cruises
(RCL) - Get Report
,
Constellation Energy
( CEG), a power generation and regulated electric and gas public utility in central Maryland, and
Yamana Gold
( YRI), which operates six gold mines in Central and South America.
Harding Loevner International Equity
(HLMNX) - Get Report
has a three-year average annual return of 21% and a 10-year average annual return of 6.5%. It was cited as the top international equity category fund this year by S&P Capital IQ and it also gets a four-out-of-five star rating from Morningstar.
The $1.2 billion fund's strategy is to focus on firms with strong revenue, earnings, and dividend growth that enjoy good free cash flow and sound balance sheets, Morningstar says. It holds 60 stocks in its portfolio.
Its top stock positions include international foods conglomerate
Nestle
(NSRGY) - Get Report
,
Dassault Systems
( DSY), a France-based product life-cycle management and three-dimensional computer-aided design software firm and
Air Liquide
(AI) - Get Report
, an industrial gases company, also based in France.
Disclosure: TheStreet's editorial policy prohibits staff editors and reporters from holding positions in any individual stocks.