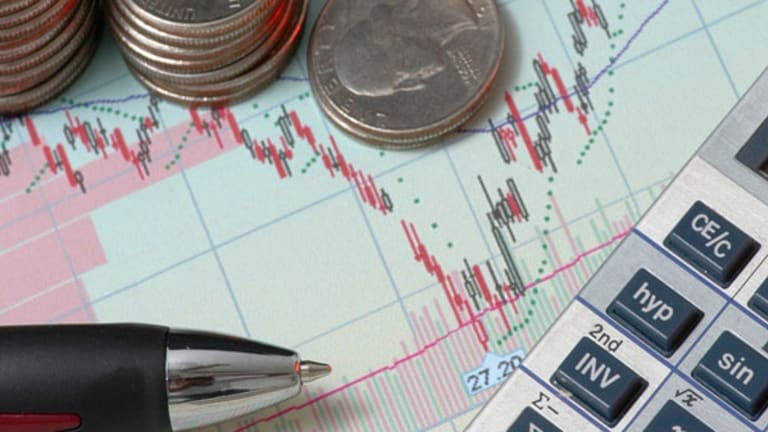 5 Dividend Stocks With Rising Yields for 2012
3M and Exxon Mobil are among dividend-paying stocks with increasing payouts that are good bets for 2012, says portfolio manager Rick Platte.
BOSTON (TheStreet) -- It seems that almost every investment manager is singing the praises of dividend-paying stocks for safety during tough economic times. But Rick Platte goes a step further and says investors ought to find companies that are increasing payouts.
Platte, co-portfolio manager of the
Ave Maria Rising Dividend Fund
(AVEDX) - Get Report
, says rising income will help offset inflation in the coming year. The 10-year U.S. Treasury is yielding only 2%, while the latest reading on inflation is a seasonally unadjusted 3.5%, meaning investors are losing money on government bonds.
Picking dividend stocks "looks pretty darn attractive" on an absolute basis versus bonds, Platte says. With Europe and the U.S. failing to effectively manage a swelling debt crisis and a U.S. presidential election on tap, Platte says it'll be "more of the same old, same old." With slow growth in the cards, Platte heralds the benefits of having a diversified portfolio of companies committed to raising their dividends, such as
3M
(MMM) - Get Report
and
Lowe's
(LOW) - Get Report
.
The reason for the fund's success is simple: Platte and his team searches for companies with capable management that have a history of increasing dividend payments over time. When there are bad days in the stock market -- last week, for example -- Platte takes comfort in his picks.
"The reason I don't wake up in a cold sweat is because of the types of companies we're invested in," Platte says. "I don't know what is going to happen next year. Things will probably keep chugging along, but it won't feel like a traditional recovery. We're in a new reality. But these companies will continue to grind out, increasing earnings and dividends. It's this type of consistency that the portfolio is built around."
Those steady eddies have enabled the Ave Maria Rising Dividend Fund to outperform the benchmark
S&P 500 Index
over nearly every time period since the fund's inception in 2005. A hypothetical $10,000 invested in the fund in May 2005 would be worth $14,200 today, while the same amount in an S&P 500 index fund would be worth $11,700.
Because of the rising-dividend mandate, the fund tends to outperform in bear markets. For example, the fund fell 22.8% in 2008 as the S&P 500 plunged 37%. During the snapback rally in 2009, the fund rose 25.3%, slightly behind the 26.5% return on the S&P 500.
"Not being able to capture the entire upside in a roaring market is a criticism, but it's one I'm comfortable living with," Platte says.
Platte says gridlock in Washington is making investors unsure of how to invest in the stock market, if they want to invest at all.
"I've been doing this since 1975, and I know the future is uncertain," he says. "Times look pretty bleak right now. The economy has been on its back for quite some time. It's said that we're in a recovery but it sure doesn't feel like it. There is always this nagging thing. People have been scared of stocks for some time. The volatility has been high. But as a result, there are a number of stocks that are attractive."
Some investors may disregard the Ave Maria family of funds because of its mandate that forbids fund managers from owning companies it says violate core teachings of the Roman Catholic Church. Those include companies that contribute to Planned Parenthood, distribute pornography or are involved in stem cell research.
However, Platte argues the stock screen used by Ave Maria funds has been overstated. "It's not a huge factor. There is a moral-screen aspect to it, but we spend much more time looking at the investment fundamentals," he says.
Favored companies that pass the stock screen are those that Platte "could own for the rest of my life," he says. "They make the kinds of products that we use all the time. As I look at it, stocks have good value to be found in surprisingly good names. The bond market is hard to get excited about. But equities have some pretty darn good companies."
Five of Platte's rising dividend stock favorites
, owned in the Ave Maria Rising Dividend Fund, are detailed below and on the following pages.
Lowe's
(LOW) - Get Report
Company Profile
: Lowe's is the home-improvement retail rival to
Home Depot
(HD) - Get Report
, with more than 1,700 stores in the U.S.
Current Share Price
: $24.05 (Nov. 29)
Dividend Yield
: 2.3%
Platte's Take
: Lowe's stock has endured a tumultuous year, rising as high as $27.45 earlier this year before dropping to a 52-week low of $18.07 in August. Shares have rallied back but are still down 4% this year. With an increasing dividend, Platte sees plenty of opportunity in Lowe's.
"It's a stock that has been beaten up pretty badly. Building is held in such low repute right now. I hesitate to even say 'housing,' " Platte says. "But we view it as a well-run company that has exposure to building. Whether it's 2013 or 2014, housing will pick up. Houses need to be taken care of. In a pretty poor environment, they've actually done well. And they've increased their dividend through the hard times."
Lowe's was the fifth largest position in the Ave Maria Rising Dividend Fund as of Sept. 30, accounting for 3.2% of the portfolio's net assets.
Exxon Mobil
(XOM) - Get Report
Company Profile
: Exxon Mobil is the largest company in the world by market value. The integrated oil giant is involved in the exploration and production of crude oil and natural gas, as well as the transportation and sale of crude oil.
Current Share Price
: $77.39 (Nov. 29)
Dividend Yield
: 2.4%
Platte's Take
: When it comes to dividend stocks, Exxon is frequently mentioned thanks to its yield (above the 10-year U.S. Treasury), the company's inclusion in the
Dow Jones Industrial Average
, and Exxon's mega-cap label.
"I hesitate to mention it because it's pointing out the elephant," Platte says. "It's a huge energy play and it's very well-run. But few will mention that it's selling at a very low multiple, which it tends to because of the volatility of the end product. They've repurchased shares dramatically over the last decade and they tend to raise the dividend as well. International exposure through the oil."
Exxon Mobil shares are up nearly 6% this year and more than 13% since early August. The company has increased its dividend payment per share since 2003. Exxon was the top holding in the Ave Maria Rising Dividend Fund as of Sept. 30, representing 4.4% of the portfolio.
Sysco
(SYY) - Get Report
Company Profile
: Sysco is a North America distributor of food-service products with approximately 400,000 customers.
Current Share Price
: $28.06 (Nov. 29)
Dividend Yield
: 3.8%
Platte's Take
: Sysco may be off the beaten path for some dividend investors when compared to Exxon, which is one of the reasons Platte likes the stock so much.
Shares of Sysco are down 4.5% this year and more than 10% since September 2008, before the financial crisis kept diners at home as they tightened the belt and saved money. Platte says that while he waits for foodservice companies to see their business pick up, he's happy to receive a dividend payment of nearly 4%.
"Their business has been a well-run company historically," Platte says of Sysco. "Their business has been affected negatively because of food distribution. If people don't eat out, that's less demand for their products. They've also been hurt by food inflation. But Sysco is getting more share in this market and the dividend keeps increasing. I'm getting paid a pretty nice yield to sit and wait."
3M
(MMM) - Get Report
Company Profile
: 3M, a component of the
Dow Jones Industrial Average
, is a large, diversified manufacturing company. 3M's portfolio of household brands includes Post-It, Scotch Brite and Scotchgard, among others.
Current Share Price
: $77.64 (Nov. 29)
Dividend Yield
: 2.8%
Platte's Take
: 3M may be another obvious dividend name for investors because of the stock's inclusion in the Dow, but Platte argues that investors may be looking at the stock for the wrong reasons.
While a 2.8% yield is considerably better than the 10-year U.S. Treasury, Platte says 3M is doubly attractive because of its low forward price-to-earnings ratio of 12.3, a discount to the broader market. 3M shares have disappointed this year, falling 10%. By comparison, the
S&P 500
is down only 5%. But that has created a buying opportunity investors rarely get.
"There are not many times have you had the opportunity to purchase 3M at the prices it is selling it," Platte says. "Again, the dividend yield is pretty attractive and you have tremendous exposure to international business. They're in 65 countries. If you're looking for some domestic company with international exposure, this is a name to own."
As of Sept. 30, 3M was the ninth largest position in the fund, accounting for 3% of the portfolio's net assets.
The Cato Corp.
(CATO) - Get Report
Company Profile
: The Cato Corp. is a specialty retailer of women's fashion clothing and accessories. The company operates 1,300 stores in 31 states.
Current Share Price
: $23.51 (Nov. 29)
Dividend Yield
: 3.8%
Platte's Take
: Unlike Platte's other picks, with have market capitalizations above $1 billion, Cato is a much smaller company at only $693 million.
"It is probably one of the smallest in our portfolio," Platte says. "But they have no debt and a large portion of the stock price in cash. This stock tends to be more volatile, so it bounces around a lot. Because they don't sell high-end fashion, they've had some negative same-store sales. But it's a good business formula that will continue to do well. They do increase the dividend regularly."
Cato shares are down 14% this year and 19% over the past 12 months. However, the stock did hit a 52-week high of $30.77 in July and, earlier this month, the company said net income rose in the third quarter from a year ago even as same-store sales fell 3%.
>>To see these stocks in action, visit the
5 Dividend Stocks With Rising Yields for 2012
portfolio on Stockpickr.
-- Written by Robert Holmes in Boston
.
>To contact the writer of this article, click here:
Robert Holmes
.
>To follow Robert Holmes on Twitter, go to
http://twitter.com/RobTheStreet
.
>To submit a news tip, send an email to:
.
Disclosure: TheStreet's editorial policy prohibits staff editors, reporters and analysts from holding positions in any individual stocks.