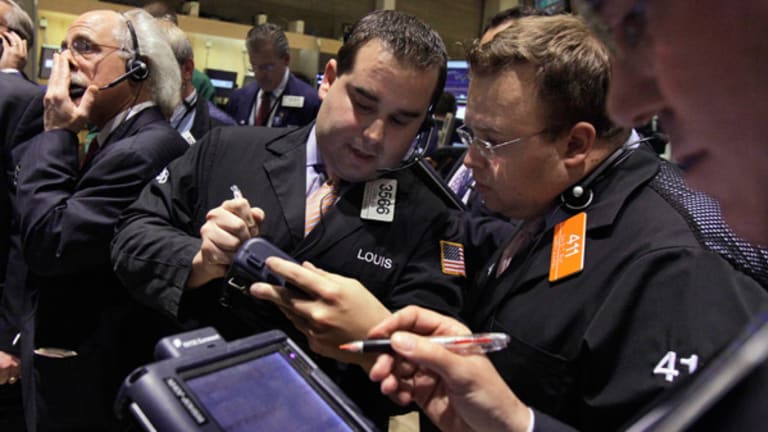 3 Funds for After-Tax Profits
As stocks recover, these investments can help avoid capital gains taxes.
As stocks recover, these investments can help avoid capital gains taxes.
NEW YORK (TheStreet) -- Fund investors have enjoyed a tax holiday. Although stocks recorded big returns in 2009 and 2010, fund shareholders were largely shielded from paying capital gains taxes. The respite occurred because nearly all funds suffered big losses during the financial crisis. Under IRS rules, losses can be stockpiled and used to offset future gains. Say a fund suffered a 40% loss in 2008 and gained the same amount the next year. The loss could offset the gain, and the shareholder would owe no tax.
But lately some funds have been recording healthy gains and exhausting their supplies of losses. As a result, shareholders will face bills this year. Funds that have warned shareholders to expect taxable capital gains include
Fidelity Blue Chip Growth
(FBGRX) - Get Report
,
T. Rowe Price Mid-Cap Growth
(RPMGX) - Get Report
and
Vanguard Capital Opportunity
(VHCAX) - Get Report
. If markets continue climbing next year, more funds will begin generating tax bills.
To avoid facing bad news on April 15, investors can turn to tax-managed funds. Some of those have long histories of avoiding taxable gains. But investors should shop carefully. Of the dozens of funds that claim to be tax-efficient, only a few have delivered strong returns while limiting payments to Washington. Among the winners are
BBH Core Select
(BBTEX)
,
Russell Tax-Managed U.S. Mid & Small Cap
(RTSAX) - Get Report
, and
Vanguard Tax-Managed Capital Appreciation
(VTCLX) - Get Report
.
Vanguard Tax-Managed has been an especially compelling choice. During the past five years, the fund has returned 0.7% annually, compared to a return of 0.1% for its benchmark, the
Russell 1000 Index
, according to Morningstar. Since the fund started 17 years ago, it has never reported a taxable capital gain. Vanguard Tax-Managed follows a strategy that is basically passive, though the managers tweak the holdings to avoid taxable capital gains.
The fund starts with a portfolio that roughly resembles the Russell 1000. To limit capital gains, Vanguard uses a technique known as tax-loss harvesting. In the approach, the managers sell some shares that have declined. That way the fund can book the loss and use it to offset gains. After selling the shares, the fund must stay away from the stock for 30 days to avoid running afoul of IRS wash-sale rules.
While selling the losing shares, the portfolio managers must be careful to avoid departing too far from their benchmark, says Joel Dickson, a Vanguard senior investment strategist. Vanguard's usual approach is to sell only part of a losing position. "You can only afford to be slightly underweight some securities relative to the benchmark," Dickson says.
In addition to harvesting losses, the fund also seeks to underweight some dividend-paying stocks. The aim is to reduce taxable dividend income.
RTSAX
Russell Tax-Managed US Mid & Small Cap returned 3.0% annually during the past five years, outdoing 88% of small blend competitors. Instead of relying on its own employees to pick stocks for the fund, Russell has hired five subadvisors, outside managers that call the shots. Russell portfolio manager Robert Kuharic oversees the subadvisors. Some of the subadvisors follow explicit tax-managed strategies, harvesting tax losses and limiting dividend income. Other subadvisors don't actively harvest losses, but they keep taxes low by rarely trading. This limits costs because investors only owe capital gains taxes after they have sold shares at a profit.
Kuharic hires a mix of growth and value subadvisors. The aim is to maintain a portfolio that fits in the blend box. "We want to build a diversified portfolio that can deliver positive after-tax returns," he says.
BBTEX
BBH Core works to hold down taxes by rarely trading. The annual turnover rate is 19%, suggesting that the portfolio managers often own stocks for more than five years. The fund buys companies with rock-solid balance sheets and high returns on capital. Holdings include
Berkshire Hathaway
and
Wal-Mart Stores
(WMT) - Get Report
. The approach has been particularly effective in downturns. During 2008, BBH outdid the
S&P 500
by 15 percentage points. During the past five years, the fund has returned 5.2% annually after taxes, outdoing 99% of large blend peers.
Stan Luxenberg is a freelance writer specializing in mutual funds and investing. He was executive editor of Individual Investor magazine.