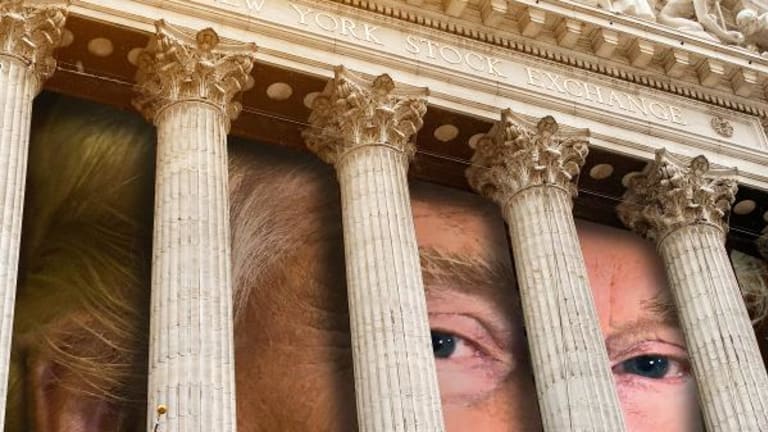 Why Trump's Rollback of Bank Regulations Risks a Bondholder Backlash
President Donald Trump's pledge to loosen banking regulation has been cheered by shareholders in big financial firms. Bondholders are likely to be less sanguine on any changes.
President Donald Trump's pledge to roll back regulations on U.S. banks could face resistance from an influential constituency: bondholders.
While stockholders of firms like JPMorgan Chase (JPM) - Get JPMorgan Chase & Co. (JPM) Report and Goldman Sachs (GS) - Get Goldman Sachs Group, Inc. (GS) Report have cheered Trump's plans to repeal or soften rules imposed in the wake of the 2008 financial crisis, bond-rater Standard & Poor's is warning that such a move could undermine the industry's creditworthiness.
Measures like "stress testing," in which regulators evaluate banks annually to determine if they're sufficiently prepared to withstand a deep economic or market downturn, have made the firms safer, according to S&P. And so-called resolution planning -- the practice of planning in advance how big banks would be wound down following a Lehman Brothers-style collapse -- also has contributed to the industry's resilience, the ratings firm wrote in a March 20 report.
The timetable for any such changes isn't yet clear, however. Trump in February signed an executive order directing U.S. Treasury Secretary Steven Mnuchin to identify any laws that might impede economic growth or vibrant markets.
Those could include the 2010 Dodd-Frank Act, signed by former President Barack Obama to curb risky activities like using excessive borrowings to fuel earnings growth and allowing in-house traders to speculate on markets with proprietary capital. 
"An overhaul of Dodd-Frank could be detrimental for bank creditors," S&P wrote in the report. "If changes to Dodd-Frank watered down these features, and if banks reacted to such changes by weakening their financial management, we could lower ratings."
The fresh concerns could contribute to a shift in investor sentiment that's been mostly positive toward banks since Trump's surprise election on Nov. 8.
The PowerShares KBW Bank Portfolio (KBWB) - Get Invesco KBW Bank ETF Report , an exchange-traded fund tracking big financial firms, is up 22%, reflecting optimism among stock traders that the regulatory rollback will boost profits. Bank shares also have surged on speculation that Trump will enact corporate tax cuts that will fall straight to the firms' bottom lines.
Bondholders, meanwhile, have proven less ebullient. The gap between yields on 10-year financial-company bonds and U.S. Treasuries -- a gauge of investor perceptions of the danger of a default -- has fallen by just 0.1 percentage point since the election to 1.7 percentage points.
According to Keefe, Bruyette & Woods, a brokerage firm specializing in the financial industry, Trump's deregulatory agenda could be a "mixed bag" for lawmakers.
Republicans are likely to argue that Orderly Liquidation Authority, or the process by which large financial firms are handled in the event of a default, simply perpetuates the perverse market belief that banks are likely to get bailed out by taxpayers, Keefe Bruyette wrote in a report last month.
Democrats, meanwhile, will seize on the idea that a rollback would make bank bondholders more vulnerable, according to the brokerage firm.
Editors' pick: Originally published April 4.