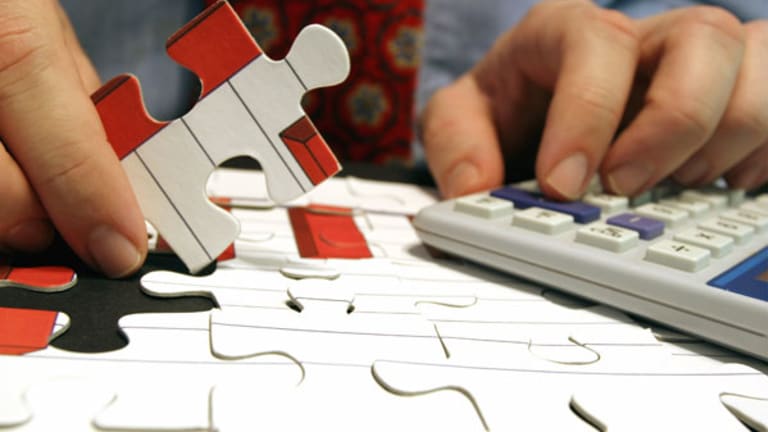 The Hazards of Bond Index Funds
If interest rates keep rising, the bond benchmarks could rise.
NEW YORK (
) -- Shareholders of
Vanguard Total Bond Market Index
(VBTLX) - Get Vanguard Total Bd Mkt Index Adm Report
have reason to be disappointed.
In 2012, The Vanguard mutual fund returned 4.2%, compared to 7.0% for the average intermediate-term fund, according to Morningstar.
During the past five years, Vanguard has lagged 60% of its peers. The poor showing is particularly notable because the mutual fund has $120 billion in assets and ranks as the biggest passive bond fund.
Will the index fund continue lagging actively managed competitors? Probably. The problem is that the Vanguard fund has most of its assets in government bonds. Those are likely to lag if the economy keeps growing and interest rates rise.
>>> Also see: Overbought and Overvalued Market? Consider Unconventional ETFs
Vanguard Total Bond Market tracks the Barclays U.S. Aggregate Index, the most popular bond benchmark. Designed to reflect the composition of the investment-grade bond universe, the benchmark has 37% of its assets in Treasuries and 24% in mortgages securities that are backed by the government. Only 21% of assets are in corporate bonds. This is very different from the typical actively managed bond mutual fund, which has a bigger stake in corporate bonds and less in government issues.
During the financial crisis, corporate bonds sank because investors worried about defaults. But after the markets hit bottom, corporate issues rallied hard and enabled actively managed funds to outdo the benchmark.
Corporate bonds no longer sell at bargain prices. But corporates should continue outperforming if the economy grows, as many economists expect.
According to many forecasts, consumers should seek more loans to buy houses and cars. That will push up interest rates. Rising rates hurt bonds of all kinds as investors dump older issues with low yields. But corporate issues tend to do better than the benchmark in periods of rising rates because investors worry less about defaults when the economy is sound.
>>> Also see: Why Advisers Are Recommending Index Funds
Investors recently got a taste of how government bonds can fall. During the past month, interest rates on 10-year Treasuries climbed from 1.77% to 1.94%. With prices of government issues falling, the Vanguard index fund lost 0.4%, while the average intermediate fund about broke even.
Government bonds could suffer a particularly steep fall because of the actions of the
Federal Reserve
, warns Howard Greene, portfolio manager of
John Hancock Bond
(JHNBX) - Get J Hancock Bond Fund A Report
.
Under its quantitative easing programs, the Fed has been buying billions of dollars worth of Treasuries and government-backed mortgage securities each month. That has temporarily propped up prices of government issues.
"As long as the Fed keeps buying a lot of the new issues, the bond benchmark may be able to hold up," Greene says. "But after a while, the buying will stop, and the game will be over."
Investors are not being compensated for the risk of Treasuries, portfolio managers argue. The Treasuries in the Barclays benchmark yield a puny 0.90%. Overall the Vanguard fund yields 2.6%.
To get a higher yield and more protection from a decline in Treasuries, consider an actively managed fund with a big stake in corporates and a long track record for outdoing the benchmark. Top choices include
Janus Flexible Bond
(JANFX) - Get Janus Henderson Flexible Bond D Report
, John Hancock Bond, and
MFS Bond
(MFBFX) - Get MFS Corporate Bond A Report
.
Holding 89% of its assets in corporate bonds, MFS Bond yields 4.2%. During the past five years, the fund returned 8.4% annually, outdoing 95% of intermediate funds.
>>> Also see: Getting Fat Yields by Casting a Wide Net
Portfolio manager Robert Persons has most of his assets in bonds that are rated triple-B, the lowest rung in the investment-grade market. Those issues yield around 3.5% and present little default risk. For some extra juice, he has 18% of assets in bonds that are rated double-B, the highest rating of the below-investment grade universe.
Persons aims to buy strong double-B-rated companies that are improving their credit qualities. He says that his favorite double-B-rated bonds deserve to be considered investment grade. "We want bonds that should soon be upgraded by the ratings agencies," he says.
Last year, 3% of the MFS holdings were upgraded to investment grade, says Persons. When a bond is upgraded, the price immediately rises as investors rush to buy the improved issue. Persons says that many index funds and institutional investors cannot buy bonds that are rated below-investment grade.
John Hancock Bond, which yields 4.4%, has 44% of its assets in corporate bonds and only 7% in Treasuries. During the past five years, the fund returned 8.3% annually. Portfolio manager Howard Greene attributes part of the strong showing to a stake in mortgage securities that are not backed by government agencies.
During the financial crisis, government-backed mortgages held their value, but securities with no agency support sank sharply as investors worried about the high levels of defaults on subprime mortgages and other shaky assets. Figuring that the market had overreacted, Greene began scooping up mortgages that sold for 30 cents on the dollar of assets. As defaults declined, prices rallied to more than 70 cents on the dollar. "When the housing market bottomed, the valuation of the mortgages shot up," Greene says.
He still has 7% of assets in nonagency mortgages. These days the securities still yield 4% or more, a tempting yield for relatively safe investments.
>>> Also see: Want to See a $22,000 TV?
Janus Flexible Bond adjusts its allocation as market conditions change. Before the financial crisis, portfolio manager Gibson Smith worried that corporate bonds had become too expensive, as confident investors bid up prices and ignored default risk. "As valuations became stretched, we sold corporate bonds and shifted to Treasuries," he says.
The move into government bonds protected shareholders during the turmoil of 2008, when the fund outdid 93% of its peers. After the downturn, Smith raised his allocation of corporate bonds. The fund currently has 58% of assets in corporate bonds. During the past five years, the fund returned 7.6% annually, outdoing 89% of peers.
At the time of publication the author held no positions in any of the stocks mentioned.
This article is commentary by an independent contributor, separate from TheStreet's regular news coverage.
Stan Luxenberg is a freelance writer specializing in mutual funds and investing. He was executive editor of Individual Investor magazine.