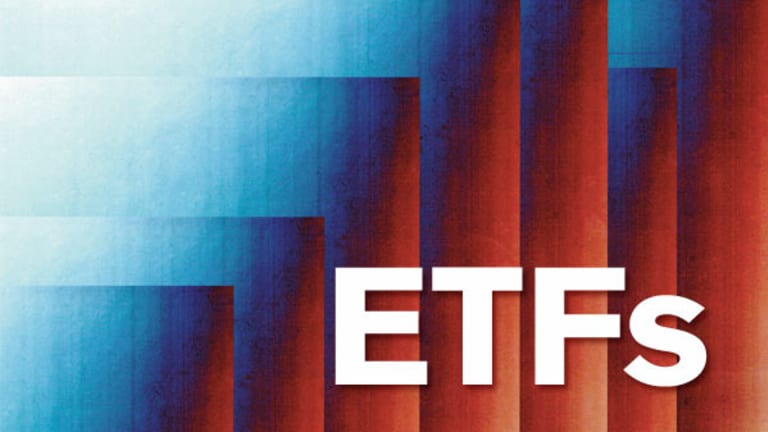 Strategic Overlays Come to Bond ETFs
The strategy protects holders of intermediate and long-term bonds from getting hurt when rates rise again..
NEW YORK TheStreet -- As anyone with a fixed-income portfolio or even just a savings account will tell you, interest rates have been and remain close to all-time lows.
Rates will normalize at some point. When they do, holders of bond funds that target intermediate and long-term maturities stand to get hurt from falling fund prices.
This has triggered a new trend of strategy-based bond ETFs as opposed to the more traditional index-based bond ETF like the popular
iShares 20+ Year Treasury Bond ETF
(TLT) - Get Free Report
.
On Friday, Van Eck listed the
Market Vectors Treasury Hedged High Yield Bond ETF
(THHY)
. The big idea is that THHY will buy an indexed portfolio of high-yield bonds and hedge the exposure by selling short five-year Treasury notes with a one to one ratio between the long and short positions.
Without the hedge, an indexed portfolio of high-yield bonds such as what is held in the
SPDR Barclays High Yield ETF
(JNK) - Get Free Report
would be very susceptible to rising rates but the short position in Treasury would offset some or all of the drop in the long portfolio. Rising rates would mean falling Treasury prices, which benefit the short position.
When the strategy is working then fund holders could potentially stay with THHY as plain-vanilla bond index funds were falling. The fund's fact sheet warns that a repeat of 2008 for whatever reason, where high-yield bonds went down a lot -- JNK dropped by 40% in 2008 and Treasuries benefited from a flight to quality -- would cause a serious decline in THHY.
Van Eck is reporting that the index underlying the fund has a yield to worst of 4.33% so it is likely that the fund will have a higher yield than that but as with any ETF there can be no assurances about how much future dividends will be.
Interestingly, the recently launched
First Trust High Yield Long/Short ETF
(HYLS) - Get Free Report
employs a very similar strategy with the two big differences being that the high-yield portfolio in HYLS is actively managed instead of an indexed portfolio and ratio of long portfolio to the short position in Treasuries is four to one instead of one to one.
Both THHY and HYLS will pay monthly dividends and HYLS recently made its first payment, which was 28 cents. Consistency at that level would put HYLS' yield at 6.6%. But whatever HYLS' actual yield turns out to be, it is likely to be greater than THHY's yield because of the differences in hedging techniques.
Also, because of the differences in hedging I would expect HYLS to outperform THHY when the high-yield market is doing well. But I would also expect that THHY would outperform when rates finally do rise.
At the time of publication the author had no position in any of the stocks mentioned.
This article was written by an independent contributor, separate from TheStreet's regular news coverage.
This contributor reads:
On Twitter, this contributor follows: