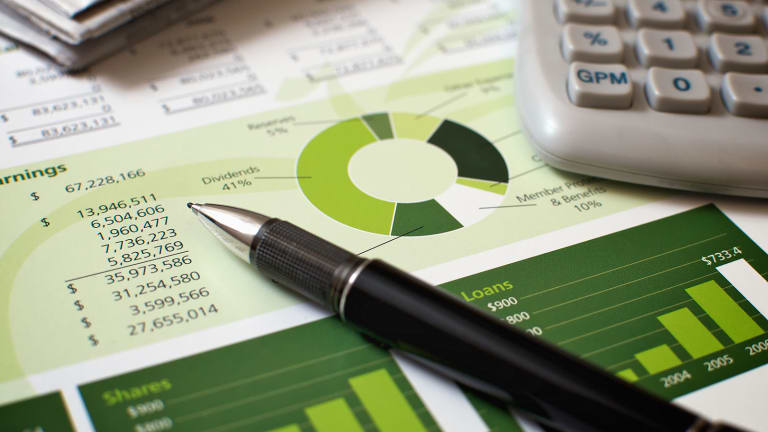 Starved for Income? Here Are 3 High-Yield, Muni Bond Funds
More states are getting their fiscal houses in order, which makes municipal bond funds an increasingly attractive choice for income hungry investors.
This week, Goldman Sachs (GS) - Get Free Report dropped a bombshell on income investors. In a new study released Jan. 11, the investment banking firm found that stock dividends posted a slowing rate of growth for the first time since 1950. In 2015, dividend growth fell 29.4%, with the last three months alone registering a decline of 70% from the same period a year ago.
A major catalyst for the bad news was the U.S. Federal Reserve's boosting of interest rates last month. This was the first rate hike in seven years. Rising rates translate into higher government bond yields, which makes the risk/reward calculation for dividend-paying stocks less attractive. But high-income choices still exist, if you know where to look.
Several interrelated trends are making municipal bonds look better and better. Below, are three highly rated muni choices that will generate robust, safe income in 2016.
Municipal bonds, aka "munis," are IOU's issued by city, county, and state governments to raise funds for community projects such as highways, schools, firehouses, or hospitals. Their chief appeal is that the interest paid to the owner of a municipal bond is exempt from federal taxes. Typically, an investor is also exempt from state taxes if he lives in the same state in which the municipal bonds were issued. What's more, tax-exempt bonds help diversify a portfolio of stocks and taxable bonds.
To obtain fairly healthy tax-exempt income while minimizing risk, you should focus on intermediate-term bonds with maturities in the range of 10 to 20 years. Shorter-term bond yields are skimpy (now averaging about 1%) and longer-term bonds are extremely sensitive to rising rates.
Your best muni bets are the three intermediate-term bond funds below, which tend to weather the sort of volatile market we're seeing today. They're all highly rated, with low expense fees.
Let's first examine recent developments that are making muni bond funds wise choices for steady income. These funds are among other compelling high-yield choices that belong in your dividend portfolio.
In another sign that the accelerating recovery is enhancing state coffers, credit quality for states across the U.S. is strengthening, according to a January 11 report from Standard & Poor's Ratings Services.
The S&P Ratings Services report expressed a positive overall outlook for U.S. states in 2016, expecting year-over-year growth in real U.S. gross domestic product in 2016 of 2.7%, modest by historical standards but still robust enough to buoy state tax receipts.
The report noted that 18 states maintained or secured improved credit ratings in 2015. Another seven states experienced lingering budgetary strain from the Great Recession of 2008-2009, but the pain wasn't severe enough to dampen their credit quality or ratings over the long term.

The report also cited 14 states that were initially clobbered by the recession but are now on the road to fiscal recovery. The remaining 11 states are saddled with serious budgetary imbalances that are worsened by political gridlock. Many of these states, such as Louisiana, Oklahoma and North Dakota, have energy-dependent economies that have gotten clobbered by plummeting oil and gas prices, which in turn dampens the tax revenue that flows into state coffers.
Nonetheless, the report is generally upbeat about the credit quality of U.S. states and concludes on a sanguine note: "In our view, none of the states exhibit the underlying economic and fiscal attributes that put them at risk of entering a credit spiral similar to that of Puerto Rico."
The Best Intermediate Term Bond Funds Now
Given the context above, here are your three most solid muni bond choices:
Fidelity Intermediate Municipal Income (FLTMX) - Get Free Report
With assets of $5.62 billion, the fund yields 2.56% and has racked up a year-to-date return of 2.23%. The fund charges fees of 0.36%. Morningstar gives FLTMX a three-star rating.
T. Rowe Price Summit Municipal Intermediate (PRSMX) - Get Free Report
With assets of $3.97 billion, the fund yields 2.62% and has racked up a year-to-date return of 2.83%. The fund charges low fees of 0.36%. Morningstar gives PRSMX a four-star rating. The fund charges fees of 0.5%.
Vanguard Intermediate-Term Tax-Exempt (VWITX) - Get Free Report
With assets of $45.30 billion, the fund yields 2.88% and has racked up a year-to-date return of 2.86%. The fund charges fees of 0.36%. Morningstar gives VWITX a four-star rating. Fees: 0.12%.
In these days of 1% CDs, it's tough to find a yield worth getting excited about. But did you know you could be investing in a publicly traded, perfectly legal investment loaded with tax breaks and delivering safe, out-of-this-world yields? These are cash cows that yield 8%, 9% and 10%. You don't have to be in a high tax bracket to pull this off. Find out how you could be getting high yields, explosive growth AND tax-free income today. Click here to learn more.
This article is commentary by an independent contributor. At the time of publication, the author held TK positions in the stocks mentioned.