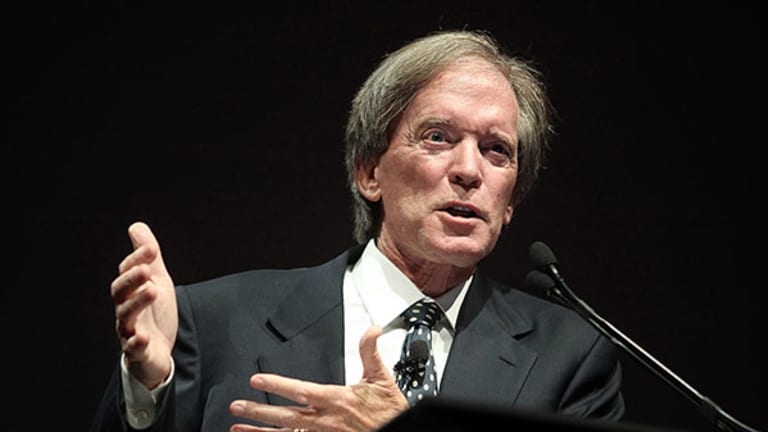 Morningstar Downgrades Pimco Total Return Bond Fund to Bronze
Morningstar downgraded Pimco's Total Return Fund, the top performing bond fund managed by Bond King Bill Gross from 1987 through his surprise resignation on Friday
NEW YORK (TheStreet) -- Morningstar Tuesday downgraded Pimco's Total Return Fund (PTTRX) - Get PIMCO Total Return Inst Report , the top performing bond fund managed by Bond King Bill Gross from 1987 through his surprise resignation on Friday. Morningstar now gives the fund a "bronze" rating as a result of the uncertainty caused by Gross' departure.
"Morningstar remains positive overall on Pimco Total Return after the departure of Bill Gross but is downgrading the fund to Bronze because of the resulting uncertainty regarding outflows and the reshuffling of management responsibilities," the firm said in a late Monday downgrade.
Morningstar said it will take some time to see how the new managers of Pimco's Total Return Fund will coalesce, but that the bronze rating reflects the firms high level of confidence in Pimco in the wake of Gross's departure.
Watch the video below for more on what impact Bill Gross' departure is having on Pimco:
Morningstar said it is possible that outflows following Gross' move to Janus Capital Group (JNS) departure could rise, however, the firm's position in liquid assets might buffer against volatility. Pimco Total Return holds 42% of its assets in U.S. Treasury bonds and agency mortgages, which gives Morningstar "cautious optimism that the fund should be able to withstand a significant storm."
Meanwhile, Gross' Total Return Fund has already suffered significant outflows. The fund saw roughly $70 billion in outflows from its May 2013 asset peak to September without any problems. In fiscal 2014, the Total Return Fund has generated over $641 million in advisory fees and $608 million in administrative and supervisory fees.
Sweeping Change at Pimco
On Friday evening, Pimco made a series of promotions and new assignments in an effort to respond quickly to Gross's departure and restore investor confidence in the over $2 trillion bond fund manager.
Daniel Ivascyn, a long-time top manager at Pimco, was appointed the firm's group chief investment officer, while five other portfolio managers were given CIO roles. Mark Kiesel, Mihir Worah and Scott Mather were given the role of replacing Gross as manager of the Pimco Total Return Bond Fund.
The firm elected Andrew Balls, Virginie Maisonneuve, Kiesel, Mather and Worah as CIOs. Worah will also work with Balls to manage Pimco's trading floors globally. Ivascyn will work with portfolio managers Saumil Parikh and Mohsen Fahmi to manage Pimco's Unconstrained Bond Fund.
Todd Rosenbluth, director of exchange-traded fund and mutual-fund research at S&P Capital IQ, noted in a Friday interview that top managers such as Ivascyn and Worah have shown strong performance in recent years, often topping Gross's returns with their funds. Nonetheless, Rosenbluth believes Gross's departure will cause some Pimco fund investors to move their money elsewhere.
Pimco CEO Douglas Hodge said on Monday that newly appointed CIOs were responsible for the management of three-quarters of the firm's assets prior to Gross's departure. Gross managed Pimco funds with $350 billion in assets under management.
"This is an extremely talented group," Hodge said.
Some Air Cleared
Germany's Allianz owns 70% of Pimco after acquiring a majority stake in the asset manager for $3.3 billion in 2000.
Allianz CEO Michael Diekmann said on Monday there was no indication Gross resigned from Pimco as a result of an ongoing Securities and Exchange investigation into an exchange-traded fund mimicking the performance of his Total Return Fund. "We were not given any indication that Bill Gross departure last week was related to the ongoing SEC investigation," Diekmann said, while re-affirming confidence in the bond manager.
A source familiar with Janus's hiring of Gross told TheStreet on Friday that the SEC probe had been considered in the firm's vetting process.
Hodge, the Pimco CEO, also said that the firm's fallout with Gross related to differences on management style and not investment strategy.
-- Written by Antoine Gara in New York