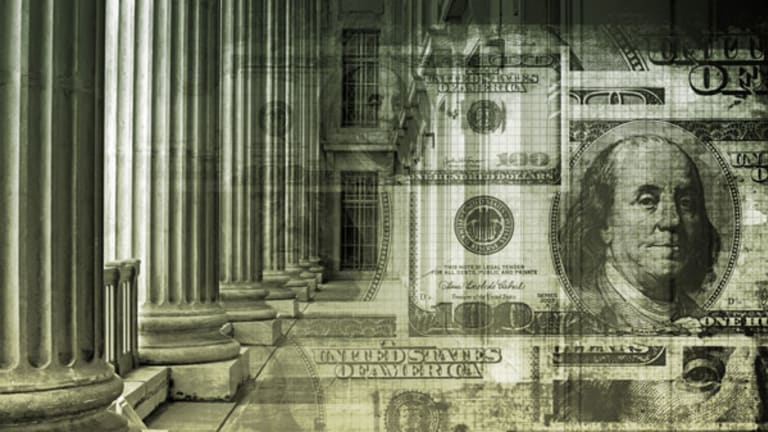 High-Yield Bond ETFs Default Wave Is Comming -- Prepare to Profit
There is a bright side to the coming washout in junk bonds. Still, investors must be prepared for a wave of defaults to hit high-yield bonds.
NEW YORK (TheStreet) -- A default wave will soon hit high-yield bonds, and investors better be prepared for it, says Steve Blumenthal, chief executive of CMG Capital.
Still, he says there is a bright side to the coming washout in junk bonds.
"The good news is that the selloff will create one of the greatest buying opportunities of a lifetime in the not too distant future," Blumenthal says.
"Remember the 20% yields on high-yield bonds in 2008? My 2 cents is that the coming opportunity will be even better," he says.
Tactical trend analysis allows investors to identify the primary movements in high-yield bonds, Blumenthal says. 
His strategy is to stay invested during the up-trending cycles and shorten maturities when the trend turns down. In other words, buy the iShares iBoxx High Yield Corporate Bond ETF (HYG) - Get Report or the SPDR Barclays High Yield Bond ETF (JNK) - Get Report when trends are turning up. He identifies an up-trend as when the 13-week exponential moving average for either exchange-traded fund is above the 34-week exponential moving average.
The HYG, which yields 5.3%, and the JNK, which yields 5.8%, are both up slightly more than 1% so far this year. Both ETFs fell hard in the fourth quarter last year due to the collapse in oil prices and its impact on energy issues. Meanwhile, investors should switch to a short-term bond ETF such as SPDR Barclays 1-3 Month T-Bill ETF (BIL) - Get Report when trends turns negative, Blumenthal says.

"Few times in my 23 years of trading high yield have I seen such potential opportunity. Fed [quantitative easing] and more than six years of zero-interest policy has incited an investor chase for yield," Blumenthal says.
"Because of this, risk today is extremely elevated," he says.
"Within such cycles, high-yield bond prices decline and yields move higher. I believe the set of circumstances will create an investment opportunity of a lifetime, though not just yet," Blumenthal says.