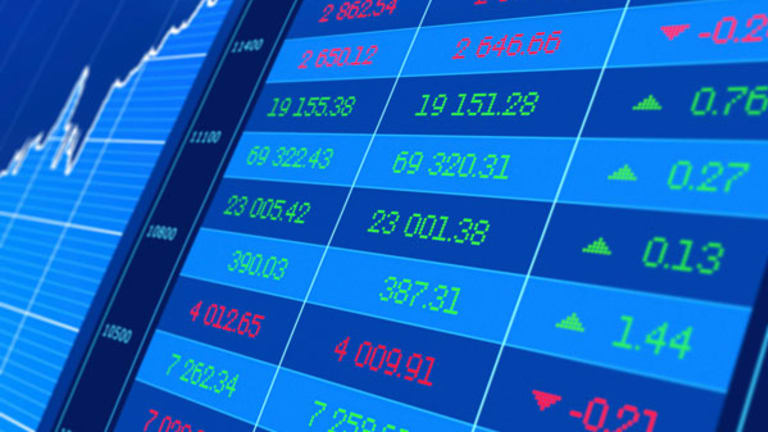 Emerging Global Advisors Makes a Big Splash in Bond Funds
The equity fund manager teams with TCW for a new suite of bond ETFs.
NEW YORK (TheStreet) -- One of the cornerstones of the entire ETF industry is the startup nature of the business especially among the smaller ETF providers. Innovation comes not just from the funds offered but also potentially from partnerships formed to offer new products. Out in front of what could be a wave of new alliances Emerging Global Advisors has partnered with TCW to bring the following suite of funds to the market;
EGShares TCW EM Short Term Investment Grade Bond ETF (SEMF)
EGShares TCW EM Intermediate Term Investment Grade Bond ETF (IEMF)
EGShares TCW EM Long Term Investment Grade Bond ETF (LEMF)
Quite obviously the funds provide access to emerging market, investment grade debt that is dollar denominated and investors can choose among the funds how far out they go on the yield curve.
While Emerging Global is well known to ETF investors the new funds represent TCW's first foray into ETFs. TCW is of course a huge management firm with $10 billion in emerging market debt alone and is the sub-advisor for all three funds.
All three funds track indexes from JPMorgan, own dollar denominated debt, charge a 0.65% expense ratio and are comprised of a combination of corporate debt, sovereign debt and quasi-sovereign debt which is debt not issued by a government but backed by the government. Emerging market debt is often denominated in U.S. dollars to make the bonds more appealing to investors.
They are all heaviest in corporate debt with SEMF at 64%, IEMF at 48% and LEMF at 44%.
The index underlying the short-term fund allocates 18% each to Brazil and Russia, 14% to Mexico and 10% in Turkey. It has 50 holdings, the effective duration is 1.82 years and weighted average yield to maturity is 1.65%.
Similarly, the index underlying the intermediate fund allocates 20% each to Brazil and Russia and 11% in Mexico. Both it and the long term fund each have 120 holdings. The effective duration for the intermediate fund is 4.64 years and its weighted average yield to maturity is 4.07%.
Like the others, the index underlying the long-term fund is heaviest in Brazil at 18%, 13% in Russia and 11% in Mexico. Its effective duration is 7.35 years which isnaAAt all that long and the weighted average yield to maturity is 5.01%.
A caveat for all new ETFs is that any future dividends could be more or less than the yields indicated.
The new funds are part of a large and important trend in the ETF industry to find yield that reduces exposure to rising interest rates in the U.S. Interest rates will have to normalize and whenever that occurs the more popular, longer dated, domestic bond funds will likely get hit very hard. The iShares Core Total US Bond ETF (AGG) - Get iShares Core U.S. Aggregate Bond ETF Report was down 4% in 2013 and the iShares 20+ Year Treasury Bond EFT (TLT) - Get iShares 20+ Year Treasury Bond ETF Report was down 16% and rates didn't necessarily go up that much. Both declines exceeded their respective yields.
The obstacle that these funds may face is that at 0.65% they are more expensive than other emerging market bond funds. As Emerging Global notes, their funds are the first suite of investment-grade, duration-defined emerging markets fixed income ETFs and while that is true it may not be a different maker.
The ProShares Short Term USD Emerging Market Bond ETF (EMSH) offers very similar exposure as SEMF and the PowerShares Emerging Markets Sovereign Debt Portfolio (PCY) - Get Invesco Emerging Markets Sovereign Debt ETF Reportoffers similar exposure as LEMF both charging 0.50%.
There are differences; EMSH is not as short dated as SEMF and PCY only owns sovereign debt but the differences might be too subtle to matter to investors. Of course the massive scale of TCW opens the door for better distribution than if Emerging Global were going it alone with the funds.
At the time of publication the author held no positions in any of the stocks mentioned.
This article represents the opinion of a contributor and not necessarily that of TheStreet or its editorial staff.