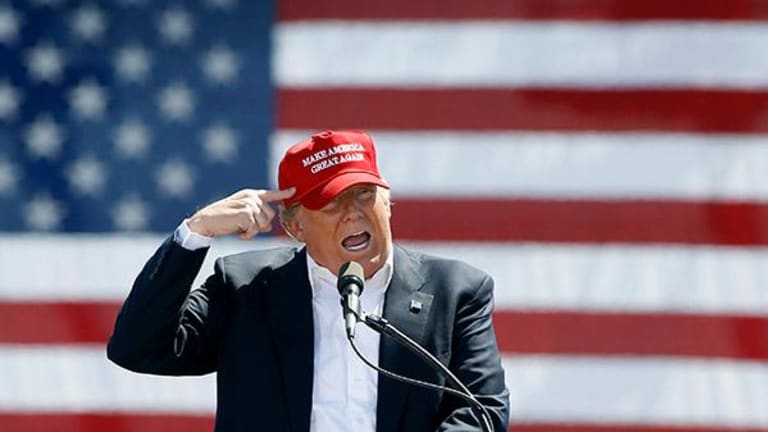 Publish date:
Cramer: Americans Would Snap Up 'Make America Great Again' Bonds
Trump could fund massive upgrades with 'War Against Sagging Infrastructure' bonds.
Trump could fund massive upgrades with 'War Against Sagging Infrastructure' bonds.
President Trump could fund his proposed $1 trillion of upgrades to U.S. roads, bridges and other facilities with "War Against Sagging Infrastructure" bonds that Americans would snap up, Jim Cramer and his panel of expert investors say.
"[Think] $25 savings bonds," Cramer said in his April Trading Strategies roundtable discussion with four of TheStreet's top columnists. "You literally do a campaign. You get some entertainers go around the country saying: 'Look what we can do with the roads' -- like war bonds. It's a war against the sagging, $4 trillion infrastructure [deficit]."
Trump this week reiterated his campaign promise to spearhead a $1 trillion+ rebuild of America's infrastructure. "We have to build roads. We have to build highways," Trump said in a New York speech. "We're talking about a very major infrastructure bill of a trillion dollars -- perhaps even more."
Cramer said he discussed the idea recently with top Trump economic adviser Gary Cohn "and he was like: "yeah, let's do it. -- I totally agree with you.' ... I think a lot of people want a 50-year bond that makes our country better for our grandchildren."
Foreign-exchange expert Douglas Borthwick told Cramer that Trump could fund the program by selling Americans 50- or 100-year bonds, so long as the president makes sure they "see that the roads are better, there's a nice new airport and you're not embarrassed when you fly to JFK. People would go along with that. [But] if they borrow a whole bunch of money to then go spend abroad for someone else's issues in their country, Americans are going to have a problem with that."
Click here to watch Cramer's entire Trading Strategies video. Or, you can read detailed advice on how to invest for the second quarter from Borthwick, stocks expert Stephen Guilfoyle, bond columnist Peter Tchir and gold maven David Yoe Williams.
(Editor's Pick. This article originally ran at 10 a.m. ET on April 10.)