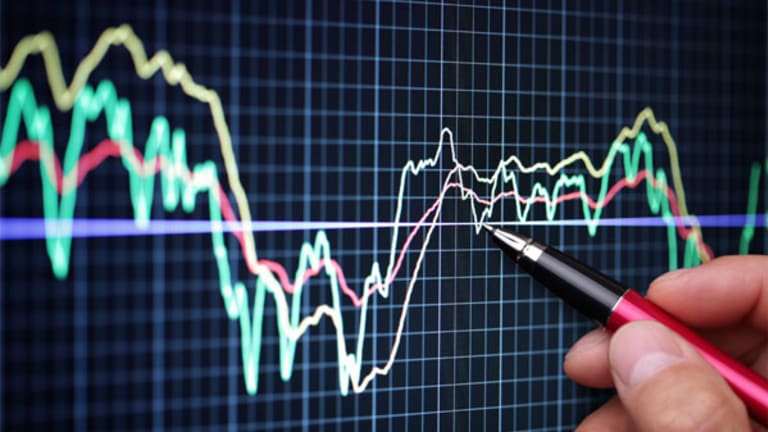 Bond ETFs Evolve for the Better
When rates rise, owning the wrong bond fund could crush investors' portfolios.
NEW YORK (TheStreet) --Because of the possibility that the 31-year bull market in bonds has finally ended, fixed-income funds could be the most important segment of the exchange-traded-fund industry as new funds will seek to offer exposure that provides access to the asset class as well as seek to protect against rising rates.
Sensing the possibility that rates could soon move higher, Guggenheim launched its BulletShares line of funds in 2010. The funds own bonds that all mature in the same year. Once the last bond in the fund matures, the fund then closes. There is an investment-grade BulletShare fund for every year from 2014 through 2022 and a high-yield BulletShare fund from 2014 through 2020.
The Guggenheim BulletShares 2014 Corporate Bond ETF (BSCE) - Get Invesco BulletShares 2023 USD Emerging Markets Debt ETF Report has 222 holdings that all mature throughout 2014. As of now, it appears that none of the holdings has started to mature, but that will start on Tuesday when a General Electric Capital issue matures. The proceeds from that maturation will accrue as cash in the fund as will the proceeds from other issues. The cash will build up slowly until it becomes most of the fund and finally all of it when it closes on or about Dec. 31.
BulletShares address a major flaw in bond ETFs. The iShares 7-10 Year Treasury Bond ETF (IEF) - Get iShares 7-10 Year Treasury Bond ETF Report will always target a maturity of seven to 10 years from the present day. Interest rates aren't static. Today IEF has a 12-month yield of 1.77%. In early 2006, IEF yielded 4.25%.
An income-oriented investor who bought IEF and held on has seen his yield, his income, from this fund cut in half. Actually, his income from this fund has been slowly deteriorating for most of his holding period. Meanwhile, the investor who simply bought a 10-year Treasury in 2006 is collecting the same 4.5-5%, depending on when in 2006 he bought it.
Similarly, an income-oriented investor who buys the Guggenheim Bullet Shares2020 Corporate Bond ETF (BSCK) - Get Invesco BulletShares 2020 Corporate Bond ETF Report can reasonably expect the same approximate yield, now 2.60%, until the fund closes. If prevailing yields in the market go up a lot from here, then the prices of the bonds held in the fund will go down and the price of the fund would go down, but as with the price of an individual issue, prices of the bonds would slowly revert back to par as the bonds moved closer to maturity as would the price of the fund.
With regular bond funds such as IEF, there is no par value to revert back to. The price of a bond fund can go down and stay down. In the case of IEF, it must maintain that maturity of seven to 10 years. Maintaining that maturity requires selling bonds at possibly low prices and buying new bonds that keep the target maturity intact. Depending on how it plays out, a fund such as IEF could drop a lot when rates rise with the only hope for recovery relying on interest rates going back to all-time lows.
Sensing this drawback in bond funds, iShares created a product called Term Maturity ETFs. It has Corporate Term ETFs maturing in 2016, 2018, 2020 and 2023, which are very similar to BulletShares owning investment-grade corporate bonds. It also offers the same four maturities in funds that own investment-grade corporate bonds but excludes financial companies.
Yields will eventually have to go higher, meaning bond prices will have to go lower, and regardless of when that occurs, the wrong kind of bond fund will punish investors. That makes understanding the mechanics of these targeted funds crucial to long-term portfolio success.
At the time of publication, the author had no position in any of the funds mentioned.
This article represents the opinion of a contributor and not necessarily that of TheStreet or its editorial staff.