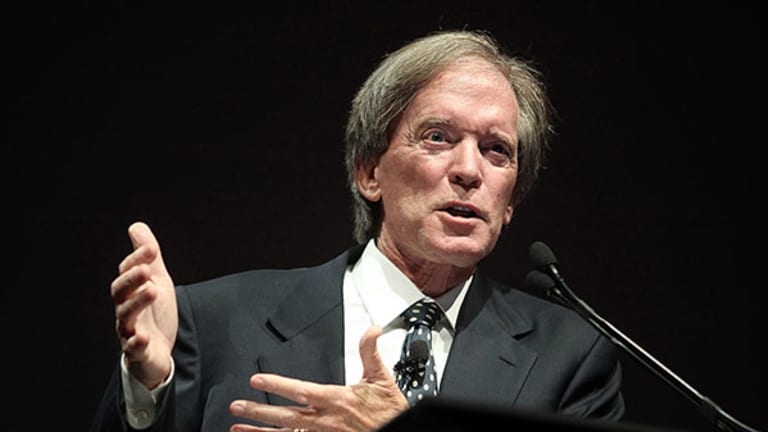 Analysts Grill Janus Capital on 'Bond King' Bill Gross' Impact
Analysts had plenty of questions for Janus Capital Group as they try to gauge the impact over its hire of 'Bond King' Bill Gross.
Analysts had plenty of questions for Janus Capital Group as they try to gauge the impact over its hire of 'Bond King' Bill Gross.

NEW YORK (TheStreet) -- Analysts peppered Janus Capital Group (JNS)  executives with tough questions in its first earnings call following its hire of "Bond King" Bill Gross in September, an announcement that stunned the investing world and sent Janus shares some 30% higher.
The hire of Gross was announced just three days before the close of the quarter, and Janus CFO Jennifer McPeek declined to offer any details about how many assets Janus had attracted since then.
"It is not our policy to provide interim flow numbers, so unfortunately you will have to wait until next month," McPeek said.
Janus added roughly $300 million in fixed income assets during the quarter, despite reports of more than $23 billion in outflows at PIMCO following Gross's departure. Fund giant BlackRock (BLK) - Get Report , meanwhile, added some $1 billion in assets at the end of the quarter. Janus, which manages less than $200 billion in assets, is relatively tiny compared to BlackRock and PIMCO, which manage trillions of dollars.
"The impact to the fixed income franchise from Bill Gross coming on board appeared limited (vs. the reported outflows from PIMCO)," wrote Sterne Agee analyst Jason Weyeneth in a research note.

Both McPeek and Janus CEO Dick Weill warned that expenses would increase as the firm pays Gross and other hires it has made, such as Nobel Laureate Myron Scholes, as well as staff to support them and Janus' recent acquisition of exchange-traded fund manager VelocityShares. 
"We're not going to Cheap Charlie it," Weill said.
McPeek said the effect would be higher compensation-to-revenue ratios in 2015. 
"Anytime we're adding new investment capabilities, the headcount and base salaries will go up, usually in advance of the revenue," she told analysts.
Analysts expressed some skepticism in questions on the earnings call.
One analyst said he thought investors would be reluctant to move assets into Gross's new fund at Janus given it had no track record.
"I think Bill's presence combined with some excellence that was already here is going to give us the chance to succeed . . . in a bigger scale than we have been able to in the past," Weill said.
Another analyst wondered what how much Janus will be able to hold onto any assets brought in by Gross, 70. "[I]n five to 10 years, when its time [for Gross] to step away, what's left?"
Weill said answers to that question would come in time.

"Today the electric feeling we have is around his arrival," he said.
Janus shares, which moved higher following the announcement of third-quarter earnings and saw an intraday peak of $14.98 shortly after the call began, erased some of those gains midway through the call. They were at $14.75, up 3.36% on the day, shortly before noon.
Janus reported profits Thursday of $40.9 million, or 22 cents per share, in the third quarter, compared with second quarter profits of $36.3 million and net income of $32.6 million in the third quarter of 2013.
Disclosure: TheStreet's editorial policy prohibits staff editors, reporters and analysts from holding positions in any individual stocks.