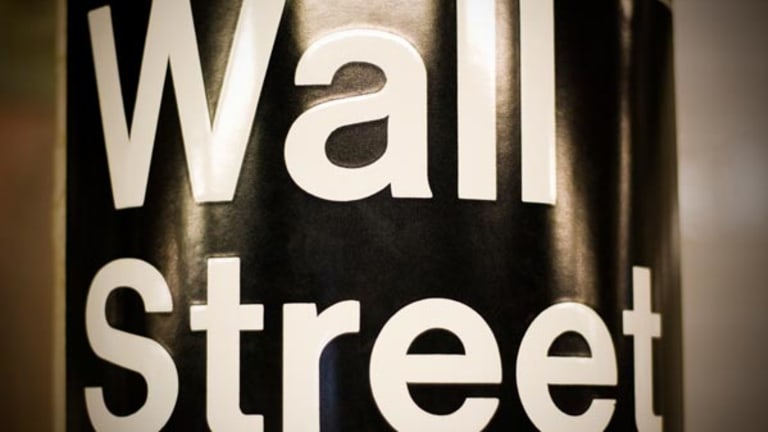 Funds Reflect Sprint's Losses to AT&T, Verizon
Sprint's decline weighs heavily on the list of TheStreet.com Ratings' lists of worst- and best-performing funds from the week ended Nov. 13.
When reviewing the best- and the worst-performing technology funds for the five trading days ended Thursday, Nov. 13, the clearest disparity is between first-tier and second-tier telecommunications companies.
The worst-performing fund during the week was the
ProFunds Mobile Telecommunications UltraSector ProFund
(WCPIX) - Get Communication Services UltraSector ProFund Investor Class Report
, which lost 32.38% on 150% leverage to the Dow Jones U.S. Mobile Communications Index. Five of its seven member stocks retreated.
Shares of
Sprint Nextel
(S) - Get SentinelOne Inc. Class A Report
, which makes up 52.7% of the index, declined 39.1%, smacking the fund pretty hard. Sprint's book of customers shrank by another 1.1 million contracts in the third quarter. Cost cuts from closing employee cafeterias and turning down heaters have not proved sufficient, and Sprint is now offering employees a sweetened
buyout package
of eight weeks' pay plus two weeks for each year of service. Sprint stock has sunk to a level not seen since 1980.
Two other holdings of the Mobile Telecom ProFund include
MetroPCS
(PCS)
, down 14.5%, and
Leap Wireless
(LEAP)
, down 17.0%. These companies just can't compete against the first-tier players with coast-to-coast cellular networks. They are burying the hatchet of prior lawsuits and pairing up to allow free roaming on each other's networks to cover a more-than-300-city footprint in America. Their so-called "nationwide" network fails to cover New York City, Boston or Chicago, potentially expensive omissions to fix.
The second worst-performing fund on the list,
PowerShares Nasdaq Internet Portfolio
(PNQI) - Get PowerShares NASDAQ Internet Portfolio Report
, shed 13.07% last week. Shares of its largest holding,
Yahoo!
(YHOO)
, fell 20.1% in the same period. Other shares in the fund that racked up declines were
Bidz.com
(BIDZ)
, which fell 49.2%,
Art Technology Group
(ARTG)
, which fell 30.9%, and
Web.com Group
(WWWW)
, which sank 23.4%. Yahoo! CEO Jerry Yang warned of the worst advertising environment in decades. (For full disclosure, this fund also holds a small quantity of
TheStreet.com
(TSCM)
shares, which slipped 6.9% for the week. TheStreet.com is the publisher of this Web site.)
Also in the double-digit loss column,
PowerShares Lux Nanotech Portfolio
(PXN)
gave up 11.07% as
Altair Nanotechnologies
(ALTI)
,
BioSante Pharmaceuticals
(BPAX)
and
Veeco Instruments
(VECO) - Get Veeco Instruments Inc. Report
each lost about one-third of their value.
Now for last week's winners.
On the positive side of the ledger,
ProFunds Telecommunications UltraSector ProFund
(TCPIX) - Get Telecommunications UltraSector ProFund Investor Class Report
rose 8.84% on 150% leverage to the Dow Jones U.S. Telecommunications Index. Shares of
AT&T
, which rose 10.3%, and
Verizon Communications
(VZ) - Get Verizon Communications Inc. Report
, which gained 6.5%, make up 50.4% and 27.9% of the fund's assets as of Sept. 30. Sprint accounts for only 5.1%, limiting its damage to the fund.
AT&T stands to benefit from excitement over holiday gift giving of
Apple
(AAPL) - Get Apple Inc. Report
iPhones,
Nokia
(NOK) - Get Nokia Corporation Sponsored American Depositary Shares Report
6650s and Samsung Eternity phones with AT&T Mobile TV subscriptions.
Verizon has high hopes for the touch-screen BlackBerry Storm from
Research In Motion
(RIMM)
. Verizon is also on the cusp of a 15-year plan to deploy the All-Fiber Fios TV network in Philadelphia. This would be interactive TV with 400-plus channels and thousands of video-on-demand titles including 100 HD channels, a clear shot across the bow of the cable TV providers.
For more information, check out an explanation of our ratings.And for more coverage from TheStreet.com Ratings team, check out TheStreet.com Ratings section.
Kevin Baker became the senior financial analyst for TSC Ratings upon the August 2006 acquisition of Weiss Ratings by TheStreet.com, covering mutual funds. He joined the Weiss Group in 1997 as a banking and brokerage analyst. In 1999, he created the Weiss Group's first ratings to gauge the level of risk in U.S. equities. Baker received a B.S. degree in management from Rensselaer Polytechnic Institute and an M.B.A. with a finance specialization from Nova Southeastern University.