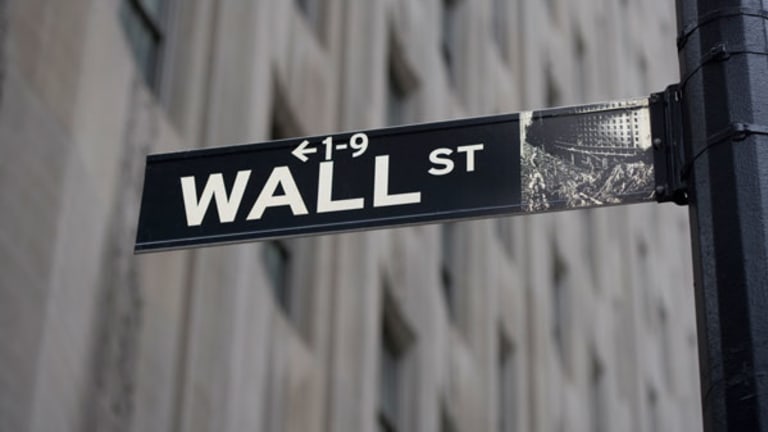 Fund Managers Pick Small Cap Stars
Invesco's Juliet Ellis says the market is still in the early stages of an ongoing rally
NEW YORK (TheStreet) -- Juliet Ellis, CIO of Invesco's (IVZ) U.S. Growth Equity team, says the US is in the early stages of a secular bull market, suggesting plenty of opportunity for stock pickers. While her view is more bullish than many, fund managers remain optimistic on the outlook, but point to corporate profit growth as the biggest risk to further gains.  
The Russell 2000 has jumped nearly 37% this year, outstripping a gain of around 24% for the S&P 500, which is on track for its best year in a decade. A rally in small caps is viewed as a bellwether of investor confidence, given these stocks present greater risk and reward. But they can also outperform in periods of below-trend economic growth, as small companies are more niche-focused. 
"We've weathered a number of macro (shocks) over the past five years that have elongated the economic recovery and now have a level of stability for US economic growth where we're more insulated to shocks from China or Europe," Houston-based Ellis, who is lead manager for the Invesco Small Cap Growth Fund and Invesco Small Cap Equity Fund said in a phone interview. Invesco has $745.5 billion under management. 
Ellis noted the U.S. housing recovery was still in its nascent stages, while markets had only pulled back 5-7% this year in reaction to macro threats such as the debt ceiling and potential withdrawal of stimulus. She said corporate earnings guidance had the potential to dampen the magnitude of gains but sees withdrawal of Federal Reserve stimulus as some way off. The CIO likes stocks linked to the capex cycle such as Foster Wheelerundefinedand select biotech companies over the longer term. 
Fund managers John Fox and Paul Karos both point to the corporate profit outlook as the biggest threat to ongoing market gains. "We are in an economic recovery and a market at all-time highs, while corporate profits are at all-time highs so valuations are fair today," Fox, co-manager of the FAM Value Fund said in a phone interview. The New York-based manager helps oversee about $1.8 billion in funds. 
Fox noted the lift in valuation multiples called for ongoing strength in corporate earnings. He does not expect another year of 25%-odd gains for the broader market.
The portfolio manager likes names such as Infinity Property and Casualty (IPCC) , an auto-insurer that had solid results in 2011-2012 but stumbled recently. "We bought in at close to book value and expect results to improve," he said. He also points to Physicians Realty Trust (DOC) as a company poised for acquisitive growth. 
Karos said CEOs needed to move beyond a conservative "preservation" mindset to ensure further gains. "The big question mark is what happens when CEOs sit down with boards to decide [for next year] whether they'll stay cautious or start to hire and invest capital in expansion," he said in a phone interview. "At some point we need that for top-line growth." Karos, who helps oversee $2.5 billion in funds, likes the airline sector with its tighter supply dynamics and industry consolidation. He also favors auto parts suppliers but is cautious on healthcare and consumer discretionary stocks. "We wouldn't be surprised to see a breather in markets [trending sideways] and the next key thing for stocks will be the 2014 outlook given by companies," he said. 
Palisade Capital Management's CIO Dan Veru said the market showed evidence of being more selective - punishing stocks that missed earnings whilst rewarding those that beat expectations. "The timing of Fed tapering is unclear and a risk to markets is that there are policy mistakes in how it is (executed)" the New Jersey-based fund manager said in a phone interview. "If it's against a strong economic growth backdrop, the market can absorb it. If not, we'll see elevated volatility." Veru helps oversee $4.5 billion in funds.
He said the early stages of a pick-up in the M&A cycle and strengthening economic backdrop would benefit stocks such as Lazard (LAZ) and Raymond James Financial (RJF) . 
Russell Investments chief market strategist Stephen Wood is also optimistic, pointing to a broad-based rally in small caps which had alternated between defensive and growth sectors. "We could get some political (triggered) volatility and we'll see more divergent performance between stocks," he said in a phone interview, suggesting any volatility may merely present a buying opportunity. He notes a still-accommodative Federal Reserve through next year will be supportive for small companies that are more dependent on the domestic economy. Russell Investments has $246.8 billion in assets under management. 
Written by Jane Searle.