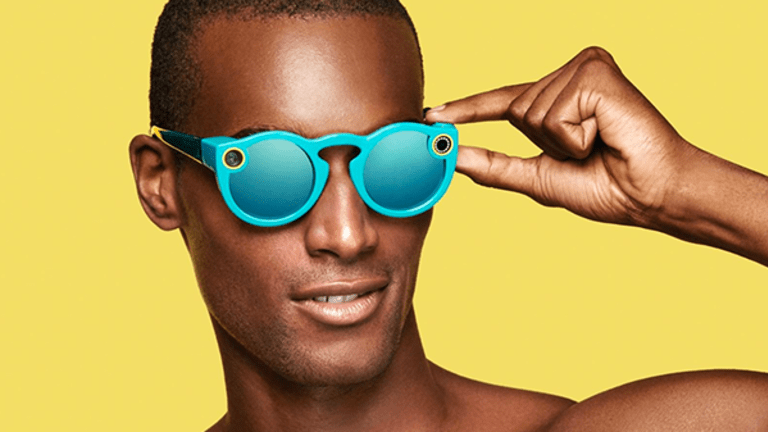 The FTSE Just Dealt This Major Blow to Beleaguered Snap and Blue Apron
This move hurts.
The FTSE Russell on Wednesday moved to exclude companies with non-voting rights and those with extremely limited public voting rights from equity indices, including the Russell 3000, after institutional investors expressed outrage over Snap Inc.'s (SNAP) move earlier this year to make an initial public offering with shares holding no voting rights.
The FTSE Russell move is a major defeat for the company behind the Snapchat app because it means that many major institutional investors, including big pension funds, won't be investing in it any time soon. However, it was also a blow for Blue Apron Holdings Inc., (APRN) which also will be excluded, for now from the FTSE Russell indices, because they offer very limited voting rights to outsiders.
"Clearly, Snap conducting an IPO with zero voting rights has casued institutional investors to raise this as an issue," said FTSE Russell CEO Mark Makepeace in an interview. "About 70% of those we consulted wanted change, so it wasn't a small minority. This allows public shareholders to have a voice. If there were zero voting rights they wouldn't be able to publicly express their support or disapproval of practices in which companies are meant to seek their approval."
In a statement FTSE Russel said that the measure, which is expected to be approved next month and implemented in September, represents a compromise between those who thought Snap "set a dangerous precedence" and those who thought the index provider's role was to represent the investable opportunity as comprehensibly as possible. 
Federal Reserve Could Spook Investors Soon, and It Has Nothing to Do With Trump
Peltz Must Target Retail Investors In P&G Fight
The move was a victory for institutional investors, who argue that Snap is permanently unaccountable to shareholders. It also was a win for activist hedge funds, who seek to use the votes attached to shares they buy to launch share-price improving and M&A campaigns at public corporations.
Many big index funds, exchange-traded funds, and public pension funds invest passively following major indices, such as the Russell 3000. 
The FTSE Russell will require corporations to have at least 5% of the company's voting rights in the hands of unrestricted public shareholders in order to participate in their indices. Companies that don't have at least 5% of their voting shares in the hands of public investors will be ineligible for participating in any FTSE Russell index.
The measure doesn't only apply to companies that have yet to enter the Russell 3000. Those companies that already are members of a FTSE Russell index will have five years until September 2022 to adjust their capital structure to meet the requirement or they will be excluded.
About 35 public companies would need to issue more voting shares to public investors by 2022 or face exclusion, according to the FTSE Russell. These include Clear Channel Outdoor (CCO) , which has about 0.56% of its voting power in public ownership. Clear Channell is currently a member of the Russell 2000 index. Other companies that would need to make changes so they could comply include Oppenheimer Holdings Inc. (OPY) , Secureworks Corp. (SCWX) , Terraform Global Inc. (GLBL) , VMWear Inc., (VMW) Dell Technologies DVMT, Hamilton Lane Inc. (HLNE) and Virtu Financial Inc. (VIRT) .
Both Blue Apron and Snap shares are likely to take a hit over prospects that they won't be included in the Russell 3000 or other FTSE indices any time soon. The meal kit company went public shortly after the Whole Foods acquisition was announced, pricing at the bottom of an already slashed valuation. Shares closed Wednesday at $6.75 a share, well below its IPO price.
Blue Apron's IPO issued three classes of stock, including one that gives investors a vote per share, another that gives its CEO and other insiders shares with ten votes each and yet another that is made up of non-voting shares. The meal kit delivery firm could move to issue a large number of shares with voting rights and later be included in the FTSE Russell indices.
And Snap closed Wednesday at $13.40 a share, well below the $27 a share high near its recent IPO debut.
TheStreet had reported earlier this month, citing sources, that the FTSE Russell had been moving in the direction of prohibiting non-voting shares. 
Also, the move also will have broader implications for the IPO market because it sends a signal to other companies that they should not follow in Snap's footsteps when entering the public markets.
In addition, the S&P Dow Jones Indices, which produces the S&P 500 index, recently issued a series of questions to investors on the issue of non-voting shares, including one that asked whether a company listing shares with no voting rights should be eligible for an index. The deadline for comments ended June 30, but the questions suggest to some that the S&P appears to be moving in the direction of excluding a company from their indices if they only issue non-voting shares.
The structure approved by the FTSE Russell will continue to allow shareholders a chance to submit controversial proposals for consideration and vote on a company's executive pay plans. However, with insiders controlling a huge chunk of the voting shares, it is unlikely that an activist could win a director-election battle, even if most outside investors backed their board candidates.
Ken Bertsch, chief of the Council of Institutional Investors, said he was pleased that the FTSE Russell's rule will have the effect of excluding Snap from the Russell 3000, which he argues is an appropriate response to their decision to IPO with non-voting rights. However, he said he was disappointed that the index provider moved to require only a 5% threshold despite substantial investor support for a 25% threshold, which was one of the options under consideration.
 "I do worry that 5% is too low," he said.
In a statement, the FTSE Russell said that the low 5% voting rights threshold can ensure that future IPOs of companies that give public shareholders few if any voting rights can be discouraged at the same time that there won't be any "untoward impact" on existing index constituents that have dual or multi-class voting rights. For example, Facebook Inc.  (FB) founder Mark Zuckerberg controls just under 60% of the voting power at the social media behemoth but a far smaller economic position.
Facebook is a holding in Jim Cramer's Action Alerts PLUS Charitable Trust Portfolio. Want to be alerted before Cramer buys or sells FB? Learn more now.
More of What's Trending on TheStreet: