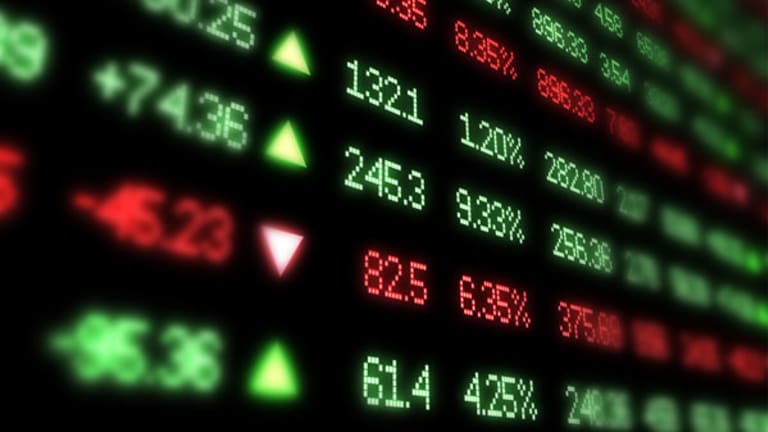 From Wall Street to Broad Street; Something Old, Something New: Jim Cramer's Best Blogs
Catch up on Jim Cramer's ideas from this past week, when he wrote about how leadership in the market is broadening (selectively), and how reinvention drives the market.
Jim Cramer fills his blog on RealMoney every day with his up-to-the-minute reactions to what's happening in the market and his legendary ahead-of-the-crowd ideas. This week he blogged on:
How leadership in the market is broadening -- but selectively.
The upsides of the common corporate drive toward reinvention.
Click here for information on RealMoney, where you can see all the blogs, including Jim Cramer's -- and reader comments -- in real time.
Be Thankful for Broadening Strength
Posted on Nov. 25 at 11:27 a.m. EST
Is narrow ever good? Is it always bad when a small group of stocks leads us? I know it gets tiresome to see Facebook (FB) - Get Meta Platforms Inc. Class A Report , Amazon (AMZN) - Get Amazon.com, Inc. Report , Alphabet (GOOGL) - Get Alphabet Inc. Class A Report and Netflix (NFLX) - Get Netflix, Inc. Report endlessly leading us.
You can't blame buyers, though.
We now know that every incremental sale on Amazon is actually a profitable one and the vision worked. It isn't like we are doing less on Facebook. All that is happening is that advertisers keep seeing a better value proposition.
Alphabet has religion and religion means profits, thanks to the addition of Ruth Porat. Keep an eye, again, on the incredibly undermanaged YouTube to expect that to be something that can be the biggest contributor to the bottom line after search/programmatic.
Then Netflix is, indeed, the only "hit" company of any network never to have just a "one and done." Think about all of the shows that get cancelled on the networks. Then remember that there has always been such demand for each new show on Netflix that a sequel gets done.
More important, though, is the fact that the market is broadening. But it is doing it in a selective way. Anointed retailers, for example, the housing-related plays, they aren't coming in. We are seeing endless strength, however, in a couple of big Dow retail-relateds: McDonald's (MCD) - Get McDonald's Corporation Report , Home Depot (HD) - Get Home Depot, Inc. Report and Nike (NKE) - Get NIKE, Inc. Class B Report . They are true leaders.
The fact that the Avago (AVGO) - Get Broadcom Inc. Report /Qorvo (QRVO) - Get Qorvo, Inc. Report /Skyworks Solutions (SWKS) - Get Skyworks Solutions, Inc. Report /NXP Semiconductors (NXPI) - Get NXP Semiconductors NV Report contingent seems to be done going down without sacrificing the upside in a Texas Instruments (TXN) - Get Texas Instruments Incorporated Report or an Analog Devices (ADI) - Get Analog Devices, Inc. Report or Microsoft (MSFT) - Get Microsoft Corporation Report or Intel (INTC) - Get Intel Corporation Report is very positive, especially in light of the HP Inc. (HPQ) - Get HP Inc. Report figures.
I think that you have to be heartened that the Kimberly-Clark (KMB) - Get Kimberly-Clark Corporation Report /Clorox (CLX) - Get Clorox Company Report /Procter & Gamble PG group isn't quitting despite the strength of the dollar and the relatively less attractive nature of their yields vs. soon to be rising rates.
Remember when the drug stocks seemed to be hit every day? Recall when Eli Lilly (LLY) - Get Eli Lilly and Company Report fell from $84 to the mid-$70s on the disappointment of a heart drug that wasn't even in the numbers? Well, look where that one is. Obviously the new verdict is in on Allergan (AGN) - Get Allergan plc Report -Pfizer (PFE) - Get Pfizer Inc. Report and it is a positive one. (Lilly and Allergan are holdings in my charitable trust, Action Alerts PLUS.)
The fact that the banks roared and are resting -- and not giving up the gains -- is such a good sign. I suspect these stocks will go ballistic to the upside if we get a strong employment number. You have to build in three rate increases between now and next year at this time to make a real bull case. I think we will get them.
Which leaves travel, leisure and airlines vs. oil and gas. I think the latter is settling as a $40-$48 siege. The former? I say lower oil prices trump terrorist warnings and things return to normal. I like Expedia (EXPE) - Get Expedia Group, Inc. Report , Priceline (PCLN) , Delta Air Lines (DAL) - Get Delta Air Lines, Inc. Report , American Airlines (AAL) - Get American Airlines Group, Inc. Report and Southwest (LUV) - Get Southwest Airlines Co. Report .
All in all, it is a more sanguine situation the broader we go and I think the breadth will improve as the rest of the year goes on. Somewhat sanguine!
And a Happy Thanksgiving to all!
Reinvention Can Bring Rich Rewards for Investors
Posted on Nov. 23 at 12:15 p.m. EST
Few things are more difficult and more frustrating than reinventing your business, but reinvention drives so much of what we see happening in this market.
This morning, Dividend Stock Advisor portfolio holding Pfizer (PFE) - Get Pfizer Inc. Report is trying to reinvent itself by buying Action Alerts PLUS charity portfolio name Allergan (AGN) - Get Allergan plc Report , the cobbled-together-drug company with a low-tax Irish domicile, in order to become more efficient with its overseas capital. Allergan affords Pfizer a way to do it and -- while it cost Pfizer a pretty penny to do so, giving away a huge number of shares, 11.3 per Allergan share -- Pfizer's confident that the reinvention will be a good one. Allergan allows Pfizer to get a bunch of new drugs and the benchmark drug, Botox, of which Allergan CEO Brent Saunders has raised the price while simultaneously coming up with new uses.
Perhaps Pfizer can split into Old Drug Co and New Drug Co with this merger. In the meantime, you are paid a good dividend to wait. The market doesn't like the deal, in part because Allergan had so much going for it on its own. I know that my charitable trust bought Allergan because we bought into Saunders big-number vision for the future. I still do, but the tie-up with Pfizer seems to convolute the turn. Reinvention in progress?
Then there's Alcoa (AA) - Get Alcoa Corporation Report , which has been producing aluminum since its founding in 1886. In the last few years, under Klaus Kleinfeld, the company's been trying to reinvent the use of the metal, finding terrific ways to integrate it into trucks -- the Ford F 150 made with aluminum was just awarded the Green Truck of the year by the Green Car Journal, because it "light weighed" with Alcoa aluminum. The company's bulked up on aerospace, which is in secular growth mode. And this year Kleinfeld decided to split the upstream, or raw metal side of things, from the proprietary aluminum engineering side.
Today, my Squawk on the Street partner David Faber broke the news that activist Paul Singer's Elliott Management bought a 6.4% stake and seeks a constructive dialogue with management. Elliott believes that the company's worth a great deal more than Kleinfeld told me on Mad Money. I don't think Kleinfeld disagrees, and I do believe he will welcome any dialogue. That said, the stock's been terrible both before and after the breakup, because investors feel that the upstream, aluminum portion, is being crushed by Chinese dumping.
Kleinfeld has asserted that the world will be in deficit position with aluminum because of increased use, but the Chinese do confound people with their aggressive sales of excess aluminum, so there's no real way to bring out more value until we actually see the separation. Candidly, this is an odd one, because the activist is trying to reinvent the reinvention.
Or how about Diebold (DBD) - Get Diebold Nixdorf Incorporated Report , born in 1859 as a safe and vault company, which then reinvented itself as an automated teller machine company in the 1970s? Today it bought a German company, Wincor Nixdorf, for $1.8 billion in cash and stock, making it the world's largest ATM company. I think the deal is a shrewd one, because Europe's coming back and because Diebold needs scale. This one gives it exactly that, and I can't wait to speak to the company's CEO, Andy Mattes, about the acquisition. Part of the reinvention here has been on the software side, where Diebold's offered a host of security solutions with high margins. Being the biggest ATM maker, eclipsing NCR with about one million cash machines, sure will help that software and services component. It's a big deal at a big price, but Diebold has to be bolder if it is going to dominate.
Or how about Deluxe Corp (DLX) - Get Deluxe Corporation Report , which rang the opening bell to celebrate its 100th anniversary. Here's a company that's trying as fast as it can to become much more than a check printer, and I think it is succeeded with ancillary products that banks want to grow their own business. I'm going to sit down with Lee Schram, the CEO, tonight on Mad Money to see how far the company has come and whether it can stay one step ahead of the plastic posse -- or much more than that.
GameStop's (GME) - Get GameStop Corp. Class A Report on the decline today, a missed quarter, which has to be regarded as a step back for its transformation out of just a retailer that sells games. It's not easy, when that's in your DNA and you are hostage to a game roll-out schedule. I think that the reaction might be overdone, but there's more later.
Sometimes we are getting turns in business despite reinvention. I am shocked that Tyson's (TSN) - Get Tyson Foods, Inc. Class A Report purchase of Hillshire Brands last year didn't give it more of a boost when it reported today. I didn't want a pure chicken play, which Tyson was known for. That said, with feed down and prices of chickens up, this was a truly blowout quarter despite the Hillshire acquisition, which was hurt by higher meat costs and lower margins.
Some reinventions are on the fly. We hear from Campbell's Soup (CPB) - Get Campbell Soup Company Report and Hormel (HRL) - Get Hormel Foods Corporation Report tomorrow, both of which are joining General Mills (GIS) - Get General Mills, Inc. Report in frantic bids to become more natural and organic. To me, Campbell's a buy if it is doesn't blow away the numbers, because it is work in progress. Hormel's ahead of it, with the shrewd buy of Applegate Farms.
I love reinvention. But I don't like reinvention that stalls. You can get lucky like Tyson. However, the rest require great skill. Not easy, but it can happen and when it does, you get richly rewarded, as we are seeing in the case of Hormel, and I think will see in many if not most of the others mentioned here.
Action Alerts PLUS, which Cramer co-manages as a charitable trust, is long FB, GOOGL, LLY and AGN.