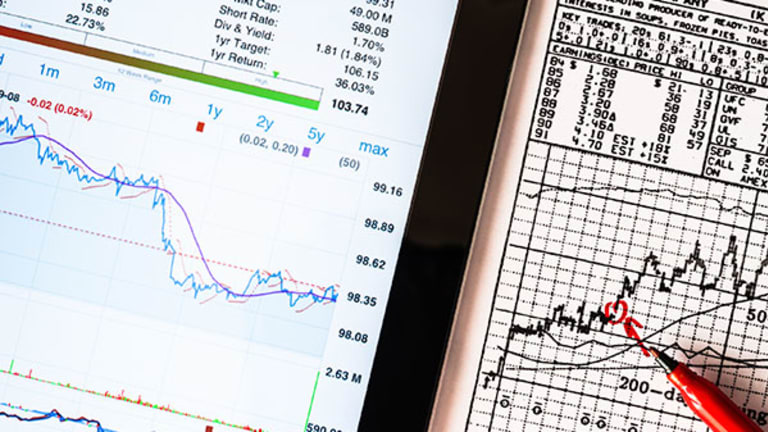 From the Absurd to the Ridiculous: When Fundamentals Don't Matter
If and when market participants realize that some stocks could be overvalued or undervalued, those stocks could fall or rise, respectively.
The market has been on a remarkable run since the global financial crisis.
The S&P 500 more than doubled since 2009 and has been hitting all-time highs. Take a look at the chart below of the growth of the S&P 500 and its price-earnings ratio.
The white line is the index's market value, while the green bars are the P/E ratios for the S&P 500. As shown, the market's anticipation of the markets and P/E ratios differ significantly.
For example, look back at the dot-com bubble period between 1996 and 2000. The S&P 500 was on a remarkable run, followed by a significant correction, as many of the stocks were way overvalued, trading above a 30 P/E ratio.
The market is always forward-looking, while fundamentals generally lag. However, strong trends in a company's stock price could be a fallacy if something drastic changes in the company's fundamentals.
Again, take a look at the Nasdaq 100 below. The index rose above 5,000 in the early 2000s, more than doubling in such a short period of time.
That was fueled by overvaluation in the technology sector because many market participants thought that tech stocks were the next big thing. As shown below, the fundamentals weren't really matching up with the market price.
There were consecutive quarters when the P/E ratios were falling and the Nasdaq 100 was rising. Keep in mind that it took the Nasdaq 100 multiple years amid low interest rates to rise back above 5,000 since the financial crisis.
That being said, it doesn't mean that we shouldn't follow fundamentals. Rather, we should be conscientious when using them to value a stock.
Instead of buying when P/E ratios are low, investors and traders were buying near the top during the dot-com bubble, causing many to lose out on their investments because they didn't do their proper due diligence or take profits.
Examining the two charts above seems to indicate that the markets might be in bubble territory this year.
"We're in a bubble right now, and the only thing that looks good is the stock market, but if you raise interest rates even a little bit, that's going to come crashing down. We are in a big, fat, ugly bubble, and we better be awfully careful," President-elect Donald Trump said.  
"And we have a [Federal Reserve] that's doing political things. This Janet Yellen of the Fed," Trump said.
"And believe me, the day [President Barack] Obama goes off and he leaves and goes out to the golf course for the rest of his life to play golf, when they raise interest rates, you're going to see some very bad things happen, because the Fed is not doing their job. The Fed is being more political than Secretary [Hillary] Clinton," Trump said.
Now, what is most interesting about this statement? Trump is pretty much calling for a market crash when rates rise.
The ironic thing about his statement is that the markets have been climbing higher since was elected. The S&P 500 has been up nearly 5% since Trump won the election, and there could be a correction after he assumes office on Friday.
Let's take a look at Yahoo! (YHOO) , which was a highly valued company during the dot-com era.
When looking at Yahoo!'s price and P/E ratio in the chart above, the fundamentals didn't really reflect the stock price. Yahoo! was trading at nearly 3,500 times its P/E ratio at one point, which may have been unjustified.
Following that, the markets were quick to realize that the company wasn't that valuable, and it began to tank once the bubble popped.
Take a look at how Yahoo!'s market capitalization evolved over time. Prior to the dot-com bubble, Yahoo! had a market cap of less than $1 billion.
However, during the bubble, Yahoo!'s market cap rose to more than $100 billion at its peak. Thereafter, its market cap and share price fell significantly, with the former falling to between $5 billion and $10 billion.
That is more than an 80% drop in market value. It is cliche to say, but investors should practice buying when valuations are low and selling when valuations are high.
When valuations are extremely high, as was the case with Yahoo! and many other tech stocks, investors and traders should be wary of a potential correction.
It makes sense to compare extreme points to learn how to make better investment decisions in today's time. Although the markets have evolved since late 1990s to early 2000s, there are some similar themes that come into play.
For those who think that the times of bubbles and significant overvaluations are over, there are some stocks that are reminiscent of overvalued stocks, such as Yahoo! in the early 2000s.
Let's take a look at one stock that had a meteoric rise last year, as well as during the first few trading sessions this year.
Look at the chart of Wins Finance Holdings (WINS) - Get Free Report . Despite being a financial stock, it is reminiscent of many stocks during the dot-com era.
One could see how the stock and its P/E ratio rose over the past few months. It is quite similar to Yahoo! back in the day.
The stock rose from less than $30 to more than $200 per share in just a matter of months. Now, there is a big discord between its fundamentals and market value.
Moreover, take a look at how its market cap increased in just a matter of months. The stock was valued at about $500 million in early November.
As of Tuesday, its market cap was more than $4 billion.
Wins Finance Holdings focuses on identifying investment opportunities in China and the U.S.
The company's financial statements suggest that the stock is trading at abnormally high levels and could be due for a pullback.
Wins Finance Holdings' most recent financial statements show how its fundamentals have decreased year over year since it reported earnings for the fiscal year ended June 30. Net income fell by more than 50% and earnings fell by more than 60%. This shows that the company hasn't been growing, while other asset management and finance-related companies have been generating strong earnings.
The company recently reported its unaudited results recently for the fiscal first quarter ended Sept. 30, and it shows that its fundamentals are still weakening. Wins Finance Holdings had gross revenues of $2.3 million, a more than 4% decrease from a year earlier.
In addition, the company net income for the quarter was $3.1 million, a 33.5% decrease from a year earlier.
Generally, when companies have decreasing earnings, the markets should price this in, and the stock could fall due to selling pressure. However, this isn't the case with Wins Finance Holdings, indicating that there could be a correction in the stock similar to that of Yahoo! in the early 2000s.
Moreover, there is news that could suggest that Wins Finance Holdings is significantly overvalued. Wins Finance Holdings is a target company, and its sell 67.1% equity interest at a specified purchase price.
The purchase price was set at the lower of $260 million or the adjusted purchase price as specified by the parties in the deal. Consequently, this values Wins Finance Holdings at a range between $12 to $20 a share.
However, the stock is trading well above its fair value.
Again, there could be some selling pressure in this stock, just like Yahoo! and many other stocks during the tech bubble. With that said, this may not be the only stock that has been trading at levels that don't properly reflect its fundamental trends or news.
Although past performance isn't indicative of future performance, investors should still focus on extreme moves and try to find some takeaways that are similar to stocks with extreme moves this year. The market and many stocks have been trending higher recently, but that all could change this year.
If and when market participants realize that some stocks could be overvalued or undervalued, those stocks could fall or rise, respectively.
This article is commentary by an independent contributor. At the time of publication, the author held no positions in the stocks mentioned.