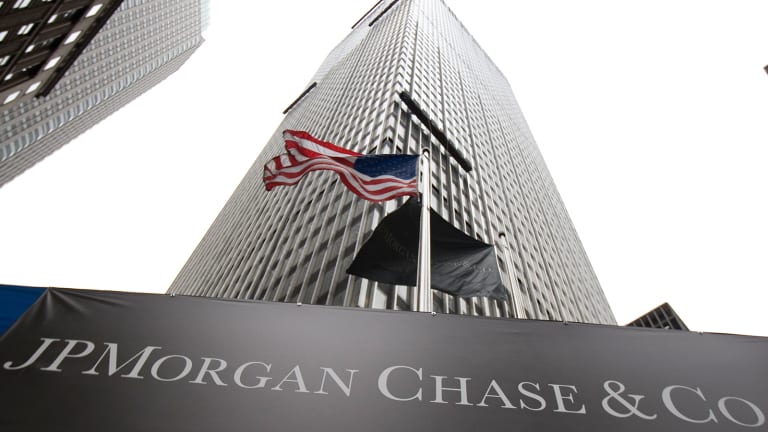 From Citigroup to JPMorgan, How Nuns Became Wall Street's Conscience
Wall Street exists to serve the needs of Main Street, says Sister Nora Nash. It's a belief she's spent years fighting to support at shareholder meetings nationwide.
NEW YORK (TheStreet) -- If banking regulators are the sheriffs of Wall Street, Sister Nora Nash might be its conscience. In the years since the financial crisis, she has urged the nation's biggest banks to curb overly generous executive compensation, improve risk management and stop irresponsible lending.
"It's not easy to keep an eye on Wall Street," Nash said during an interview at the convent outside Philadelphia that's home to her congregation of the Sisters of St. Francis. "There's so much happening, always, on Wall Street and not enough on Main Street. That's our whole issue here with the banks."
Her efforts, though, aren't limited to banking. Working through the Interfaith Center on Corporate Responsibility, an advocacy group that comprises about 300 faith-based organizations, Nash and the Sisters of St. Francis have advocated for reforms they believe will make corporations more accountable to Main Street in industries from health care to pharmaceuticals, energy and manufacturing.
Together, the center's members have more than $100 billion in assets under management. By investing in the companies its members seek to improve, the center earns the right to present resolutions at annual shareholder meetings. This year alone, it has submitted 227 resolutions on values-related topics, a 15% increase from last year. At banks and finance companies, one focus has been seeking greater disclosure of political contributions and lobbying expenses. 
Proposals addressing that topic that would have required annual reports on payments for lobbying and memberships in tax-exempt organizations that write model legislation were considered at this year's annual meetings of companies from American Express (AXP) - Get American Express Company Report to Citigroup (C) - Get Citigroup Inc. Report and JPMorgan Chase (JPM) - Get JPMorgan Chase & Co. Report
The measure failed at each of those three companies, garnering support from only 29% investors at Citigroup, 22% at American Express and 6% at JPMorgan.
Citigroup, based in New York, argued that the bank already had a comprehensive reporting system and adding another layer would be duplicative. "Citi discloses its lobbying and political contributions activities as required by law in the more than 30 states in which it is actively engaged in lobbying and political activity, and at the federal level," the bank said in its annual proxy form.
"Even though we haven't gotten good votes at the banks, that's OK," Nash said. "They know we're after them. That's the key."
In July, Nash will meet with her 10-member working group to begin planning their strategy for next year. For banks, the key topics will continue to include risk management practices, responsible lending, executive compensation, and political spending.
Those are areas examined in detail in the center's November 2013 report, "Ranking the Banks: A Survey of Seven U.S. Banks," which followed surveys of Bank of America (BAC) - Get Bank of America Corp Report, Bank of New York Mellon (BNY) - Get BlackRock New York Municipal Income Trust Report, Citigroup, Goldman Sachs (GS) - Get Goldman Sachs Group, Inc. Report, JPMorgan, Morgan Stanley (MS) - Get Morgan Stanley Report, and Wells Fargo (WFC) - Get Wells Fargo & Company Report. The banks were rated on the content as well as the completeness of their answers. 
"When you look at the economic system and you look at justice, there are some really serious pitfalls to get the banks to do what it is they really should be doing," Nash said. "The bank is there for the purpose of serving the people. That is really not happening."
The report is typical of the center's practices. The organization doesn't base its demands on just a feeling of what companies ought to do; it conducts thorough research to gather data supporting its positions.
"Much of banking today is not real banking," Nash said. "One of the things we're working on is banking with values and bringing values to the whole banking system, considering where people are today and have been left since 2008." 
If shareholder resolutions don't always yield the desired results immediately, they help in gaining the ear of bank executives and sometimes lead to other reforms. JPMorgan, for instance, released a report on compliance with its business standards in December, a move prompted in part by the center's work.
"While we're proud of what we do to serve our clients, contribute to our communities and earn a fair return for shareholders, we also know that we always can do better," CEO Jamie Dimon said in a statement at the time. "Every company makes mistakes, and we've made a number of them, but the hallmark of a great company is what it does in response."
At a Goldman Sachs investor meeting in 2011, Nash, a one-time school principal, made headlines when she took CEO Lloyd Blankfein to task over values. "St. Francis would be spinning in his grave," she said, if he knew how much Blankfein and his colleagues were making as the rest of the country stumbled out of the recession.
It was a recession that many critics blamed on irresponsible banking, including high-risk mortgages, that culminated in a financial crisis and the demise of some of Wall Street's best known investment houses, including Lehman Brothers and Bear Stearns.
Four years later, Nash remains critical of executive compensation, including the practice of CEOs drawing only a $1 salary while receiving lavish stock packages, even as rank-and-file employees receive far less. The generous compensation, she says, is often not merited by the performance of the companies involved.
Of particular concern, she said, is that banks no longer appear primarily involved in the business of responsibly lending to consumers. The rise of technology, including online and mobile banking platforms, and the disappearance of branches has only exacerbated the trend.
Wells Fargo, where Nash now focuses much of her attention, is one of the few banks to buck that trend. In fact, the San Francisco-based bank has added 34 branches in the past two years, easily maintaining its lead in the total number of brick-and-mortar offices. 
Its Aston, Pa., branch is where the Sisters of St. Francis do their banking. It became the only bank in their community after Wells Fargo bought out Wachovia during the financial crisis.
While Nash believes Wells Fargo still operates as a Main Street bank, her relationship with the company hasn't been without conflict. Along with Citigroup and Bank of America, Wells Fargo was targeted by the interfaith center several years ago for what it viewed as exploitative lending to college students. 
Marketing agents from banks would set up booths with free pizza and T-shirts on college campuses, offering credit cards to students that carried low introductory rates that increased significantly afterward, Nash said.
The center's opposition eventually helped lead to Congressional approval of the Credit CARD Act of 2009. The bill changed the way monthly credit card statements appear, making it easier for clients to know what they owe, and prohibited credit card companies from aggressive marketing tactics on college campuses.
"That was a very important piece of work to bring the credit cards back to some kind of normalcy, or some kind of honesty, really," Nash said.
Another of her successes, Nash said, is Wells Fargo's decision to end its Direct Deposit Advance program in January 2014 after three years of lobbying. The program purported to provide short-term credit to cash-strapped customers, but in practice operated more like a payday lending program that kept customers stuck in a debt-cycle. 
Ending it was about more than just avoiding irresponsible lending, Nash said, it was also about protecting the dignity and human rights of customers.
"If you think of human rights of your customers, you will not lend them money that will put them in financial straits," she said. "They said it was good for their customers. We kept saying, 'It's horrible for your customers.'"