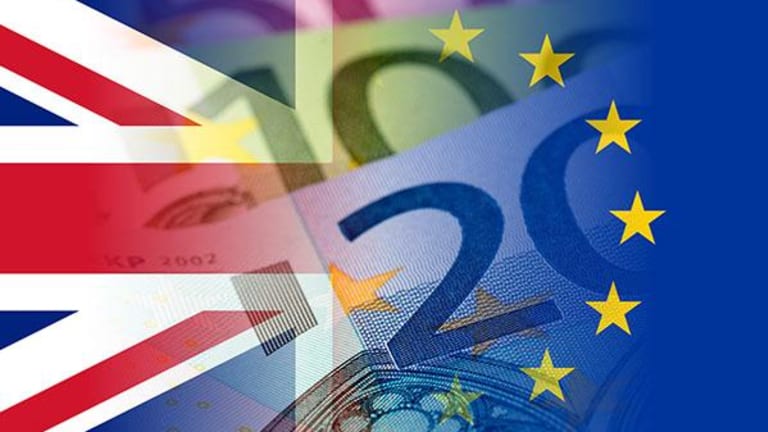 From AmEx to Visa, Credit Card Business Gets Pummeled by Brexit
Credit-card issuers American Express AXP, Discover DFS and Capital One COF have each tumbled more than 6% since Great Britain decided to leave the European Union.
Using plastic to make payments abroad will likely become more complicated after the United Kingdom's decision to leave the European Union, a prospect that hurts U.S. companies issuing credit cards and processing payments.
The details of Great Britain's departure, including what trade agreements it might retain with the 27 countries remaining in the European Union, may take years to work out.  Analysts have cautioned, however, that the move might cost finance companies that based their European operations in London the so-called passporting privileges that let firms with a license in one member country conduct business in all of them.
Credit-card issuers American Express (AXP) - Get Report , Discover (DFS) - Get Report and Capital One (COF) - Get Report have each tumbled more than 6% since the vote, steeper drops than either the broader Dow Jones Industrial Average or the Standard & Poor's 500.
"With Brexit, the ability to 'passport' across the E.U. may end for U.K.-domiciled payment institutions (and UK financial firms generally), but we won't know until the U.K. and the EU negotiate these points," Richard Willis, Brussels-based partner in law firm Alston & Bird's financial services and products group, said in an email.
EXCLUSIVE LOOK INSIDE: Visa is a holding in Jim Cramer's Action Alerts PLUS charitable trust portfolio. Want to be alerted before he buys or sells this stock? Learn more now.
The protracted departure is likely to create "a fair amount of volatility over the next year or two" for credit card networks, Keefe, Bruyette & Woods analyst Sanjay Sakhrani wrote in a note to clients.
Along with the potential costs of losing passporting, earnings may be curbed as concerns about political and economic instability in Europe and the United Kingdom weaken their currencies, Sakhrani said.
"Europe was moving towards a uniform payments market that would ease operation and create clear-cut standards vs. fragmented and confusing regulatory constructs prior to this movement," Sakhrani wrote.
For instance, the Single Euro Payments Area (SEPA) initiative, which Europe adopted in 2012, allowed more 500 million residents and 20 million business to make payments in euros.
New York-based MasterCard, whose shares fell 2.18% to $89.48, said it doesn't expect Britain's exit from the EU to have a signifiant impact on its operations.
"It's business as usual for us," the Purchase, N.Y.-based company said in an emailed statement. "There is no operational impact on our payments network in the U.K. or around the world. Our networks continue to operate safely and securely."
Its financials, however, are likely to take a hit. MasterCard may have the "most risk in Europe to-date" with an estimated 20% of its revenue coming from the region, Sakhrani said. Rival Visa's risk has increased, meanwhile, with the recent completion of its $21 billion purchase of Visa Europe.
The biggest challenge for American Express, which issues cards in addition to operating a payment network, is the possibility of alterations to interchange-fee regulation. 
Interchange fees, the charges that payment processors apply to each transaction they handle, may now be regulated differently in Britain than the rest of Europe, which would continue to follow rules set by the European Union. 
The New York-based company's shares are down 9%.
Keefe Bruyette rates MasterCard's stock as "outperform" with a target price of $91.47 and Visa as "outperform" with a target price of $75.05.  The firm rates American Express's stock as a "market perform," the equivalent of a neutral, and has a price target of $60.06.