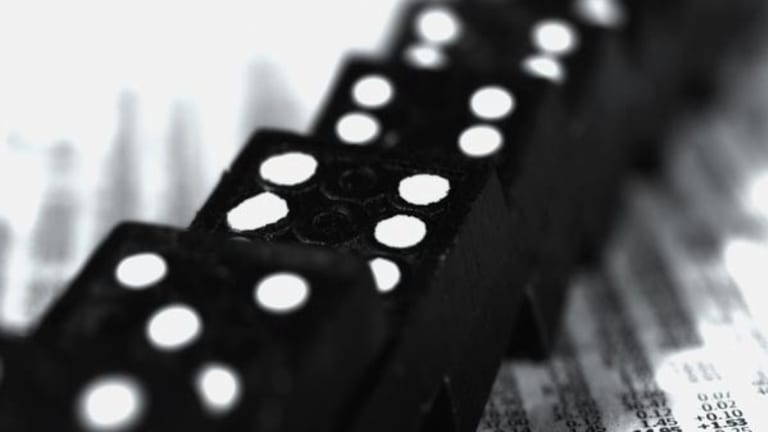 Friday's Winners & Losers: TerreStar
Shares shoot up 24% after the company announces it has secured a $200 million investment from EchoStar.
On the rising side,
Labopharm
( DDSS) announced Friday that in a late-stage study patients on once-daily antidepressent trazodone showed a statistically significant improvement in patient sleep patterns. The company said it intends to file a new-drug application for the drug with the FDA later this year. Trazodone is already approved in a twice-daily version by the FDA to treat depression. Shares rose 37 cents, or 18.7%, to $2.35.
Security Capital Assurance
(SCA) - Get Free Report
continued falling a day after credit-ratings firm Moody's slashed the bond insurer's rating to A3 from Aaa, as per the
Associated Press
. Fitch Ratings hit the firm with a similarly harsh downgrade of its vital triple-A rating a couple of weeks ago. Shares slid 60 cents, or 23.1%, to $2.00.
Luminex
(LMNX) - Get Free Report
said Thursday post-close that in light of a $11.5 million legal settlement with RBM, fourth-quarter profit was $11.1 million, or 30 cents a share, vs. $600,000 or 2 cents a share, in the year-ago quarter. Revenue increased 51% to $21.5 million from $14.2 million last year, just above the expectations of analysts surveyed by Thomson Financial who'd predicted $21 million.
For the year, the company reported a loss of $2.7 million, or 8 cents a share, on revenue that rose 42% to $75 million.
Shares were up 65 cents, or 4%, to $17 Friday.
Elsewhere,
Centene
(CNC) - Get Free Report
, a St. Louis-based health insurer, tanked 13.8% after reporting fourth-quarter earnings of $7.3 million, or 20 cents a share, excluding restructuring charges. Analysts polled by Thomson Financial were looking for 48 cents a share. Shares were sinking $3.25 to $21.42.
Iona
( IONA) shares climbed 20% to $3.31 after the Dublin, Ireland-based software company confirmed that a third party had expressed interest in buying it.
Also shining was
TerreStar
( TSTR), shares of which shot up 24% to $5.61 after announcing that the Reston, Va.-based wireless communication provider had secured a $200 million investment from
EchoStar
(SATS) - Get Free Report
and Harbinger to fund a satellite and, subject to approvals, acquired rights to 1.4 GHz spectrum from the two companies. In return, EchoStar and Harbinger get two seats in TerreStar's boardroom.
This article was written by a staff member of TheStreet.com.