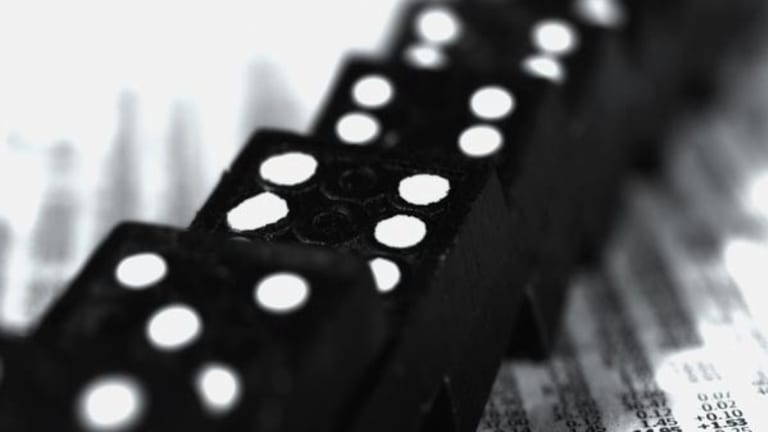 Friday's Winners & Losers: Education Realty
Shares move lower after the REIT cuts its FFO forecast for the year.
Shares of
H&R Block
(HRB) - Get Report
were among the
NYSE's
losers Friday, shedding 9% after the tax-preparation and financial services company said that it would record an after-tax charge of $61.3 million, or 19 cents a share, to cover losses in its mortgage unit.
The provision, which relates to H&R's Option One Mortgage unit, will include $46.1 million related to loans during the quarter ended July 31 and $56 million related to loans sold during earlier quarters. "The increased level of loan repurchases, which have been noted industrywide, are primarily due to a higher level of repurchase requests from loan buyers and an increase in early payment delinquencies," the company said. Analysts polled by Thomson First Call project a first-quarter loss of 19 cents a share. Shares were recently trading down $2.11 to $20.68.
Education Realty Trust
(EDR)
slid 11% after the real estate investment trust cut its full-year funds from operations forecast. The company now sees FFO of 87 cents to 92 cents a share, down from an earlier forecast of 97 cents to $1.02 a share. Analysts surveyed by Thomson First Call project FFO of $1 a share. The REIT expects total revenue to exceed $112 million.
"Even though only 13.4% of our total outstanding debt is variable-rate based, higher-than-anticipated LIBOR-based interest rates have driven up our cost of borrowing," the company said. "And due to EDR's substantial portfolio and infrastructure growth, our corporate overhead costs have outpaced expectations."
Educational Realty also cut its targeted dividend rate. The company now sees a dividend rate of 82 cents a share, down from an earlier target of $1.19. Shares recently changed hands at $13.40, down $1.59.
Shares of
Lamar Advertising
(LAMR) - Get Report
rose 2% after the company said it plans to repurchase up to $250 million in stock. Lamar, a provider of billboards and other outdoor advertising displays, said the buyback's time period won't exceed 18 months. The repurchase will be funded by working capital and future cash flow. Lamar shares were up 84 cents to $51.27.
Finish Line
(FINL)
traded lower after the company cut its second-quarter earnings and sales projections. For the period ending Saturday, the athletic-wear retailer now anticipates earnings of 19 cents to 21 cents a share, down from an earlier view of 25 cents to 28 cents a share. The company predicts sales of $335 million to $339 million, below its earlier forecast of $352 million to $362 million. Analysts project earnings of 25 cents a share on sales of $352.8 million.
Finish Line now sees a same-store sales drop of 6% to 8%, worse than the company's earlier forecast, which called for a decrease of 3% to 6%. "For the second quarter we have continued to experience significant weakness in women's performance running, which was down double digits on a comparable store basis," the company said. Shares recently were trading down 6 cents to $10.30 after falling as low as $9.55 in earlier trading.
Shares of
Corinthian Colleges
(COCO)
fell modestly after the for-profit education company postponed its fourth-quarter earnings release. The company delayed the release because a review of its historic stock-option grants has not yet been completed. Corinthian expects to post earnings in mid-September. Shares were down 20 cents to $11.65.
NYSE volume leaders included
Ford
(F) - Get Report
, up 26 cents to $8.02;
Exxon Mobil
(XOM) - Get Report
, up 29 cents to $71.01;
Rite Aid
(RAD) - Get Report
, down 16 cents to $4.20;
Lucent Technologies
(LU)
, unchanged at $2.21;
Sprint Nextel
(S) - Get Report
, down 8 cents to $16.29;
Corning
(GLW) - Get Report
, up 68 cents to $21.96;
Time Warner
(TWX)
, down 2 cents to $16.41;
Advanced Micro Devices
(AMD) - Get Report
, up 4 cents to $24.80; and
Pfizer
(PFE) - Get Report
, down 17 cents to $27.07.
Nasdaq
volume leaders included
Intel
(INTC) - Get Report
, up 4 cents to $18.60;
Sun Microsystems
(SUNW) - Get Report
, down 1 cent to $4.91;
Microsoft
(MSFT) - Get Report
, up 19 cents to $25.93;
JDSU
(JDSU)
, up 5 cents to $2.64;
Sirius Satellite Radio
(SIRI) - Get Report
, up 2 cents to $4.08;
Cisco Systems
(CSCO) - Get Report
, up 13 cents to $21.22;
Oracle
(ORCL) - Get Report
, up 11 cents to $15.49; and
Applied Materials
(AMAT) - Get Report
, up 22 cents to $16.32.