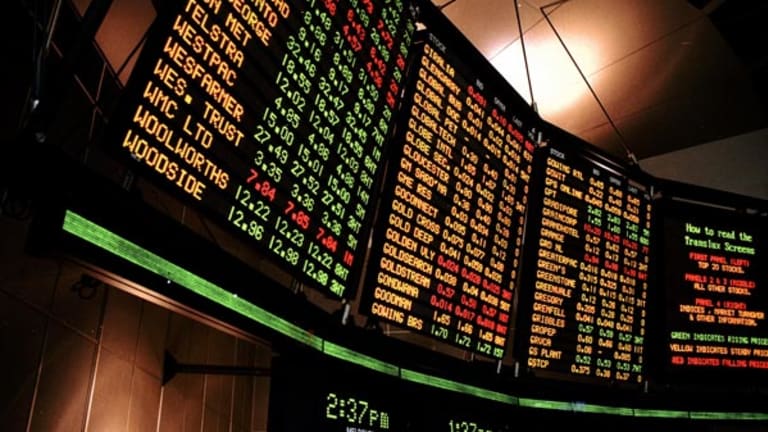 Friday's Winners & Losers: Claire's
Shares rise after the accessories seller says it's exploring alternatives.
Shares of
Claire's Stores
( CLE) were among the
NYSE's
winners Friday, rising 5% after the accessories retailer said it is exploring strategic alternatives, including a possible company sale.
The company has hired Goldman Sachs to help it in the process. Claire's does not intend to disclose further developments of its strategic alternatives unless it approves a definitive transaction. Shares were trading up $1.58 to $33.39.
Home Depot
(HD)
shares climbed 2% on speculation that the home-improvement retailer may be taken private in a massive leveraged buyout.
The New York Post
reported Thursday that buyout firms including Kohlberg Kravis Roberts and Texas Pacific Group have been exploring the possibility of a $100 billion purchase of the company. The paper, citing unnamed sources, said no formal offer has been made, but the firms have been holding discussions with investment banks about structuring the financing. Shares of Home Depot were up 81 cents to $38.78.
Shares of
Lear
(LEA)
fell 4% after the auto-parts company said it will sell its North American interior business to a joint venture. WL Ross and Franklin Mutual Advisers will take part in the venture, while Lear will hold a 25% stake. Lear will record a $675 million charge related to the divestiture of the business in its fourth quarter. The stock was down $1.28 to $29.67.
Shares of
Cohen & Steers
(CNS)
fell 4% after the asset manager priced 3.5 million shares of stock at $36.50 a share. Cohen plans to sell 2 million shares, while Martin Cohen and Robert Steers, co-chairmen and co-chief executives, will sell 750,000 shares apiece. The company expects to receive about $70 million in proceeds for its 2 million shares. Merrill Lynch served as lone underwriter for the deal. Shares were trading down $1.44 to $36.51.
Sonoco
(SON)
fell 1% after the maker of consumer packaging products issued a 2007 earnings forecast that would be at or below Wall Street's expectation. The company sees earnings of $2.28 to $2.31 a share in 2007, while analysts polled by Thomson First Call have an average estimate for earnings of $2.31 a share. Sonoco continues to see 2006 earnings of $2.11 a share to $2.13 a share, compared with analysts' estimate of $2.12 a share.
Sonoco also said that it plans to repurchase about 1.5 million shares of stock during 2007. Shares were trading down 25 cents to $36.74.
Shares of
Kellwood
( KWD) rose 2% after the clothing marketer posted better-than-expected third-quarter results. The company earned $8.1 million, or 31 cents a share, for the period. Excluding items, earnings were $17.6 million, or 68 cents a share, compared with analysts' estimate of 63 cents. Kellwood posted revenue of $516.4 million, above Wall Street's projection of $500.7 million. In the year-earlier period, the company recorded adjusted earnings of $15.3 million, or 57 cents a share, on revenue of $522.4 million. Shares were trading up 75 cents to $32.
NYSE volume leaders included Home Depot;
EMC
(EMC)
, up 6 cents to $13.17;
Pfizer
(PFE)
, up 17 cents to $27.66;
General Motors
(GM)
, up 5 cents to $29.28;
Wal-Mart
(WMT)
, down 51 cents to $45.59;
Motorola
( MOT), down 33 cents to $21.84;
Ford
(F)
, down 14 cents to $7.99;
DirecTV
(DTV)
, up 3 cents to $22.78;
Lowes
(LOW)
, up 43 cents to $30.59;
Advanced Micro Devices
(AMD)
, down 39 cents to $21.18; and
Exxon Mobil
(XOM)
, down 31 cents to $76.50.
Nasdaq
volume leaders included
Finisar
(FNSR)
, down 32 cents to $3.51;
Microsoft
(MSFT)
, down 25 cents to $29.11;
Intel
(INTC)
, down 41 cents to $20.99;
Level 3 Communications
(LVLT)
, up 14 cents to $5.48;
Sirius Satellite Radio
(SIRI)
, down 7 cents to $4.19;
Cisco Systems
(CSCO)
, up 1 cent to $26.92;
OmniVision Technologies
(OVTI)
, down $2.73 to $13.56;
Apple Computer
(AAPL)
, down 66 cents to $91; and
Sun Microsystems
(SUNW)
, up 1 cent to $5.43.