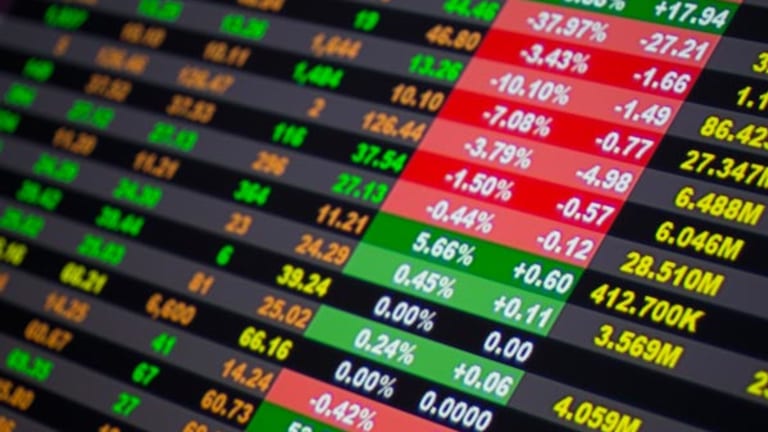 Friday's Winners & Losers
United Surgical falls, while Coinstar climbs.
Coinstar's (CSTR) - Get CapStar Financial Holdings, Inc. Report shares were surging 14% a day after the company reported strong results for the second quarter and offered upbeat guidance. Revenue for the most recent quarter rose to $130.3 million from $109.8 million.
Coinstar, an operator of coin-counting machines found in supermarkets and convenience stores, earned $4.1 million, or 15 cents a share, in the second quarter. Before items, the profit was 18 cents. The estimate was 13 cents. A year ago, Coinstar earned $5.3 million and 21 cents a share.
For the third quarter, Coinstar is looking for revenue of $140 million to $150 million and earnings, before items, of 22 cents to 29 cents a share. Analysts are expecting earnings of 20 cents and revenue of $143.8 million. Shares of Coinstar were climbing $3.16 to $25.10.
Technitrol
( TNL) jumped 25% on the heels of its latest quarterly report, which showed profits and revenue on the rise. Revenue rose to $239.2 million for the second quarter from $143.3 million in the year-ago period. The company earned $15.2 million, or 38 cents a share, compared with a loss of $42.9 million and $1.06 a share last year. Excluding items, Technitrol would have earned 47 cents in the most recent quarter.
Shares of Technitrol, a producer of electronic components, electrical contacts and assemblies, were higher by $4.89 to $24.49.
Libbey
(LBY) - Get Libbey Inc. Report
, the maker of dishes, advanced 23% after the company posted stronger-than-expected second-quarter results. Sales increased 9.3% to $158 million from $144.5 million in the prior year. Libbey reported a loss of $9.6 million, or 68 cents a share, for the quarter, but that included charges. Before items, Libbey would have earned 27 cents a share, 12 cents above the consensus estimate.
Last year, Libbey lost $900,000, or 6 cents a share. The company also said it expects third- and fourth-quarter sales to increase by 4% to 5% from last year's pro forma results. Additionally, Libbey said it's on schedule to begin production in early 2007 at its new glass tableware production facility in China. Shares of Libbey were adding $1.47 to $7.96.
Cobra Electronics
(COBR)
, a maker of mobile communications and navigation products, slumped as investors showed their displeasure at the company's forecast of declining earnings. The company believes this year's sales will exceed 2005, but earnings will probably fall. Cobra attributed the profit decrease to delays in the introduction of certain higher-margin products and substantial airfreight expenses that will likely be recorded.
For the third quarter, Cobra said sales will be roughly equal to last year, but net income will drop. Cobra's second-quarter sales rose 17.6% from last year to $39.6 million, while it swung to a loss of $2.7 million, or 40 cents a share. During the same quarter a year ago, it earned $723,000 and 11 cents a share. The loss for the quarter resulted from charges of $4.6 million. Without them, Cobra would have earned 5 cents. Cobra's shares dropped $1.65, or 15.7%, to $8.85.
United Surgical Partners
(USPI)
posted earnings and revenue that topped Wall Street's estimates, but that wasn't enough to prevent a 15% selloff in the company's stock.
The owner and operator of surgical facilities had second-quarter revenue of $150.5 million, up 22% from $123.2 million in the prior year. The company earned $13.2 million and 29 cents a share, vs. $12.4 million and 28 cents a share last year. Analysts surveyed by Thomson Financial were projecting a profit of 28 cents and revenue of $148.3 million. United's shares were trading below the 52-week low, losing $4.50 to $24.89.