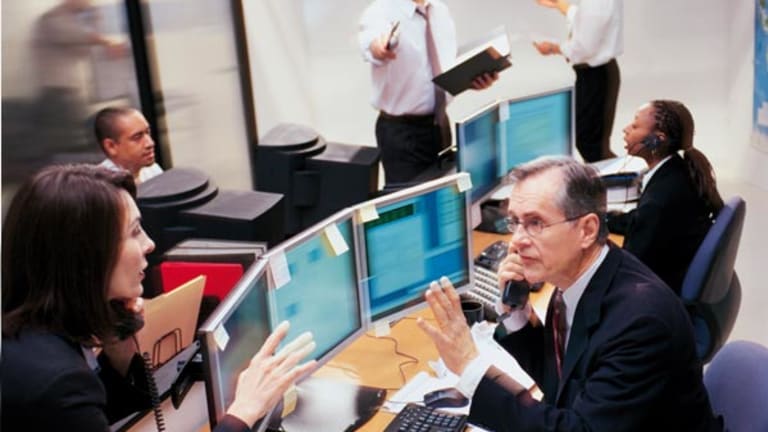 Publish date:
Friday's Winners and Losers: Trump
The casino operator's shares jumped on reports a buyer could be interested in properties.
The casino operator's shares jumped on reports a buyer could be interested in properties.
Trump Entertainment
(TRMP)
was among the
Nasdaq's
winners Friday, after news reports said a Baltimore real estate developer was interested in its casinos.
Trump shares were up 16.3%, after the
Star-Ledger
of Newark, N.J., citing anonymous sources, said The Cordish Co. was interested in buying one or more Trump properties. Shares were up $1.14 to $8.13.
Shares of
Pall
(PLL) - Get Report
were up 6.5%, after the filter and purifier maker reported unaudited, preliminary fourth-quarter results that enthused investors. The company said revenue for the period ended July 31 rose 8% to $646.3 million, up from $597.3 million in the year-ago period. For the full year, the company reported sales of $2.2 billion, an increase of 11.6% over fiscal 2006.
The company earlier announced it would miss its filing deadline for audited results, due to an internal audit. The company also is working on restating earlier periods. Analysts polled by Thomson Financial expected revenue of $616.8 million for the fourth quarter and $2.19 billion for the year. Pall was upgraded to overweight from equal weight by a Lehman analyst. Shares were up $2.70 to $43.46.
Shares of
Lundin Mining
(LMC)
jumped 8.8% on the copper and zinc miners to expand production in two of its mines. Lundin said it will raise its zinc production from 400,000 to 2.4 million tonnes per year at its Neves-Corvo mine in Portugal. By 2010, its Zinkgruvan mine in Sweden is expected to expand to 1.2 million tonnes annually. Lundin was trading up $1.13 to $13.98
On the down side,
Sealy
(ZZ)
was shedding 6.6% after the mattress manufacturer announced that profits dropped in the third-quarter. The company reported net earnings of $21.5 million, or 22 cents a share, vs. $29.4 million, or 30 cents a share, in the year-ago period. Third-quarter income excludes one-time income tax benefits. Net sales increased to $446.4 million, from $415.1 million in the year-ago period. Analysts foresee earnings at 32 cents a share on revenue of $444.4 million, according to Thompson Financial. Shares were trading down 97 cents to $13.75.
Nabors Industries
(NBR) - Get Report
was dipping 2.6%, after the oil and gas driller said it expected earnings below Street estimates. The company projects earnings of 73 cents to 76 cents per share, below the 81 cents per share expected by analysts, according to
Reuters
. Shares fell 76 cents to $29.59.