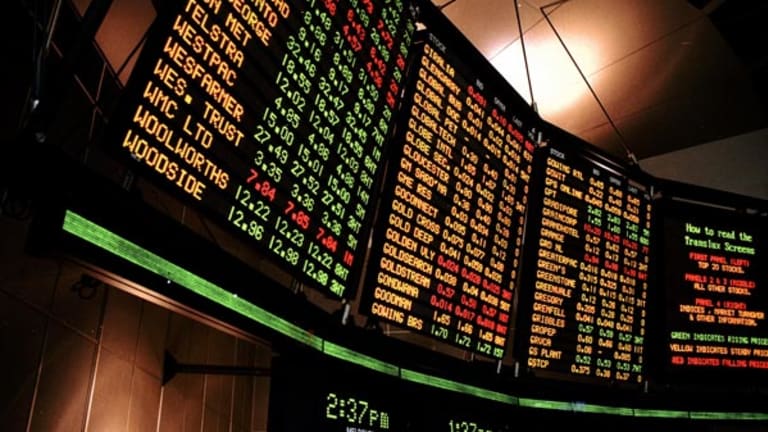 Friday's Winners and Losers: MBIA
The bond insurer surrendered 14.9% after it was reported that Warren Buffett is launching a competing bond insurer.
Business software maker
Netsuite
(N)
reversed some of its losses from the past two days with a gain of 8.7%. The stock made its market debut on Dec. 20 with 6.2 million shares priced at $26, and Netsuite has raised $185.4 million from its IPO. Shares were up $3.21 to $40.20.
Logitech
(LOGI)
added 3.5% a day after the company said it will sell its digital writing business to U.K.-based
Destiny Wireless
for an undisclosed amount.
Logitech will manufacture the digital pen for Destiny until the company takes over manufacturing on its own. The digital pen and paper products are not central to Logitech's strategic direction, the company said. Logitech was up $1.26 to $37.07.
Among the winners was
CDC Corp
( CHINA), shares of which rocketed up 20.4% to $4.95 after the Hong Kong Internet software company announced that its executives bought back about 468,000 shares since Dec. 17, adding to the company's own fourth-quarter purchases of 366,000 shares for a total $2.3 million.
Nashville footwear merchant
Genesco
(GCO)
, meanwhile, jumped 16.5% to $38.50 after a Tennessee court last night ordered
Finish Line
(FINL)
to go through with its $1.5 billion purchase of the company. According to Genesco, the court determined that Finish Line had breached the companies' merger agreement.
On the short end of that stick, Finish Line shares got slammed down 24.6% to $2.30. Last night, the Indianapolis shoe store said in a press release late Thursday that it is "disappointed with the ruling."
Meanwhile, bond insurers
MBIA
(MBI)
and
Ambac
( ABK), already prominent victims of the ongoing credit crisis, took more hits after
The Wall Street Journal
reported that Warren Buffett is
launching a competing bond insurer through his
Berkshire Hathaway
( BRKA) firm.
According to the
Journal
, the new entity aims to allow local governments to borrow more cheaply, and is planned to start up in New York today.
MBIA lately surrendered $3.31, or 14.9%, to $18.96; Ambac was off 13.3% at $25.27. Berkshire traded up 1.9% to $140,400.
And shares of
Centerline
(CHC)
plummeted 25% after the asset manager said it will take charges of between $45 million and $55 million resulting from securitizing its $2.8 billion affordable-housing-bond portfolio with
Freddie Mac
( FRE). That should chop at least 14 cents per share off Centerline's cash available for distribution to between $1.70 and $1.75.
The firm also slashed its quarterly dividend by 64% to 15 cents a share, and set its 2008 adjusted-earnings guidance at between $1 and $1.10 a share. The sole analyst's estimate is calling for $1.90, according to Thomson Financial. Shares were falling $2.57 to $7.70.
Trying to navigate the approval process,
Theravance
(THRX)
said Thursday after the close that an FDA panel will meet to review its new-drug application for skin-infection drug Telavancin.
The company said it recently learned that the agency's Anti-Infective Drugs Advisory Committee will soon meet to discuss the once-daily injection, which is intended to treat infections caused by Gram-positive bacteria, including resistant pathogens like MRSA. Shares gave up $2.52, or 12%, to $18.82 on Friday.
Mylan
(MYL)
said Friday that it received approval from the U.S. Food and Drug Administration for its generic over the counter (OTC) version of Pfizer's zyrtec, or cetirizine hydrochloride tablets. Pfizer's Zyrtec harnessed U.S. sales of approximately $1.4 billion for the year ending Sept. 30.
Mylan's shares rose 19 cents, or 1.4%, to $13.99.
This article was written by a staff member of TheStreet.com.