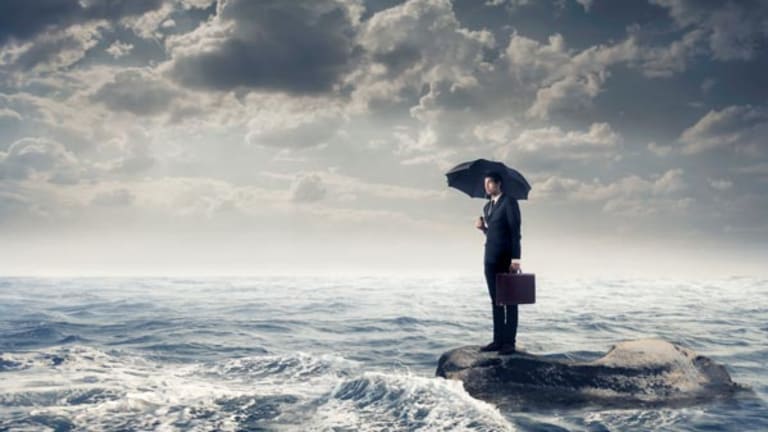 Friday's Financial Winners & Losers
Banks may be the emergency responders for Ambac.
After a couple of morning hiccups, the financial sector had a steady climb Friday on word a group of banks is banding together in order to pull bond insurer Ambac( ABK) to its feet.
As
CNBC
reported, the bank consortium is attempting to engage New York state insurance commissioner Eric Dinallo, who is already heading up a bailout for the industry as a whole.
CNBC
, which cited a source familiar with the talks, said that the rescue group includes
Citigroup
(C) - Get Free Report
,
Wachovia
(WB) - Get Free Report
, and a raft of European banks:
Royal Bank of Scotland
(RBS) - Get Free Report
,
Barclay's
(BCS) - Get Free Report
,
UBS
(UBS) - Get Free Report
, Societe Generale, PNP Paribas, and Dresdner.
And, according to several published reports, Standard & Poor's yesterday affirmed Ambac's crucial perfect rating while warning that it may still cut that of
MBIA
(MBI) - Get Free Report
. Moody's, for its part, has warned it will probably hit some bond insurers with downgrades this month, per several reports.
Nevertheless, Ambac shares recently shot up 16.5% to $13.56. MBIA, which yesterday held a
marathon analyst call in an effort to assuage investors' fears following the firm's disclosure of a
huge fourth-quarter loss, was adding 6.1% to $16.44.
Countrywide
( CFC) gained ground, as well, after fraught homebuilder
Beazer Homes
(BZH) - Get Free Report
-- having decided to end its mortgage-origination business -- agreed to tout Countrywide to customers as its "preferred" mortgage lender.
Countrywide, itself a struggling entity, seems set to get
taken out by
Bank of America
(BAC) - Get Free Report
: earlier this week, BofA CEO Ken Lewis affirmed the deal's upcoming completion at a Citigroup conference in New York. Voicing opposition yesterday, however, was 5.2% Countrywide holder SRM, which said in a regulatory filing that it believes the deal undervalues the company.
Still, the mortgage lender's shares were bouncing 47 cents, or 6.8%, to $7.43, in recent trading.
Also reaping gains today was
Unum Group
(UNM) - Get Free Report
, a Tennessee insurer that announced it had taken care of roughly half its $700 million share-repurchase authorization by entering into an accelerated buyback agreement with
Morgan Stanley
(MS) - Get Free Report
. Unum shares were up 2.4% at $23.18.
Morgan shares, meanwhile, spent the day lower amid word it's axing about 150 London-based employees, mostly from the location's back office.
Reuters
, which cited a source familiar with the situation, said the cuts are part of the larger plans to lay off 1,000 Morgan employees that
CNBC
first reported last week. Shares of the New York-based brokerage were recently falling 2.2% to $48.25.
First Marblehead
undefined
swung to a fiscal second-quarter loss of $117.7 million, or $1.26 a share, though that tops Thomson Financial's analyst estimates by a nickel a share. The Boston-based student lender also reported negative revenue of $122.8 million, erasing last year's top-line intake of $197.8 million, as it wrote down some $178 million in service receivables thanks to the currently crushing consumer and credit markets.
That top line actually beats the Street's predictions, which called for negative revenue of $143.4 million. The firm had first warned of the writedown charge in December. Shares were down 1.8% to $16.15.
Safeco
(SAF) - Get Free Report
surrendered 6.5% even after fourth-quarter operating earnings of $140.1 million, or $1.51 a share, pulled ahead of analysts' expectations. The figure represents a 32.4% plummet from a year earlier. Shares of the Seattle-based insurer were down $3.49 to $49.88.
Elsewhere, commodities exchange
Nymex
( NMX) reported that soaring trading volume propelled its fourth-quarter income
55.9% higher to $63.5 million, or 67 cents a share. The numbers edge out Street estimates. Still, shares were off 1.5% at 112.43.
But, more broadly, the
NYSE
Financial Sector Index was climbing 105.33 points, or 1.3%, to 8,046.86.
As originally published, this story contained an error. Please see
Corrections and Clarifications.