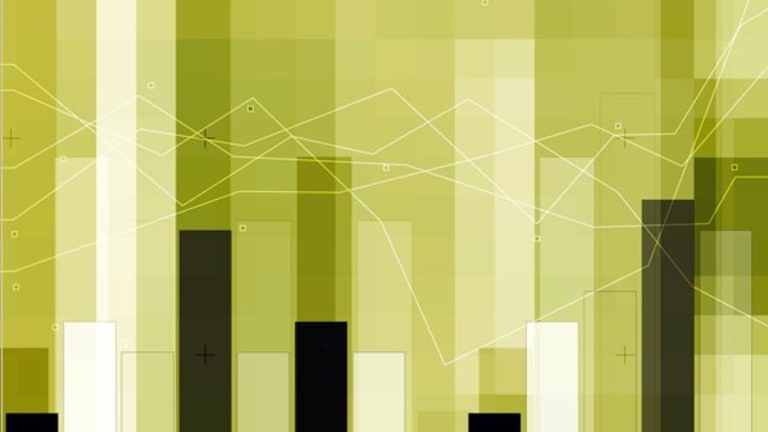 Friday's Financial Winners & Losers
Online brokers and trading platforms continue to benefit from the market's recent volatility.
Higher-than-expected
inflation numbers kept pressure on most financial stocks Friday, as they did for the rest of the market, but a few names managed to linger in positive territory.
Goldman Sachs
(GS)
, for instance, was climbing 2.2% to $213 after
The Wall Street Journal
reported that some of its traders' bets against risky mortgage-backed securities helped the brokerage to bring in nearly $4 billion in profits in the year ended Nov. 30, which would far more than offset its projected mortgage-related losses of $1.5 billion to $2 billion.
And, a day after
Citigroup
(C)
set plans to
bail out its $58 billion in troubled structured investment vehicles (SIVs), Goldman upped its debt rating to outperform, per
Reuters
, voicing confidence that the banking giant will retain its AA ratings at credit rating agencies. Moody's today
downgraded Citi's long-term debt rating by a notch but said the SIV move had had no bearing on that, and Standard & Poor's concurred on that point while taking no action. Citi stock sank out of the gate but, recently, it was up 1.7% at $31.53.
Meanwhile, online brokers and trading platforms continued to benefit from the market's late volatility.
Charles Schwab
(SCHW)
said November daily average trades surged 36% from a year ago, and 8% sequentially, to 344,000. Total client assets at the end of that month vaulted 18% year over year to $1.446 trillion. Shares were up 31 cents, or 1.3%, to $24.48.
And commodities exchange
Nymex
( NMX) set an "all time monthly record" for volume after November trades leapt 38% from last year to 1.685 million contracts. Shares of the New York company were substantially higher before pulling back to an 11-cent gain at $127.30.
Fellow bourse
IntercontinentalExchange
(ICE)
, which deals in futures and commodities, announced that futures trading will only trade electronically from March onward, since that already goes for most of its traded futures. Open-outcry futures trading will cease at the end of February, though that traditional method will continue regarding options on futures. Shares were up 4.7% at $189.32.
Elsewhere,
Fannie Mae
( FNM) Chief Daniel Mudd told shareholders at an annual meeting that he doesn't expect the struggling housing market to turn a corner until late 2009, according to several published reports. Still, the firm's stock was lately up 2.5%.
More broadly, however, the
NYSE
Financial Sector Index and the KBW Bank Index each lost 1%. The narrower Amex Securities Broker-Dealer Index, lately boosted by Schwab, Goldman, and several of its other components, was up 0.6%.
Among the financial losers was
Colonial Bancgroup
( CNB), which slid 7.3% to $13.71 after a Bank of America analyst started coverage on the Alabama-based bank with a sell rating. BofA also cut Milwaukee's
Marshall & Ilsley
( MI) to neutral from buy, partly on worries regarding credit deterioration in its residential real-estate portfolio, per
Marketwatch
. Shares of the bank were lately off 2.4%.
Also in the red recently were bond insurer
MBIA
(MBI)
, which lost 5.5% to $27.90; Cleveland bank
National City
( NCC), down 3.6% to $16.80; and
New York Community Bancorp
( NYB), which was off 59 cents, or 3.3%, to $17.40.