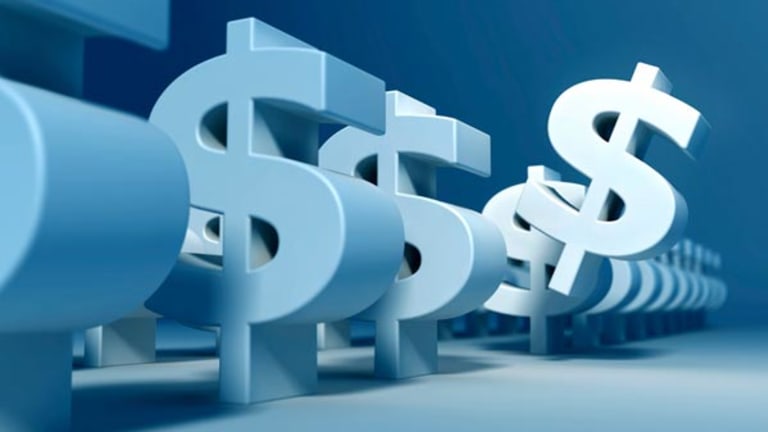 Friday's Financial Winners & Losers
Wachovia slumps on a profit slide.
Financial stocks took another downturn Friday to cap off a mostly bearish week for the sector, which saw a harrowing influx of poor financials.
Among the culprits today was
Wachovia
(WB) - Get Free Report
, which fell 2% after joining the parade of financial services firms whose earnings were rotted out by credit market disruptions. Its third-quarter profit slid 24.4% year over year to 90 cents a share, or $1.71 billion (excluding one-time items) amid a credit-loss provision of $408 million that more than doubled from last quarter.
Revenue rose 4.3% from last year to $7.35 billion. Analysts polled by Thomson Financial were looking for income of $1.03 a share on revenue of $8.02 billion. Shares of the Charlotte, N.C., bank were recently down 98 cents to $47.16.
Citigroup
(C) - Get Free Report
, which reported an
even worse earnings tumble earlier this week, lately lost another 1.1% to $43.34. The
radiant pain was even
sharper for
Bank of America
(BAC) - Get Free Report
and
Washington Mutual
(WM) - Get Free Report
, each of which reported their own weak profits just yesterday. Shares were off 1.8% and 5.5%, respectively.
All of the above stocks helped to pressure both the
NYSE
Financial Sector Index, down 1.7%, and the KBW Bank Index, down 1.3%, along with a sinking
Capital One
(COF) - Get Free Report
.
The McLean, Va., credit card issuer, burdened by the high costs of shutting down its GreenPoint Mortgage business, swung to a third-quarter loss of $81.6 million, or 21 cents a share. The $883 million charges were slightly higher than expected due to the dwindling value of the business. On average, analysts were looking for a loss of 30 cents a share; last year, Capital One had a profit of $1.89 a share.
Freidman Billings lowered Capital One's rating to market perform from outperform on the heels of the report. The analyst pointed to its auto-finance segment, in particular, which incurred a $3.8 million loss after a 51.7% jump in the division's loan-loss provision more than wiped out a 5.8% revenue gain. Shares surrendered $2.28, or 3.5%, to $63.72.
Preferred Bank
(PFBC) - Get Free Report
plunged 9.7% to $33.22, also thanks in part to a Friedman downgrade on continuing broad-market concerns. The move came a day after Preferred reported income of 69 cents a share, excluding items, against Wall Street's 68-cent expectations.
Elsewhere, struggling brokerage
Bear Stearns
( BSC) dipped a day after Warren Buffet told
Fox Business News
that, contrary to rumors, he's not interested in buying a Bear stake through his firm
Berkshire Hathaway
(BRK.A) - Get Free Report
. Bear stock was recently down 44 cents to $118.90. Berkshire lost 1.5% to $127,100.
Janus Capital
(JNS)
lost ground on the resignation of David Corkins, portfolio manager for the Denver firm's flagship Janus Fund, among others. Janus Enterprise Fund manager Jonathan Coleman will replace him. In August, the company announced the year-end departure of Scott Schoelzel, another high-profile fund manager. Shares were down $1.44, or 4.4%, to $31.
Countrywide
( CFC) was still slumping 6.8% a day after
The Wall Street Journal
reported that the
Securities and Exchange Commission
has launched an informal probe on stock sales by CEO Angelo Mozilo, and fellow mortgage lenders
IndyMac Bancorp
( IMB),
Thornburg Mortgage
( TMA) and
Impac Mortgage
(IMH) - Get Free Report
were falling 5.7%, 2.9% and 13.7%, respectively.
Mortgage insurers also continued sliding in the wake of
MGIC's
(MTG) - Get Free Report
big third-quarter loss, which posted earlier this week. MGIC shares took another 8% fall today, and
Radian
(RDN) - Get Free Report
, whose proposed merger with MGIC was
canceled last month due to broad-market pressures, tumbled 11% to $14.38.
Triad Guaranty
(TGIC)
gave up 16.4% to $7.77, and
PMI
( PMI) lost another 14.5% following yesterday's share-pummeling warning of a third-quarter loss.
On the lonely upside, meanwhile, was
NYSE Euronext
(NYX)
, which rose 2.7% to $84.83 after getting added to the
and the S&P 100 as of market close next Wednesday.
Las Vegas-based
Western Alliance Bancorporation
(WAL) - Get Free Report
made 35 cents a share to miss third-quarter estimates by a penny, but its $52.7 million revenue came in a hair over the mean. Shares were climbing 2.7% to $21.99.