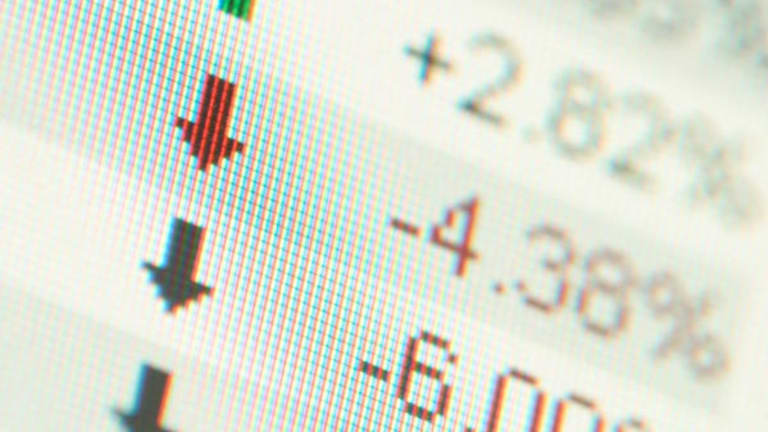 Friday's Financial Winners & Losers
American Home Mortgage plummets on news it's closing down most of its business.
Updated from 2:50 p.m. EDT
American Home Mortgage's
( AHM) plummet continued to drag down the financial sector Friday, as other lenders bore the brunt of a residual share-price beating.
AHM, based in Melville, N.Y., announced last night that it's
laying off 6,000 workers, or roughly 90% of its workforce, as it shuts down most of its operations due to deteriorating housing-market conditions. CEO Michael Strauss said market conditions have left the company with "no realistic alternative." Shares gave up 52.1% to 69 cents in a flurry of trading Thursday.
Several other lenders charged downhill on AHM's heels, including
Impac Mortgage
(IMH) - Get Impac Mortgage Holdings, Inc. Report
, which slid 26.2% to $1.66;
IndyMac Bancorp
( IMB), off 6.6% to $19.66;
Fremont General
( FMT), down 16.5% to $4.49; and
CIT
(CIT) - Get CIT Group Inc. Report
, which lost 4.9% in heavy trading.
Accredited Home Lenders
( LEND) bucked the trend, as the subprime lender made a partial recovery from Thursday's
precipitous fall. In the company's year-end filing, it warned investors about the shaky state of its financial health. Shares closed up 31.3% to 6.97.
Bear Stearns
( BSC) also contributed to the dark mood after Standard & Poor's lowered its outlook on the broker's credit rating to negative from stable, citing Bear's recent
hedge fund troubles. Shares were losing as much as 7% this morning, before a
retaliatory press release provided some relief. Shares were off 6.3% at $108.35.
Elsewhere, broker
Knight Capital
(NITE)
gave back 5.3% to $13.29, after announcing that Chief Financial Officer John Howard will leave, effective Aug. 10, to be replaced by company veteran Steven Bisgay. And Germany's
Allianz
( AZ) reported a 13.7% per-share profit decline to $6.69 (4.85 euros) in the second quarter. Shares of the insurer surrendered 3.1% to $21.
All but two of the above names were weighing on the
NYSE
Financial Sector Index, which tumbled 284.3 points, or 3.1%, to 8764.28. The KBW Bank Index lost 4.1% to 101.84.
Insurance companies ranked among the scarce financial winners Friday, and among them was
National Interstate
(NATL)
. Shares jumped 8.2% after the firm handily topped Wall Street estimates with income of $11.9 million, or 61 cents a share, vs. Thomson Financial's 52-cent consensus.
Fellow insurer
Odyssey Re
(ORH)
reported a year-over-year earnings drop but still garnered an upgrade to buy at Ferris Baker Watts, and
Meadowbrook Insurance
(MIG)
was raised to aggressive buy at KeyBanc Capital Markets. Odyssey shares climbed 2.4% to $36.06; Meadowbrook was up 2% to $9.02.