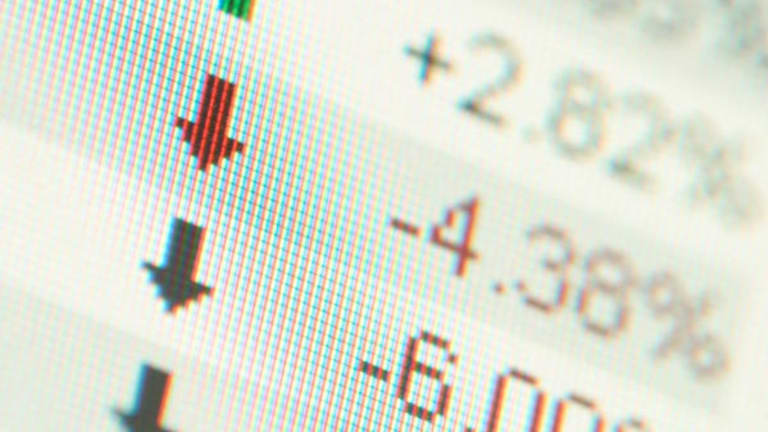 Friday's Financial Winners & Losers
American Home Mortage Investment slumps on an expected quarterly loss.
Financial stocks swung lower than the rest of the market Friday amid a number of analyst downgrades, and the sector lately slid into the red as
American Home Mortage Investment
( AHM) got clobbered by disappointing guidance. Shares of the Melville, N.Y., firm tumbled 12.9% after saying that "substantial charges for credit-related expenses" will probably induce a second-quarter loss, though this will likely be "contained" due to a planned reclassification. As a result, AHM also withdrew its prior 2007 earnings outlook of $3.25 to $3.75 a share. Shares were down $2.70 to $18.21.
Friedman Billings cut AHM to underperform and UBS similarly downgraded insurers
MGIC Investment
(MTG) - Get Report
and
PMI Group
( PMI) to neutral from buy, predicting they'll build higher near-term reserves than those previously estimated, and that this will eat away at earnings through 2008. Shares of the firms lost 1.4% and 2.1%, respectively, as
Franklin Bank
( FBTX) shed 6.1% at $14.95 on a new underweight rating from J.P. Morgan.
All but one of the above named stocks weighed on the
NYSE
Financial Sector Index as it lost 37.96 points, or 0.4%, to 9,575.39. The KBW Index also trailed by about that much, despite a leaping
Commerce Bancorp
(CBH) - Get Report
.
Shares of the New Jersey bank were up 8% at $36.50 on word Chief Executive Vernon Hill is
departing
, to be replaced by a newly formed Office of the Chairman consisting of three company executives -- Dennis DiFlorio, Robert Falese and Douglas Pauls.
Fannie Mae
( FNM) was upped to buy at Citigroup, lifting shares slightly to $65.68, and California-based
K-Fed Bancorp
(KFED)
bounced 5% after announcing that its mutual holding company -- which owns about a 63.5% stake in the company -- will convert to stock form of organization by offering its shares to bank depositors and to the public. The conversion and offering should complete in the fourth quarter. Shares were trading at $15.75.