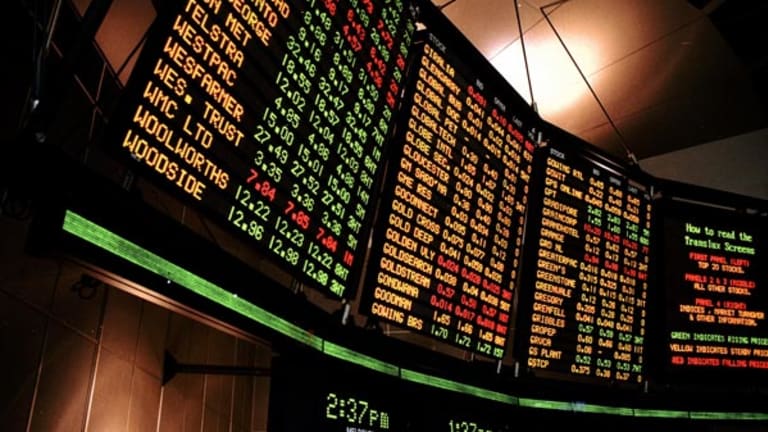 Friday's Early Winners & Losers
Verigy swings to a quarterly profit, and shares jump.
Verigy
( VRGY) was surging more than 22% in extended trading Thursday on mounting profits for the quarter ended Jan. 31. The Singapore-based semiconductor-equipment company said non-GAAP income came to $16 million, or 28 cents a share, up year over year from $6 million, or 12 cents a share. Revenue slipped 3% to $165 million. Analysts polled by Thomson Financial were seeking 20 cents a share on a top line of $154.8 million.
Looking ahead, revenue should sequentially rise to a minimum of $23.5 million above estimates -- $170 million to $180 million. Non-GAAP second-quarter income is projected at 32 cents to 37 cents a share, also well above the 21-cents-a-share consensus. Shares were rising $4.17 to $23.05.
Restaurant chain
Red Robin Gourmet Burgers
(RRGB) - Get Red Robin Gourmet Burgers, Inc. Report
was leaping on adjusted fourth-quarter earnings of $8.1 million, or 43 cents a share (including stock-option expenses), up from last year's $5.5 million, or 33 cents a share. The Street was seeking 35 cents a share. Sales reached $163.8 million, a 40.6% rise from last year that tops the mean by $7.1 million. Comparable sales were up a fraction of a percent in company restaurants: 1.5% in U.S. franchises and 5.1% in Canadian franchises.
The Colorado-based company expects 2007 income to range from $1.75 to $1.85 a share on sales between $715 million to $735 million. Analysts are calling for $1.84 a share on revenue of $716 million. Shares were up $3.89, or 10.2%, to $42.05.
Tekelec
( TKLC) said it earned $7.2 million from continuing operations, or a dime a share, which skids past the fourth-quarter consensus by 7 cents a share. The Morrisville, N.C.-based telecom-product maker's sales climbed 11% to $154.5 million, also well above the $138.6 million target. Shares were gaining 40 cents, or 2.7%, to $15.30.
Cerus
(CERS) - Get Cerus Corporation Report
swung to a healthy $3 million, or dime-a-share, profit in the fourth quarter from last year's loss of $3.9 million, or 17 cents a share. The Concord, Calif., biotech smashed estimates, which had the company sinking to an even heavier per-share loss of 22 cents. Revenue was better than expected as well, more than doubling from a year ago to $14.1 million and squelching the $6 million projection. Shares were adding 44 cents, or 7.7%, to $6.18.
Dynamic Materials
(BOOM) - Get DMC Global Inc. Report
also blasted apart estimates, reporting nearly doubled per-share profit of 53 cents (minus a penny a share from discontinued operations), or $6.6 million, which easily topped the 44-cent mean target. The Boulder, Colo., maker of explosion-welded clad metal plates said gross margins were up 9 points year over year to 41%, and revenue soared 54% to $35.7 million. The stock was gaining $1.71, or 5%, to $36.20.
A.C. Moore Arts & Crafts
(ACMR) - Get ACM Research, Inc. Class A Report
said its fourth-quarter profit sank to $6.6 million, or 33 cents a share, including 5 cents' worth of one-off items and a penny a share in stock-option costs. Last year, the company's bottom line totaled $10.7 million, or 53 cents a share. Total sales grew 5% from a year ago to $197.8 million, though same-store revenue dropped 3%. Analysts had the Berlin, N.J., retailer earning 67 cents a share on $211.3 million in sales. Shares were plunging $1.68, or 8.2%, to $18.75.
Banana distributor
Chiquita
(CQB)
declined on a loss of $41.9 million, or 99 cents a share, more than double last year loss, missed the Street mean by 52 cents a share. Sales were up a bit, to $1.1 billion from $999.1 million a year ago, and came in above the $1 billion average projection.
Chief Executive Officer Fernando Aguirre blamed the losses on "competitive pressures and regulatory changes in the European banana market" and, with regard to the company's other produce divisions, "lingering ... concerns about the safety of fresh spinach and packaged salads" in the U.S. The Cincinnati-based company was off by 87 cents, or 5.2%, to $15.75.
Midway Games
( MWY) slumped on an announcement of narrowed losses that missed Wall Street expectations. The video-game developer lost only $2 million in the fourth quarter, or 2 cents a share, compared with a year-ago hemorrhage of $37.8 million, or 42 cents a share. Analysts, however, were seeking penny-a-share profits. The Chicago-based company also reported 38.8% higher sales year over year to $96.9 million -- nearly $11 million above targets. But shares were losing 36 cents, or 4.7%, to $7.33.