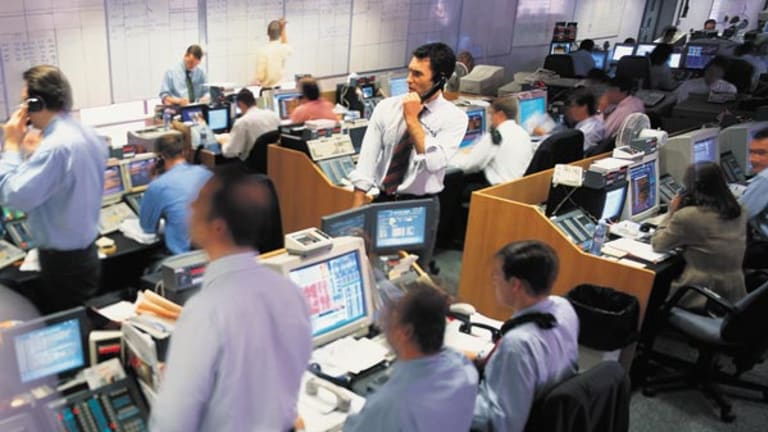 Friday's Early Winners & Losers
Red Hat soars on swelling profits from the quarter ended Nov. 30.
Red Hat
(RHT)
shares leapt in after-hours trading Thursday on swelling profits. On a non-GAAP basis the Raleigh, N.C., software company said it earned $14.6 million in the quarter ended Nov. 30, or 7 cents a share, compared with $23.2 million, or 11 cents a share, a year ago. But excluding options outlays, Red Hat, which develops and supports a popular version of the Linux operating system, earned $29.6 million, or 14 cents a share. Analysts polled by Thomson Financial were looking for 12 cents a share. Revenue totaled $105.8 million, a 45% jump from a year ago, which just scrapes by analysts' $104.2 million consensus. Shares were up $1.97, or 11%, to $19.93.
Research in Motion
( RIMM), the Canadian outfit responsible for the ubiquitous BlackBerry product, rose on healthy third-quarter gains. The company didn't meet income expectations for the quarter ended Dec. 2, but it did surpass sales targets, earning $176 million, or 93 cents a share, on revenue of $835.1 million. Analysts sought 94 cents a share on $815.9 million in revenue. Year-ago earnings totaled $120.1 million, or 61 cents a share, on revenue of $560.6 million. Shares were adding $6.49, or 4.9%, to $140.19.
Resources Connection
(RECN)
, a Costa Mesa, Calif.-based company that provides temporary executive staffing services, jumped after its dwindling fiscal second-quarter profits surpassed Wall Street estimates. Income totaled $14.7 million, or 29 cents a share, down from year-ago earnings of $16 million, or 31 cents as share; analysts were expecting 27 cents a share. Revenue rose 15.6% to $182.8 million, also beating analysts' $176.6 million projections. Shares were up $1.79, or 6.3%, to $30.40.
Micron
(MU)
got a lift from soaring profits in the fiscal first quarter. The chipmaker said it earned $192 million in the quarter ended Nov. 30, or 25 cents a share, up from $63 million, or 10 cents a share, a year ago. Sales rose to $1.58 billion from $1.36 billion a year ago. Analysts were looking for a profit of 20 cents on $1.64 billion revenue. Shares were gaining 53 cents, or 3.9%, to $14.02.
American Greetings
(AM)
continued to gain in after-hours trading after the greeting-card company said its income for the quarter ended Nov. 24 jumped to $49.7 million, or 84 cents a share, from $12.9 million, or 20 cents a share, a year ago. Sales dipped to $512.2 million from $552 million a year ago, just missing analysts' estimates of $515.8 million. Still, shares were up 42 cents, or 1.8%, to $23.86.
Sanmina-SCI
(SANM)
continued its decline in extended trading after a Matrix USA analyst cut its rating to a sell from a hold. Shares of the electronics manufacturing services firm were losing a nickel, or 1.4%, to $3.44.